There is something truly special about handmade Christmas decoration. You get that feeling your pieces are unique to your home, and of course, the joy of creating your decor adds to the excitement. 
So how about we take a look at beautiful handmade Christmas decor that you can make yourself?
The ideas range from simple to more advanced, but with a handful of tools and a crafty spirit, you too can create your own Christmas decoration!
"We know what we are, but know not what we may be. – William Shakespeare
1. Pine cone tree
While the Christmas tree often takes most of the attention, it is nice to decorate around the house with smaller trees in strategic places. This pine cone tree is a perfect idea because it's different, unique, but at the same time, has everything to do with the season! 
The general idea is to stack pine cones in the shape of a pine tree. You can glue them together with a more powerful glue using a pair of gloves for good measure.
2. DIY Ice skates
Wreaths are all over during Christmas time, but how about we do something a little different?
Add some citrus to a pair of ice skates with a few small and subtle christmas ornaments for a beautiful Christmas wreath that might as well stay for the entire Winter. 
3. Popsicle stick snowflakes
This DIY craft is incredibly simple, but super effective – basically all you need are popsicle sticks and a glue gun. That's it!
The patterns themselves you can create on the fly or based on pictures you find online. Assemble them first just by stacking them together, and once you're happy with how it looks, then start glueing. 
Leave a bowl of water near your work area in case you get glue in your hands!
4. Mitten garland
A nice garland idea for a children's bedroom, but that works well in other rooms too. Get a string to serve as a base for the garland and gently sew it in an assortment of mittens – the small poke won't ruin them at all.
Then, hang it along a children's bedroom wall or bed for a great effect!
5. Rose wreath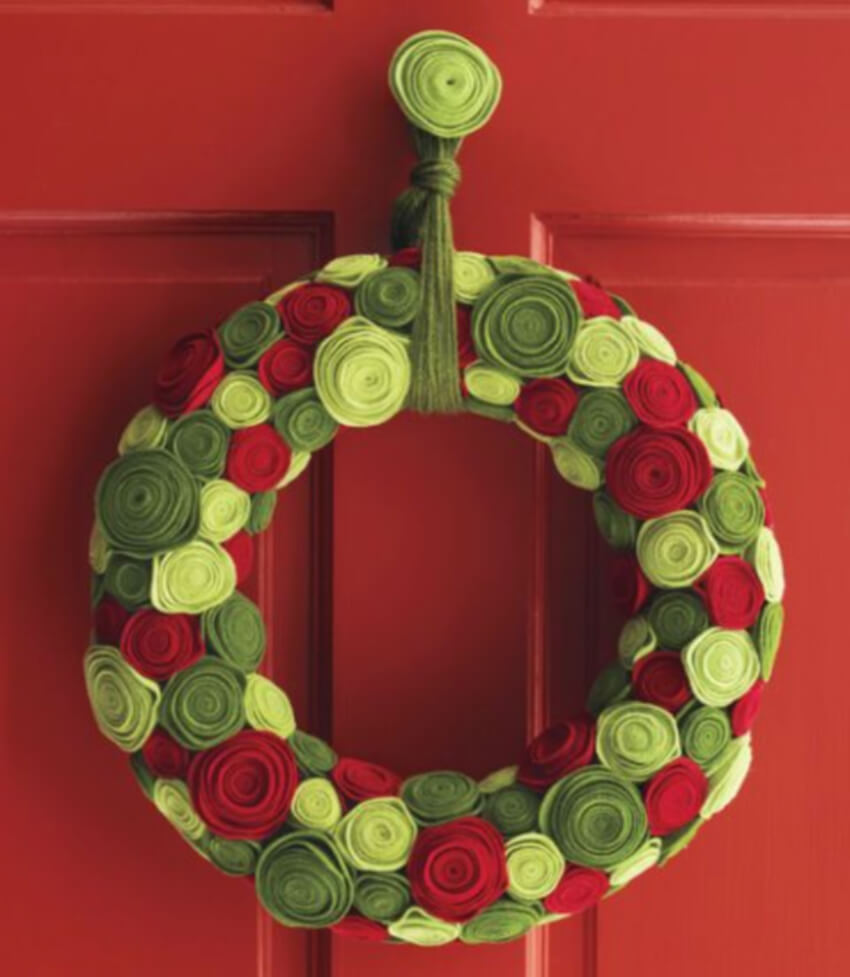 This is for those looking for something with more traditional colors, since it better fits with most decoration from our Christmas season. 
If you want to try your hand at this DIY, check out the tutorial here. It's a beautiful craft that will make your front door much more beautiful!
6. Cinnamon stick candle
Candles are already great decorative pieces to begin with, but to make them a bit more special, you can wrap them in season appropriate cinnamon sticks! It's super easy to make, as you can simply glue the sticks to the candle with a small drop of glue from a glue gun. For a final touch, simply wrap a ribbon around the candle!
7. DIY centerpiece
Now this is the kind of DIY that should take you some time, but the results are super worth it. You will need a foam brick along with an assortment of plants to create this beautiful centerpiece, but you can follow the step-by-step right here.
Will you make any of these Christmas decoration ideas? Let us know on Facebook and share your creations!
---
MORE FROM HOMEYOU
10 Most Gorgeous Christmas Tree Decoration Ideas
10 Country Christmas Decoration Ideas You Will Love
Get Your Heat On: The Perfect Spiced Hot Chocolate