We all know that water is an important resource. That's why we're always being encouraged to save water, whether it's through turning off the faucet while brushing your teeth or repairing leaks right away.
Not only do these methods save water and help the planet, but they can also help you reduce your water bill, which is one of the many benefits that come with saving water. Keep in mind that water is a critical resource and it's getting more expensive every year, so it's worth learning how to save water at home if you want to keep your bills low. 
Keep reading to find out more!
Leaks You Don't Know About
Leaks aren't always easy to discern. They can happen due to worn-out or cracked O-rings or loose connections underneath your sink. 
Be sure to check your house for leaks regularly and look for ways to save water at home. Leaky faucet repair and shower faucet repair is essential to saving water at home. 
Washing Partial Loads
Avoid using your washing machine if you only have a partial load as that can waste both water and electricity. Wait until you have a full load before switching your washing machine on. 
Watering Outdoor Plants a Lot
Watering your outdoor plants and landscaping features can take up about 1/3 of your home's overall water usage. 
One way to reduce this wastage of water is to make different landscaping choices, such as:
Use climate-appropriate plants whose maintenance doesn't require a lot of water. 

Look out for drought-resistant plants

that are native to your area. 

Use a leaf blower or broom to clean your deck, balcony, patio and/or sidewalks instead of using a water-guzzling pressure washer. 

Make sure to water your garden in the early morning or early evening hours to avoid evaporation and water waste. 

Make sure you cover your pool. 
Loose Connectors
The water supply line runs most of your large appliances including your fridge, water heater, and washing machine. Many factors can shake this connection loose, causing brittle or damaged hoses over time. This invariably causes leaks that can go unnoticed for long periods of time. 
If you notice a leak coming from underneath any of your large appliances, call your plumber or an experienced contractor to come check it out and fix the problem. 
Old Fixtures
Old plumbing fixtures are known water-guzzlers that will escalate your water bill in no time. If you can, replace your old water fixtures with newer models, which tend to have built-in water-saving features. 
For example, a regular showerhead can use up to 5 gallons of water per minute, whereas a low-flow showerhead is optimized to only use 2.5 gallons in the same time period. We can all benefit from swapping old showerheads and faucets with newer fixtures that are Water-Sense certified. 
Bad Flushes
All toilets that have been manufactured prior to 1993 use 2 to 6 gallons with every flush. New models are designed to save water and only use about 1.6 gallons with every flush. 
If you can't replace your pre-1993 toilet model, retrofit it with a dual-flush attachment that allows you to choose between a heavier or light flush. 
Regardless of your toilet model, it's important to check your bathroom for toilet leaking from base so you can nip it in the bud. 
Daily Baths or Long Showers
Taking a long bath every now and then is a great way to heal your mind and body. But taking a bath requires about 45 gallons of water whereas you only need about 20 gallons of water per shower, granted you're using a water-saving model. Shorter showers translate to even better water saving. 
Leaving the Water Running on the Tap
One of the fastest ways to shrink your water bill is to not leave the water running on your tap. 
Whether you're shaving, washing your face, brushing your teeth or cleaning the dishes, switch off the faucet when not in use in order to save water. 
Not Tracking Water Use
Tracking water use can be tedious and outright difficult. One way to simplify the process is by getting ahead of it. 
Use water footprint calculators to determine all the different ways that you and your family are using water and gain valuable knowledge on how to save water at home.
Using Water-Saving Devices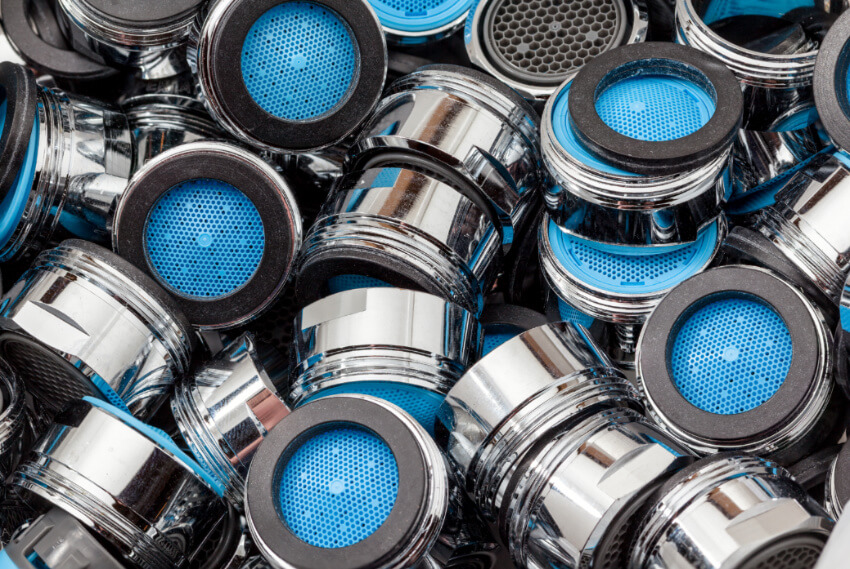 Aside from replacing outdated appliances and fixtures, it's worth it to use water more consciously moving forward. 
The Consumer Report shows that people who use water-saving devices tend to leave the tap running and take long showers because they think that their water conservation efforts are enough to offset these behaviors. 
Remind yourself to practice water-saving behavior by placing "save water sticky notes on your appliances and close to faucets. 
Contact a local plumber to repair leaks right away and update your old fixtures to save water at home and shrink your bills! 
---
MORE FROM HOMEYOU
How a Glass Tub Enclosure Can Make Your Bathroom Even Better
5 Ways To Tell You Have a Plumbing Leak
7 Ways to Save Money on Your Bathroom Remodel