Are you familiar with the tiny house movement? This lifestyle is becoming more and more popular nowadays and includes people from all walks of life who enjoy saving money to do the things they really love to do. 
As the tiny house cost is only a fraction of a traditional home, this movement attracts lots of small families or people who prefer living a more minimal and simplistic life. This allows many more individuals to save money or spend it on adventures and travels. Doesn't it sound like a dream?!
Below are 10 of the most impressive tiny houses you've ever seen! 
"Live life to the fullest, and focus on the positive." – Matt Cameron
1. Escape Premiere Park Model
This beautiful tiny house looks like a grand cabin in the woods. However, this tiny home is really a Park Model RV sitting on wheels and measuring 28 X 14 feet. Inside, the small house appears light and airy with its tall vaulted ceilings and gorgeous light hardwood style paneling.
A picturesque large window that takes up almost the entire wall gives what could have been a dark space lots of sunshine and scenic views that seem to go on forever. The home includes a separate bedroom and bath, a nice kitchen wall with ingenious open shelves and hidden alcoves for storage.
Walk out the French doors and into a breezy screened in porch that can double as an extra sleeping place or used as a clever dining space.
2. Little Prairie Tiny House
Perhaps the long-running television series about a family that moved to the Midwest helped to spark the tiny house movement. This tiny home measures 336 square feet and was built in 2003.
The house is located on a lake near a MN prairie hence the name. This is a basic little house that has ingenious sleeping areas hidden behind curtains that can be closed for privacy. Large floor to ceiling windows give those inside a panoramic view of the vast beauty of this land.
3. Minimalist Living at Its Best
This tiny house is located in Boise, Idaho, and the home measures 196 square feet. The gorgeous exterior siding is really made from wooden pallets that were recycled and lots of natural light fills the interior from an assortment of windows, keeping the place from feeling cramped.
The architect built this home on a flatbed that was 24 feet long. There are a lot of clever storage spaces and the attention to details has made this tiny house look, feel and act like a chic vacation home that should be priced higher than the $11,000 that this one cost its owner.
4. Cheery Beach Cottage in FL - "Our Little Secret"
Nestled on St. George Island in Florida, this cheerful beach cottage is tougher than it looks. This may be one of the first micro homes to be built from materials designed to hold firm in hurricane force winds. Inside are bamboo floors, lovely beadboard ceilings and walls along with a cute and practical loft area.
Measuring 325 square feet, this cottage sleeps up to four people comfortably. The large deck gives guests more living and entertaining space outside where the weather is always delightful.
5. Dream Bungalow Tiny House in Chattanooga, TN - "Wind River Bungalow"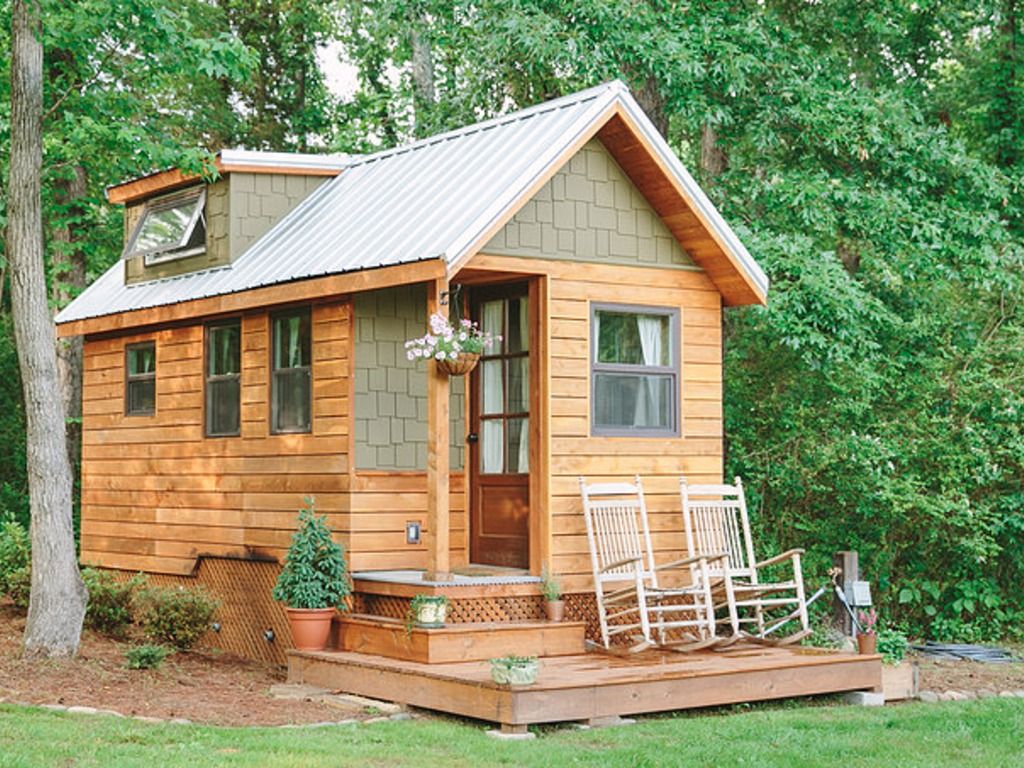 This is a gorgeous and charming, custom-built tiny home stationed in Chattanooga, TN. Also known as "Wind River Bungalow, this takes the entire tiny house living experience to a whole new level.
The home is crafted from rustic rain-screen cedar and tough and durable siding. It offers beautiful interior design details like polymer counters of concrete, cedar and pine wood throughout and a clever shelving system that serves to hold the loft ladder for maximum space streamlining.
Cabin style windows and door make this perfect with its front porch ideal for 2 outdoor rocking chairs and potted plants.
6. Stunning Refined Woodland Cabin on Orcas Island in Washington state
If you have always yearned for a rustic cabin in the woods, this one might catch your eye. Although it looks rather rustic on the outside, the interior spaces have a lot of refined woodworking details and high-end features that give the place a more forest retreat look that still feels warm and welcoming.
This cabin-style tiny home measures 400 square feet, and it is situated in the forested region of the East Sound in Washington state on what's known as Orcas Island by the locals. Beautiful French doors extend the living spaces to the outdoors that feature a lovely patio made of flagstone that is also repeated on the entryway of the house.
The floor plan of this home features alcove areas for the dining room, kitchen and bath. A loft bedroom sits above the living area and can be reached with a ladder.
7. Ecotourism Quaint Cabin in McHenry, MD
This 250 square foot rustic cabin has its own brand of charm and a homey lived-in vibe. The views from the kitchen and other windows are simply amazing. This cabin includes a queen-sized bed nook, a comfortable living area, a truly striking kitchen with scenic window views and gorgeous hardwood style floors and wood accents throughout.
The exterior is made of reclaimed metal and wood. A tall curvy metal roof is situated over the entryway. The tiny house also includes lots of eco-friendly material choices.
8. Victorian Farmhouse with Antique Touches in Texas
This enchanting tiny home boasts bright and cheery colors on the exterior. This house completes the intention with an old-fashioned entryway door flanked on each side with floor to ceiling window panes and a stained-glass, fan-shaped window that brings the vibrant colors inside too.
Note how the paint shades are perfectly selected to showcase the home's phenomenal architectural details. This house is beautiful throughout and features antique materials like galvanized shingles popular in the later end of 1880's, glassed-in shower stall and authentic river rocks were used to create the shower floor.
The kitchen and bath boast antique tin backsplash details, and the tin copper-hued sink basin is detailed with Texas imagery such as the lone-star pattern. The house includes a murphy wall bed, a sleeping loft and used 99 percent materials that were salvaged.
Locals call this tiny Texan home "The Painted Lady" which is fitting.
9. Mid-Century Woodland Tiny Home Retreat in Chappaqua, New York
This tiny house is 300 square feet, and the home boasts a timeless Mid-Century design theme that is both retro and modern at the same time. The house juts out over a rocky overhang nestled into the beautiful backwoods country this region has long been known for, and another rocky extension is used to stabilize the structure.
The entire wall on one side is made of different sized glass windows to create a long wall of glass that makes one feel as if they are suspended on the top of the world. Walnut interior features elevate the style and decking gives the house more space outdoors.
Tiny house prices are coming down and more states are seeing the wisdom of neighborhoods created just for such a home.
10. Transforming A-Frame Style Tiny House in TN
If the higher prices of some of these tiny homes has you worried, take a look at this next one that can be built for about $1,200 give or take. This version takes a weathered A-frame shack, or built out of reclaimed wood, and transforms it into a clever spot to catch a nap, read or enjoy the solitude.
In good weather, the side can lift up for extra space and ventilation. This tiny abode features a small kitchen wall with sink and mini-sized fridge. It even has a cozy sleeping loft with a built-in sunroof. Alas, this tiny wonder lacks a bathroom, but it's ideal for backyard fun.
Thinking about downsizing?
Still on the fence about downsizing your living quarters? A tiny house cost can pay for itself in record time. There are even finance options as well. Before making that important decision and investment, take time to rent a tiny home or vacation cabin to get a feel for the idea.            
Contact a local pro and request a free quote for tiny house building costs and finally live the life of your dreams! 
---
MORE FROM HOMEYOU
8 Backyard Summer Ideas To Enjoy The Warmer Weather
5 Interesting Designs to Consider for Your Fence
7 Beautiful Outdoor Space Ideas That Fit The Budget