There's no reason why your stairs should be bland and forgettable – let's take a look at how you can make a statement with simple paint jobs and wallpapers that will completely change the look of your stairway!
"There is nothing permanent except change. – Heraclitus
1. Wallpaper
You can do a lot with stairs by keeping it simple. All you would have to do for this setup is applying wallpaper to the face part of each step. You can either choose something that already matches the paint color or go full "revamp and also change the paint color while you're at it.
2. Vibrant Colors
Another relatively simple idea that can be made in different ways – either with a wallpaper like the previous one, or by actually painting the steps. It will depend on the investment you want to make and how permanent you'd like the change to be: wallpapers are less resilient and might rip on steps after some time, but can be easily removed and replaced when necessary.
Whatever you do though, avoid painting the steps themselves with any sort of psychedelic color mixture – it can make the steps hard to see and lead to trips and falls!
3. Accent Steps
If your stairs are already painted white or a very light color, the easiest thing to do is to accent the steps with a darker tone. It can be straight up black for a dramatic look, or something like the grey-ish blue you see in the image above. It keeps the overall visual light and not overly dramatic, and makes sure the steps can be easily seen.
4. Red Carpet Entrance
Setting up a red carpet in this manner might take a bit of work, but as I'm sure we can all agree, the result is worth the trouble. Here, the white steps create the perfect contrast with the strong red of the carpet. And notice the same carpet on the right bringing the corridor together into one look!
5. Climbing Books
This one is for the book worm in all of us. With either cleverly chosen pre-made wallpapers or a professional paint job, you can have your stairway looking like a stack of your favorite books. Here we can see an example of classics from our literature, but you can pick whatever books you love the most!
6. Orange and Teal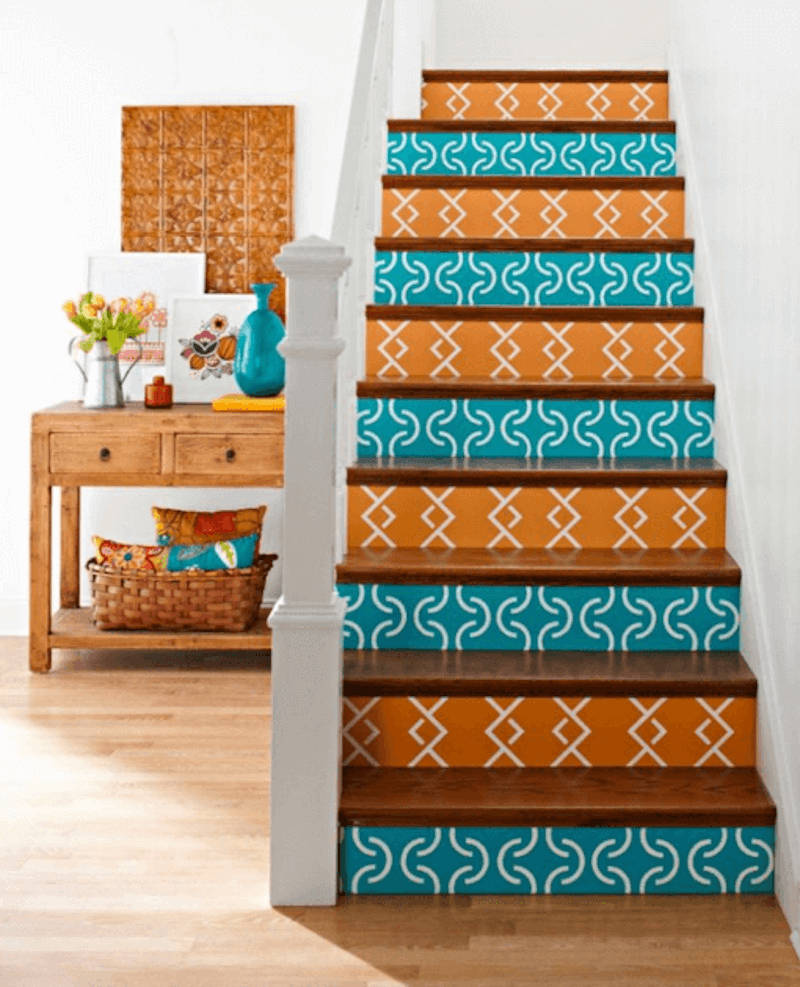 Orange and teal is already a lovely and popular combination, but you can actually create a number of beautiful pairs by simply matching complementary colors. Black and white also works wonders!
7. A Step in a Different Direction
An incredibly unique idea that accents that one different step – simple, but eye-catching! Also, important to note the light fixture up top on the same color as the different step, which really helps bring the look together.
Once again, you don't have to use these exact colors, feel free to experiment with others – perhaps that one different step can be in your favorite color!
8. Dark Steps with Wooden Accents
Black tends to bring that elegant and "VIP vibe. You can use this to your advantage and make some really fancy-looking steps: just be sure to accent the actual steps with a lighter tone (in this case, the wooden boards) to make them easy to see – if everything is painted black and the steps are too dark, it can make them hard to navigate.
9. Modern flower wallpaper
Use miscellaneous wallpapers to create a rich and textured combination of steps that look unique individually but ultimately work together to create a beautiful look!
Tip: This works better if your stairs already feature a neutral look, such as painted white or wooden steps. 
10. Stripes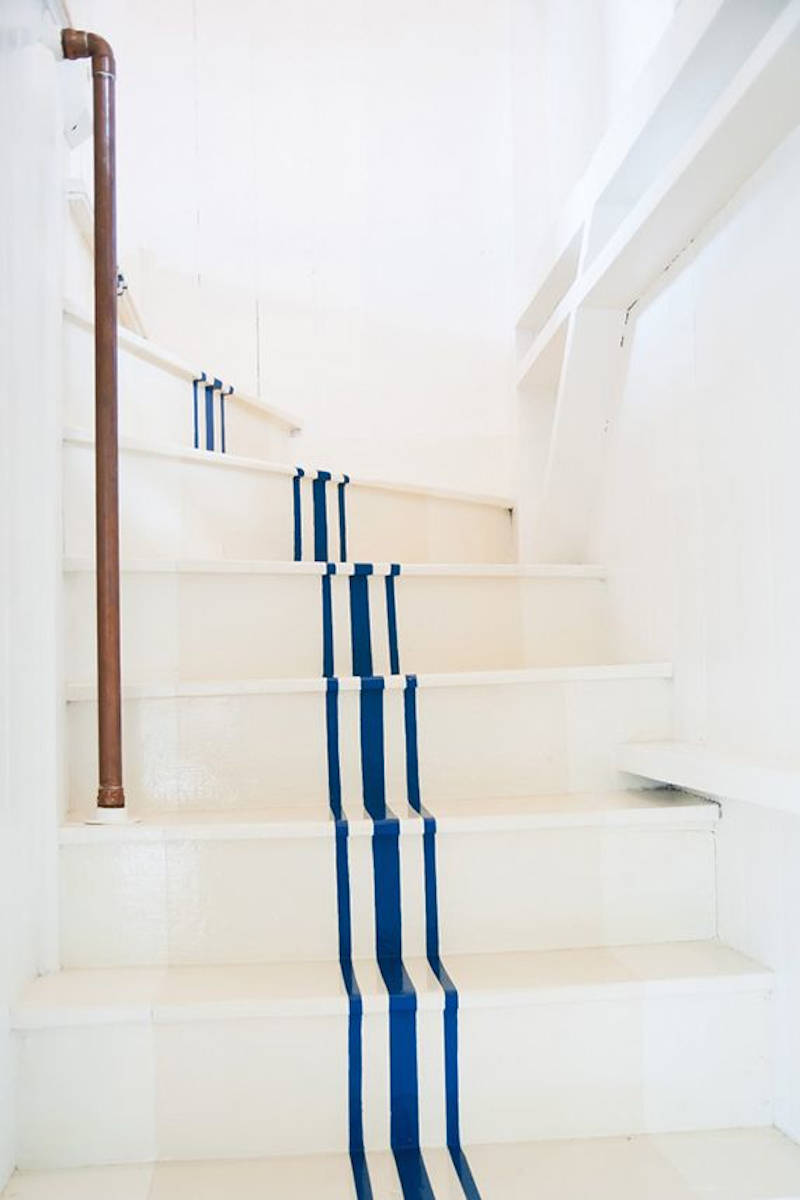 A common idea for stairs but for a good reason – it's simple, easy to do, and even a single colored stripe like the one above makes for an awesome look. In practice, it even makes steps easier to see, so even better!
Need more help with a new stairway project? Talk to a painting expert today and get free quotes in your area!
---
MORE FROM HOMEYOU
The Best Home Improvement Before and After Pictures
How to Get the Reading Nook You've Always Secretly Wanted
This House Was Designed Around a Bookshelf and We Love It