The laundry room is typically a busy room given its frequent use, which makes it hard to keep organized. But there are ways to keep it under control without spending much, so let me show you what can be done!
The basic idea is to keep it simple and low-budget so that everyone can find something useful here. Laundry rooms are usually not that big, so the organization has to take that into consideration as well.
Declutter
For laundry room organization, it's best to start with decluttering, mostly for getting rid of unnecessary items and products. Go through your cabinets and drawers and investigate for empty bottles, expired products, or any other redundant things.
Once that's done, you may already have a decent improvement to the space you can use and no longer have to spend time organizing stuff you don't need.
Open shelves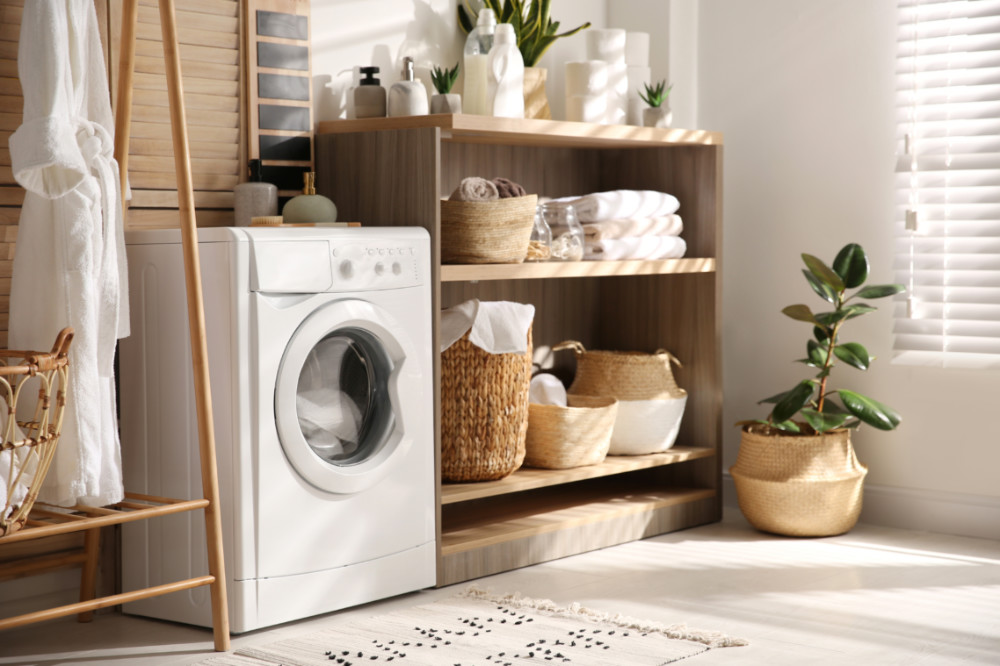 Open shelves are very elegant for laundry rooms. You can use baskets and containers to keep items organized while also having them easy to find and access at any time.
This is particularly useful for your frequently used items and gives the laundry room a more practical benefit. Cabinets are fine too, but they're harder to clean and can also make it harder to find stuff if you're not usually organized.
If you're looking for laundry room remodeling, your storage options should be a priority!
Prioritize
The best way to organize your things in cabinets or open shelves is by height. Keep the most useful things closer to you, and the rarely used ones higher up.
You want to be able to find and reach the items you use frequently, but there's no such need for the ones you seldom use – so keep them higher up and out of your way. This is particularly effective for open shelves since it keeps a clear hierarchy of importance you can easily follow.
Baskets and bins
Baskets and bins are great for organizing your clothes without going for the "I'll just throw this over here and deal with it later solution.
If you must, label the bins with a sharpie or a tag so that everyone in the house knows which one to use. A category for dirty clothes and another for clean ones is already enough, but you can always use more if you like to categorize more, such as one for undies, another for white pieces, etc. 
For example, you may want smaller baskets for socks and underwear, making it easier to store them later.
Countertop
Countertops in the laundry room are mostly used for making space over the washing machine. It's a convenient spot where you can pull out clean clothes and already organize them right there.
Some homeowners like to have a sink nearby as well, but that's optional. Having space to work in is extremely useful!
Need help setting up your laundry room? Get free quotes from a local handyman today and schedule for installations and repairs!
---
MORE FROM HOMEYOU
6 Ways You Can Save Water at Home
The Best Home Upgrades to Improve Your Quality of Life
7 Mistakes To Avoid When Decorating Your Home