Memorial Day is just a few days away and if you haven't planned how to honor our soldiers yet, we can give you some tips on how to respectfully celebrate this day. It's such an important date for our culture and everyone should take their time to perform their memorial day traditions.
Here are some simple ideas for a memorial day remembrance!
"In the End, we will remember not the words of our enemies, but the silence of our friends." - Martin Luther King, Jr.
Wear a red poppy
Did you know red poppies are a symbol of soldiers who have died in conflict? That's because of a poem written by a former Lieutenant-Colonel called John McCrae, where he mentions:
"In Flanders fields the poppies blow
Between the crosses, row by row"
From that, the red poppy has become a widely known symbol to honor fallen soldiers. It's a simple way to show you care for your nation and it's really easy to find paper red poppies to buy or make them at home.
Pause at 3pm
This time of the day has been established as the National Moment of Remembrance, so wherever you are at this time on the day, you should stop what you're doing and take one minute to honor the brave soldiers that fought for the freedom of our nation.
You can gather friends and family in your house for a Memorial Day barbecue, for example, and do a special moment where everyone takes this minute of silence together - it'll be even more special if yours is a military family.
Volunteer at a local Veterans Cemetery
There are some cemeteries which are dedicated to our fallen heroes and you can take the day to volunteer and help decorate the graves of these soldiers with flowers. Since the Civil War, this day was set apart to honor soldiers, and as from the 2000s, it has been extended for all fallen American soldiers. It's a special and sentimental time for everyone involved and you can do your part by helping honor their memories!
Teach your children about Memorial Day
If you're looking for a way how to celebrate memorial day with kids, then I need to tell you:
There's nothing more pleasing than passing on a legacy to the next generation.
That means: teaching our kids about the history of our beloved nation. Now that Memorial Day is here, take some time to teach children about the meaning behind this date and why it is so important.
It's not uncommon to see people misunderstanding the meaning of this holiday, so teaching the kids about it is essential! You need to explain to them that, even though you can attend a memorial day parade and have a family barbecue, this is a day to remember people who lost their lives in battle for our freedom. It will also be good to teach your children how to thank the military and their families.
Make patriotic crafts
There are many ways to honor fallen soldiers, and when you have kids that might be tricky. But you can teach them about the history behind this holiday (like I just talked about) while doing some patriotic crafts, too. We always display the US flag during Memorial Day, so why not create your own flag with the kids on a piece of wood, for example?
Some more ideas of what to DIY during this day:
Cupcake liners wreath
Paper chain fence
Striped Mason Jars
Paper pinwheels
Shaving cream fireworks
Using red, white, and blue as basis for everything, of course.
Red, white and blue food
Dessert ideas using red, white and blue are all over the internet. You can find it all, from cupcakes to healthy treats using fruit. You can pick what you think people will like more, maybe balance things out with a healthy snack and something a bit more tasty and fun for the kiddos. For instance, you can have a fruit salad with berries and chocolate cookies decorated with red, white and blue candies. Patriotic and delicious!
Family barbecue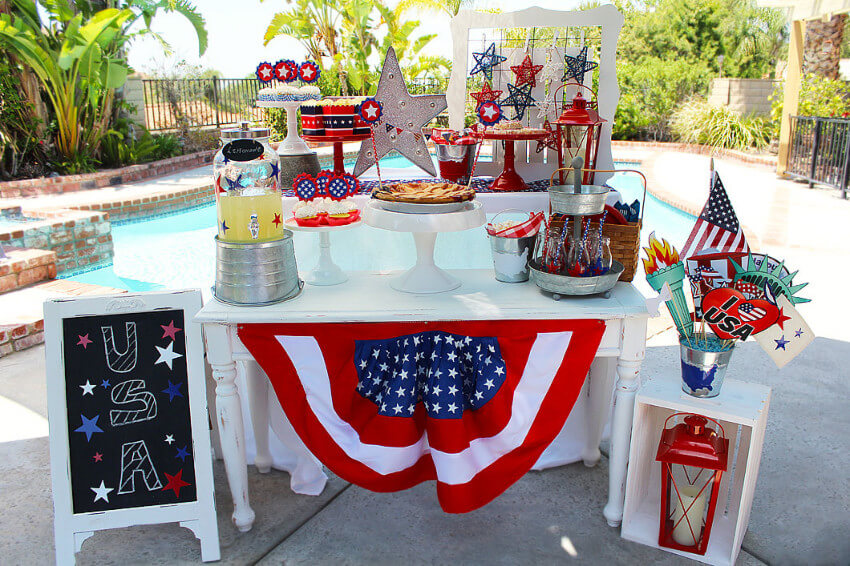 The real idea behind this day is to honor the memories of our heroes and how they conquered our freedom, so having a Memorial Day barbecue will be a great opportunity to thank the militaries while being respectful and still being able to enjoy the day with your family and friends.
How will you honor this year's Memorial Day? Share with us on Facebook!