The powder room is super fun to decorate precisely because of its limited space – you can a lot with very little. Powder rooms have the potential to become some of the most elegant places in your home with the right ideas put to work. 
And better yet, we can work with a small budget. Since the place itself is small, we don't need to worry about huge remodels or additions, instead focusing on details, decoration, and small improvements. 
"Life is 10% what happens to you and 90% how you react to it. – Charles R. Swindoll
Flowers
A well placed flower vase is a simple addition that makes a big difference. Powder rooms can often become claustrophobic and too industrial, especially when made from common bathroom equipment. A flower vase will bring a touch of nature to the whole look, making it more pleasing to the eyes.
Real flowers will require maintenance though, so you might prefer a faux alternative to keep them always looking fresh – since plants need sunlight and watering, and a powder room rarely gets either.
Scent diffuser
Scented candles have a nice look, but they are minor fire hazards being close to certain health and beauty products, or even towels and tissues. As a replacement, scent diffusers have the same effect without any danger – you can keep your powder room always smelling incredible.
Candles are still good options though, just be very careful where you place them and don't leave them unattended for too long.
Good lighting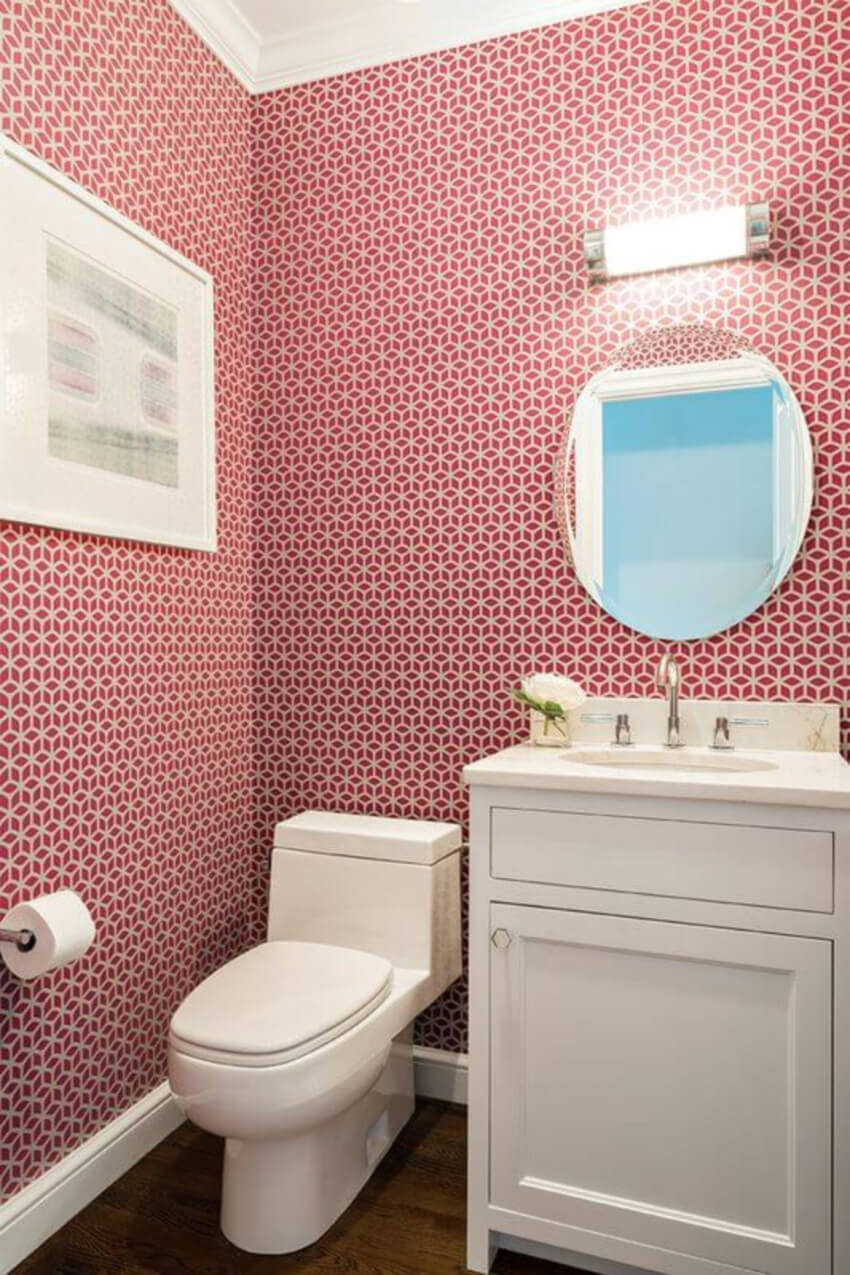 The secret to a great powder room is good lighting, especially around the mirror area. Usually the main room light will come slightly from the back of your head or almost above it, which is not good lighting to look yourself in the mirror.
Ideally, you want soft dim lights near the mirror area so they illuminate your face from the front, but without harsh shadows or being so bright it's uncomfortable for your eyes. 
Floating shelf
No room? No problem – this floating shelf is here to save you. They solve two problems in one go, because maybe you've been struggling to find extra space for your things, but on the other hand, maybe you just want to make things more minimal to agree with an already tiny powder room.
Floating shelves can be installed under the mirror where they will hold your products and items in a simple and convenient manner.
Knobs and faucets
Details are easy to notice in a small environment, so you can take advantage of that for your powder room by improving your knobs and faucets with a fancy new matching look. Something like copper or golden if you want elegance, or a simple silver for a more subtle look.
Towel hangers and mirror frames also count – the more you match, the more you "unify your look into a cohesive design.
Elegant black
For a bolder project, how about turning your powder room into pure elegance? Opting for a black background makes for a look that screams "VIP room, bringing a sense of exclusivity and royalty to your powder room.
Combine that with furniture to match the new look and you will feel like you're walking into the most important room in the house.
Want to upgrade your bathroom within a budget? Get free quotes from a bathroom remodeling expert from your area today!
---
MORE FROM HOMEYOU
7 Ways to Save Money on Your Bathroom Remodel
How to Design a Warm and Welcoming Bathroom
10 Brilliant Ideas For a Small Bathroom Makeover