Even small bathrooms can become beautiful and relaxing places with the right elements in place. We're looking today at ten different ways you can make the most out of a small bathroom, whether it's by rearranging some things, remaking the decoration, or adding a few elements to bring everything together.
And better yet, we can do all that within a low-budget constraint!
"Believe you can and you're halfway there. – Theodore Roosevelt
1. White aesthetic
This might not look like a "small bathroom at first, but if you imagine both mirrors out and consider how big the room is by itself, you would see it's nothing but a cubicle.
There are two simple tricks at play here: the mirrors and the white decor. The mirror is large, tall, and there are two of them, which greatly contributes to making the room feel less cramped. And the white decor – our main focus – works to create a clean and bright aesthetic that makes more light bounce off the environment. This makes it so even when only receiving natural sunlight, your bathroom is never dark and gloomy.
Secondary to these elements are those golden (or bronze) details around the edges of the mirrors, the plant pot, and the knobs on the drawers. Those are the details that bring it all together.
2. Black tiles
Making an all black bathroom can be stylish and bold, but also overly gloomy and ominous for most people. However, using black tiles to create secondary areas is both beautiful and effective.
For example, using black tiles exclusively for your shower area makes for a nice separate "zone that works beautifully against the rest of a white bathroom. Plus, the black tiles help hide imperfections in your shower area.
3. Neutral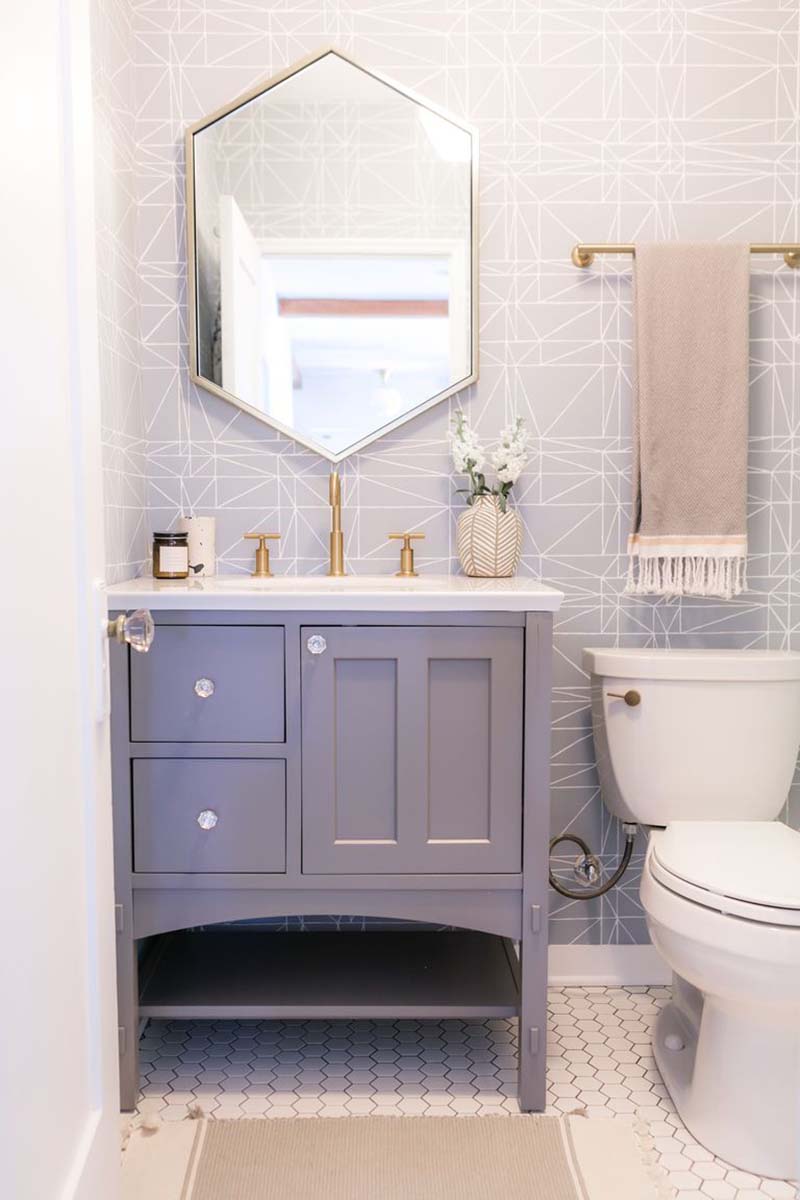 A small bathroom doesn't have to be boring. Here, you can see a nice color pallete at work with neutral tones complimenting each other all around the place. 
The main takeaways here are: 
The small but useful storage cabinets

The carefully chosen neutral tones compliment each other (even on the stylish faucet and towel hanger)

The big and stylish mirror – of course having a mirror in a bathroom is a given, but going big and stylish brings a much needed "wow factor to a small bathroom


4. Minimal
When you don't have a lot of space to work with, make it as minimal as possible. It's perfectly possible to get everything you need in place and still result in a functional and clean-looking bathroom.
Here, no major colors are at work. Almost all white, apart from the dark blue towels creating an accent for the image alone – remove them, and it's all plain white. You can use elements like this to bring color into your bathroom without having to repaint or remodel anything!
5. Bath caddy
A bath caddy is always a nice addition to your relaxing bathtub moment because it doesn't take up any extra space, it only acts as a convenient "bath desk (if you can call it that) for your relaxing shower needs.
You can even support your phone or tablet there and watch some Netflix while relaxing. Just be careful, because most devices are not waterproof!
6. Monochrome blue
On the subject of neutrals, instead of coming up with a color palette to mix and match, you can opt for a monochrome aesthetic. Pick one shade that you love and go with it for most of your decoration. With soft colors like this ocean green, it makes for a soothing yet beautiful environment.
7. Rustic warmth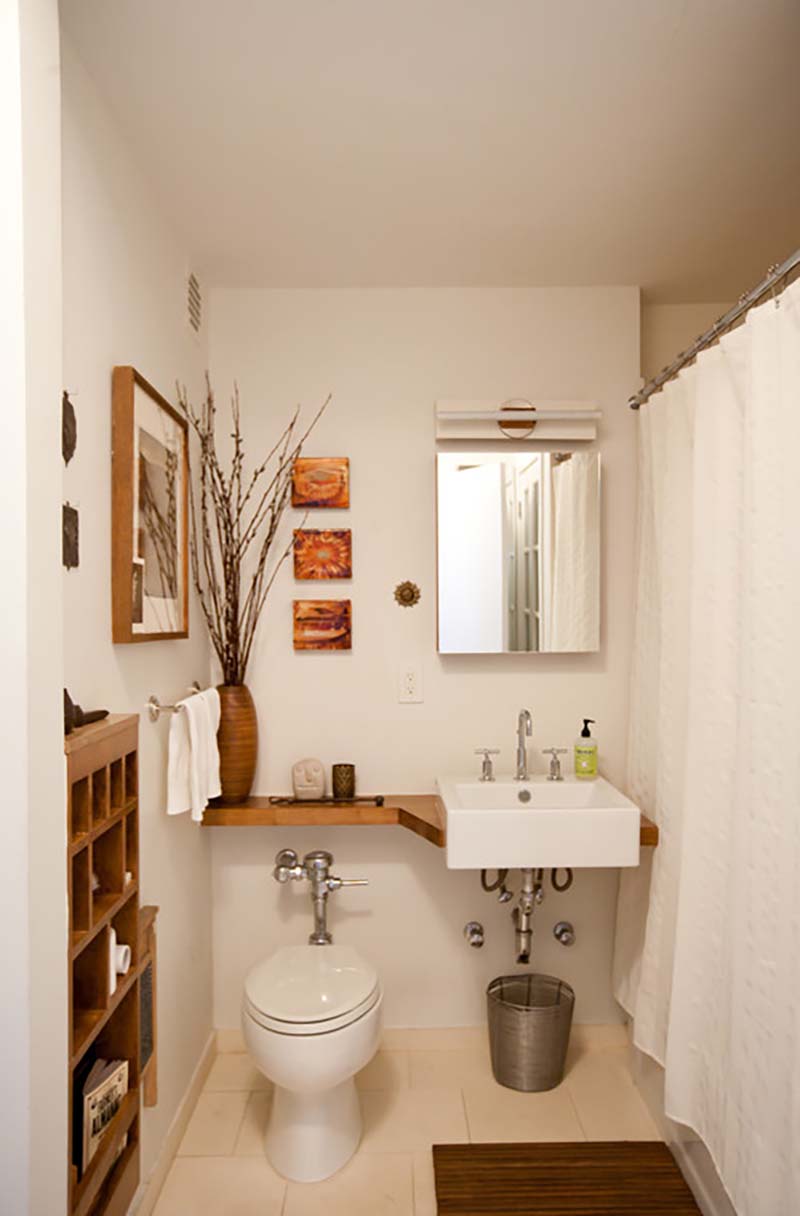 Once again, the limitation of color shouldn't mean a limitation of mood. Here, an all white bathroom comes alive with wooden details and a warm light.
The wall art is an extra touch to sell that mood and make the plain white walls more interesting by populating the empty space.
8. Storage
Of course every bathroom needs storage, and if we're talking small bathrooms, we need to be smart about it. A small cabinet like the one above should be enough for most things, but you can also implement little baskets for beauty products as a way to keep them organized in place.
9. Sliding door
More for the outside view, but also a way to save some space in your small bathroom, since a sliding door doesn't require any extra space for the door to open inside the bathroom, leaving you with more room to use!
Plus, it looks really, really beautiful. 
10. Clever shelf
The beautiful aesthetic here can also serve as inspiration just as well – soft shades of blue and a natural flower to create contrast. Let's also notice the clever little "shelf where the flower and some beauty flowers can be placed without taking up space on the sink.
Bonus: never do this!
Oh, my God!
Yes, yes, we keep saying using mirrors is a great way to make a small room feel bigger, but…
This might be crossing the line. Not that the aesthetic itself looks bad – it looks great – but unless you enjoy feeling like you're sitting next to a stranger on the toilet, don't do this!
Want to remodel your bathroom this year? Get free quotes from bathroom remodeling professionals in your area!
---
MORE FROM HOMEYOU
8 Inspiring Tile Ideas for Your Next Bathroom Remodel
5 Easy Ways To Make Your Laundry Room More Fun (and Useful!)
How to Stick To a Budget When Doing A Home Remodel