Everyone loves to feel welcome and comfortable. An interesting place to transform and make it more welcoming is the bathroom, but it makes perfect sense: for you and your family it makes it more home-y, and for guests it makes sure they can easily find what they need and feel comfortable during their stay.
But it's not like we need a big reason – making the bathroom more comfy is always a good thing and there are many ways we can go about it!
"Life without love is like a tree without blossoms or fruit. – Khalil Gibran
Stone tiles
Stone tiles bring an incredible look that mixes organic and rustic, detracting a little from the usual sterile appearance of most bathrooms that are usually white, bright and devoid of life. Stone tiles bring some much needed texture that can be combined with warmer tones and other more organic finishes (like marble) for a stunning new atmosphere.
Tile work in general can be used to great effect!
Warm lights
A cheap, easy and quick way to change the vibe of your bathroom is to go for warm lights instead of cool ones – that is, change the white light for something more yellow or orange. This automatically makes the bathroom feel "warmer.
Combine the new light with brown or gold decoration, perhaps new tiles that compliment the new light as well, and you've got yourself a much cozier bathroom.
Soft colors
Soft colors like this pale blue do a great job of creating a peaceful atmosphere even with colder colors. In combination with the white palette and a touch of nature from the plants in the corner, it makes for a lovely vibe.
You can also go for light yellow or orange, bringing a warmer tone that still feels welcoming and easy on the eyes. 
Strong colors for details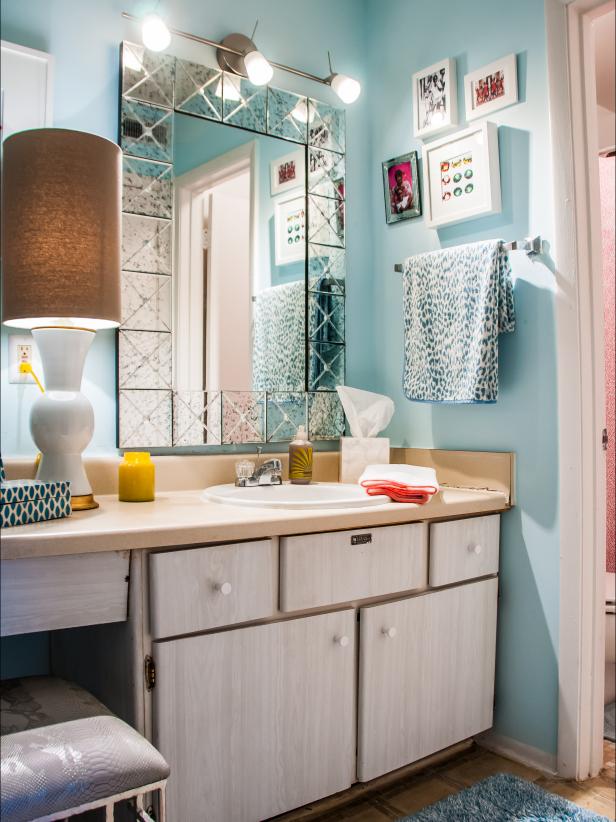 In combination with soft colors, warm lights, decorations, you can use little pieces of very live and strong colors – bright yellow, red, or blue. These can be smaller details, since because of the strong color choice, they will seem much more noticeable than normal and help bring the room together.
It's not common for a bathroom to be all made of a bold color choice, as that can look oppressive. You can, however, use bold colors to create contrast – for example, the shower area (or just the back wall of the shower area) can be painted or have tiles of a very strong color, while the rest of the bathroom is in a softer tone. That detail will make a huge difference, but at the same time, won't make your bathroom feel too overwhelming.
Rustic wood
It might seem counterintuitive to use wood in a bathroom because of humidity, but as long as your bathroom is well ventilated it's actually not a problem. Combine this with the habit of regularly resealing your wooden furniture and don't even have to worry about mold.
Wood is linked to the rustic look, described as something simpler and rural. This can add a lot to your visual presentation and create a comfortable, peaceful, and unique bathroom visual!
Wallpaper
If well-ventilated, there's absolutely no problem on using wallpaper in your bathroom. This opens up a ton of possibilities for visual variety, first because wallpaper can be easily installed, and second because it can be just as easily removed and replaced when you want something different.
Want to upgrade your bathroom with some awesome tile work? Hire a tile expert from your area today!
---
MORE FROM HOMEYOU
How to Decorate With Portuguese Tiles
10 Creative and Modern Tile Layout Ideas
How to Stick To a Budget When Doing A Home Remodel