After spending all winter and spring cooped up inside, it's not surprising that you want to take advantage of the nice weather this summer. The great outdoors is the perfect place to relax with friends and family, but it's also a great space to do a little real work. 
Don't let the sun or the bugs keep you from getting your work done. You can easily pick up some simple tips on creating the ultimate outdoor workspace here! 
"Let us realize that: the privilege to work is a gift, the power to work is a blessing, the love of work is success!" – David O. McKay 
Go With Double-Duty Pieces
Whether you build an outdoor home office on your porch or in a separate shed, choose double-duty pieces. A simple couch or lounge under a gazebo is the perfect place to sit and work but also becomes seating when friends come over. 
You may want to bring in a few storage pieces to store all of the things that you need for work such as electric cords and pens. Those pieces offer plenty of storage for cushions and games along with anything else that you need for outdoor entertaining.
Block the Sun
There is nothing worse than trying to get some work done as the sun beats down on you. However, there are a few things that you can use to block out the sun such as a sunshade. 
If you plan on working on your back deck, a shade cloth is a must-have product. You can install and hang it from the roof of the deck. When you want to block the sun and avoid its glare, pull the shade down. You can easily lift it when you want to enjoy the sunshine.
Use an Outdoor Cord
No outdoor office space is complete without at least one extension cord rated for outdoor use. You might go with a basic one that works with two-pronged products or choose one that has three prongs for grounded items. 
Using an ordinary extension cord is dangerous because it can trip your circuit breaker or cause a fuse to blow, which may result in you losing hours of hard work. Most home improvement stores sell outdoor extension cords in a variety of lengths.
Add Privacy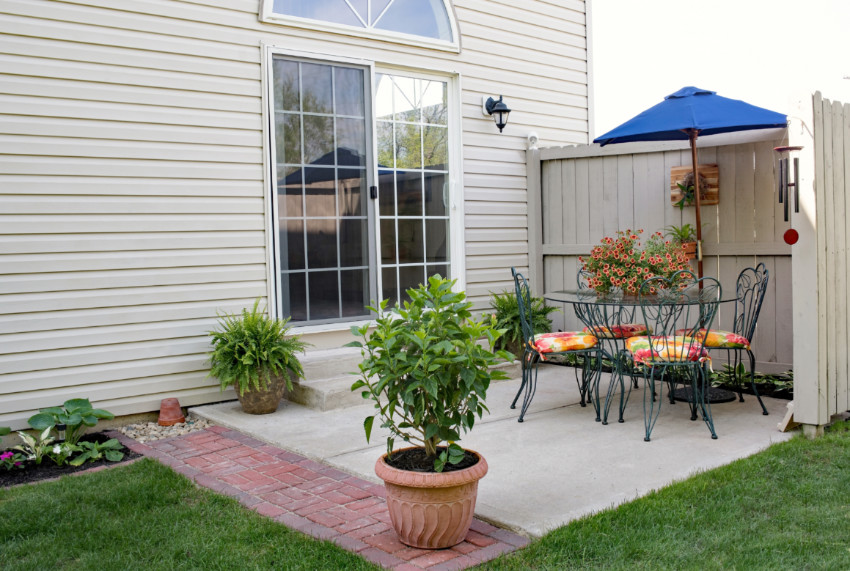 When you work outside, you don't want to deal with nosy neighbors who stop by or people knocking on your door. As long as they can see you outside, they might come over to talk. A privacy fence is a great way to get the privacy that you need. 
If you spend most of your time in a small shed, consider a small sign that you can hang on the door to let others know that you're working and don't have time to talk.
Pick a Suitable Surface
No matter how you set up your outdoor workspace, you need a good and reliable surface. To save space, you might go with a simple table that you can use for outdoor dining as well as working. 
If you have more space and a bigger budget, consider a desk with a coating that protects it from sun damage. You might even like the idea of a standing desk that encourages you to get off your feet.
Grab an Umbrella
An umbrella is a handy tool that you can use in different ways outside, since it's perfect for blocking the sun and keeping glares away from your computer screen. You'll want to look for an adjustable model that lets you change the orientation of the umbrella as the sun moves. 
That same umbrella keeps the sun away from your friends and family when you want to hang out together outside.
Consider Plants
Plants are an easy and affordable way to add a bright pop of color to your outdoor work area. You don't need to spend hundreds of dollars on exotic plants or those that require a lot of care. Simple plants in hanging baskets are great for hanging from shepherd's hooks in your yard or the roof of your porch. 
You may want to invest in roses or other flowers that only bloom during certain months. Plants give you an excuse to get up and walk around in the middle of the day.
Plan for Insects
Even if you have an outdoor office shed, you may still find yourself dealing with pesky insects such as mosquitoes. Planning for those bugs is as easy as using a citronella candle near your workspace. You can choose from different scents that will help you remain alert or keep you relaxed as you work. 
Removing standing water can also help because those areas attract mosquitoes and other types of insects. 
Make sure that you keep all of these simple tips in mind when planning the perfect place to work outside! 
An outdoor office shed is perfect for those who don't have much space inside or want to keep the work area separate from the house. 
---
MORE FROM HOMEYOU
Everything You Need To Know About Shed Foundations
7 Home Office Organization Tips To Make It More Functional
8 Creative Ideas To Improve Backyard Privacy