If you're the responsible for cleaning the house, you probably know that there's always something dirty somewhere, right? So if you want to know how to thoroughly clean your home, you need to be aware there are some places we keep forgetting to clean. Check them out and have the cleanest home ever!
"The objective of cleaning is not just to clean, but to feel happiness living within that environment. - Marie Kondo
Air Vents and Bathroom Fan
These are so easy to forget because you're not exactly staring at them all the time. However, they get easily dirty and it's potentially dangerous if you turn on the AC before cleaning. So, give those some attention and regularly vacuum. Though the bathroom fan you won't need to vacuum, a simple damp cloth will do the trick.
Ceiling Fans
Ceiling fans are another place that can buildup with clouds of dust, especially if you keep the windows open. You should clean up there every month! A microfiber cloth with water and dish soap will be great to remove any dirt that accumulated there. Don't forget to clean the light fixtures while you're at it!
Dishwasher and Dish Rack
Whether you have a dishwasher at home or not, you need to give those areas more attention. Both the inside of a dishwasher and the dish rack, in case you don't have a dishwasher, could be hiding germs and bacteria. It's important to get them cleaned!
Drawers
In spite of what you put in your drawers being clean, it doesn't mean the drawers themselves will be always clean. When opening and closing them, it's easy for dust to get inside and accumulate.
Your solution is: So every now and then, empty out all the drawers and give them a good sweep clean.
Curtains
Curtains are an easy place to collect dust, both inside the house and when you open the windows too.
There are two ways you can clean them:
Vacuum
Toss them in the washing machine
Same goes for upholstered furniture, they will need regularly vacuuming - and check the labels to see if washing is possible.
Shower Curtains
Much like curtains themselves, shower curtains need to be cleaned. Even if they don't look dirty, the hotness and humidity of the bathroom will cause some damage to those curtains, and if you don't get them cleaned and disinfected, you're creating a place for mold and bacteria buildup.
Trash Cans
It doesn't matter if you use trash bags or not, the cans will get dirty either way. Especially in the kitchen, the trash cans are one of the dirtiest places in your house. Waste no more time and go wash those cans right away! Hot water and disinfectant will keep germs away.
Under the Bed
Cleaning underneath anything seems like the dullest task ever. I, for instance, constantly think "oh, I'm just doing some general cleaning, I'll mop under there when I do a complete house cleaning. But then I just end up with tons of extra work to do because it gets a lot harder to handle all the dirt.
Next time you're sweeping, vacuuming, or moping the bedroom, don't leave the spot under the bed for later! You could end up with allergies and dust mites.
Under the Oven
Similar to what I was talking about above, under the oven is a dangerous place to leave for later. Especially if you spend a lot of time in the kitchen baking cakes and pastries. All the mess it makes on your sink will also be under the oven!
Remember to sweep and mop the entire kitchen! It will seem like extra work now, but it will prevent you from dealing with ants invasion, among other things.
Washing Machine
It's not because a machine is made for cleaning that it will always be clean itself. The washing machine is an easy place to accumulate germs because it's constantly in contact with dirty clothes and a lot of water. Mold and mildew are very likely to build up too.
What you need to do is: every now and then, run a mix of vinegar and baking soda in the hottest cycle to freshen up the machine.
Throw Pillows
The throw pillows on your couch are just as important to clean as your bedroom pillows. Dead skin, dust mites, and filth are all things that accumulate there and it needs to go! Vacuum regularly and occasionally remove pillow cover to laundry (just be sure the fabric is machine-appropriate, otherwise you'll need to have it professionally cleaned).
Knobs, Handles, and Switches
These places are often overlooked when cleaning the house, even though they're touched like a million times a day everyday, by so many different people.
It's of major importance to get them disinfected, mainly in the kitchen and bathroom.
A vinegar and water solution wiped with a cloth and plain water should be enough, but there are also antibacterial wipes available that ideal for this purpose.
Baseboards
Baseboards don't usually get cleaned, but they can easily accumulate dirt. You can easily clean them by vacuuming and scrubbing with a microfiber towel. If it's too dirty that the towel can't handle cleaning, use a melamine sponge to remove marks - but be careful not to damage the coat of paint!
Bonus: Cleaning Supplies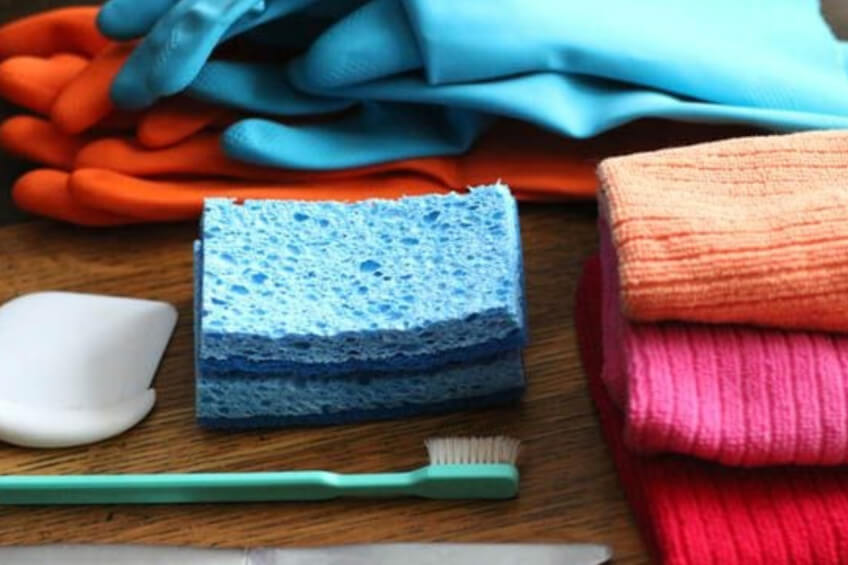 Not only cleaning the house, but what you use to clean (a.k.a., the cleaning supplies) should also be regularly cleaned. Brooms, mops, sponges, etc., should all be cleaned right after you finish cleaning the house.
Tired from a busy week of work? Get a free quote for a professional cleaning service and enjoy the weekend to relax!