Potted plants are great holiday gifts! Affordable, adorable, and full of personality, these plants will make everyone happy, but there are some considerations to make when choosing which ones to give.
The most notable is maintenance – plants that need low maintenance are better to gift, since that will make them much more likely to last a long time. 
But the pots themselves are worthy of consideration. From small to large, colorful to monotone, there's a lot you can do with them!
"Life is 10% what happens to you and 90% how you react to it. – Charles R. Swindoll
Potted fairy garden
By using a small bird house you can create this adorable fairy garden on a pot. Don't forget the stones for that extra mystical vibe. Herbs that grow low are perfect for this setup, since you want something contained and easy to manage.
Snake plant
Commonly used in office environment for its minimal design and low maintenance, the snake plant fills the role of bringing nature indoors without creating any fuzz. It also lasts for quite a while in the shade, and as long as it gets enough sunlight every now and then it will last a long time! 
Potted nemesia
The nemesia is a great plant for smaller pots since it blooms luscious pink flowers, but tends to respect the size of the container and won't spread so much it becomes unsustainable. It can also be used in combination with other plants!
Looking for native plants that are great for beginner gardeners? Check this out!
Succulent on adorable planter
Succulents are probably the king of gifts when it comes to potted plants. Small, easy to maintain, and comes in many varieties to please everyone. But the real kicker is planting your succulent in a whimsical pot – look for different small pots and don't be afraid to think outside the box!
Metal container
This is a classic container garden setup – a simple metallic container with an assortment of plants that can be displayed on a bench or anywhere in the backyard. This same idea can be used to gift special people you love, and if you already have a garden going, you can use your own plants to set it all up.
Potted oxalis
The oxalis is totally fine with growing mostly in shade and has an exotic look that few plants have. It's often referred to as a "false clover, because of its similarity with the irish clover – albeit with a different color. Like many plants, it also reacts dramatically to light, closing up in the shade and opening up in sunlight.
Potted plant with candle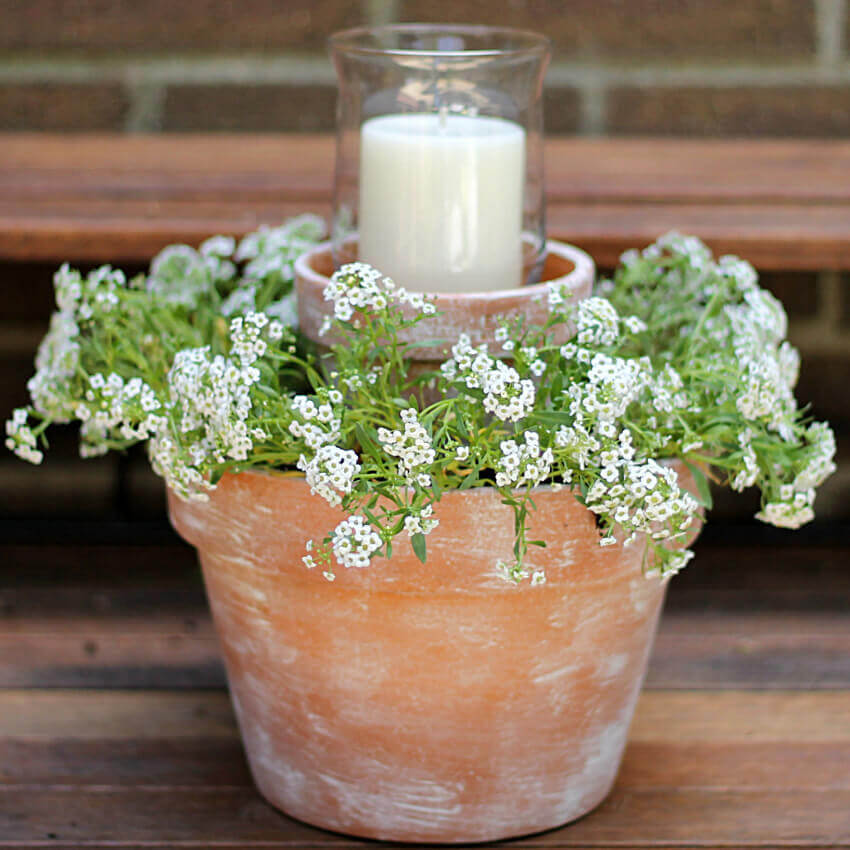 A simple potted plant on the surface, but with an extra touch of awesome – another small pot in the middle with a votive candle. The glass protection is important in case you want to light up the candle for decoration and it looks absolutely incredible!
Simple small garden
Do you know someone who loves gardening and needs a kick start to this wonderful hobby? Gift them a small container garden like this! You can use plants you already have from your garden and simply transplant them to the container, taking your picks as to which ones are lower maintenance (and look aesthetically pleasing). 
Need more help with a landscaping project? Talk to a landscaping expert today and get free quotes in your area!
---
MORE FROM HOMEYOU
5 Tips For Hiring a Landscape Architect
Your Essential Holiday Party Planner (From Thanksgiving to Christmas!)
5 Gorgeous Ideas For Your Thanksgiving Table Decor