As the weather begins to warm up, there are some practical ways to get your outdoor landscapes looking just the way that you envision them to be. Affordable tree services are available to keep your outdoor spaces looking neat, healthy and beautiful, but there are also some things that you can do as a homeowner to achieve that result.
Some trees require some TLC especially when newly planted during the Spring months. Read on to learn the best Spring tree care tips! 
"Start where you are. Use what you have. Do what you can." – Arthur Ashe
Spring Clean Your Yard & Garden Areas
Take some time to spruce up and clear out your yard and garden areas. Put away anything laying around the lawn, rake up any dried leaves and pick up any nuts or fruit laying on the ground that fell from your trees.
Not doing this can encourage mold and mildew growth and may draw unwanted pests into your garden and landscaped areas. Empty and/or remove all containers that have standing water that could become a breeding ground for disease-causing mosquitoes and other insects.
Carefully Look for Shrub, Bush & Tree Damage
As you are out working on your grounds, carefully look to see if there is any obvious damage to your shrubs, bushes and trees. It is common for strong windstorms to blow down branches and twigs. Some weaker trees could be unstable if their roots are not deep enough into the ground.
Inspect Trees & Plants for Insects/Pests & Disease Signs
Visually inspect trees and other plants for signs of insect or other pest invasion and/or signs of possible diseases or fungal growth. Check under the leaves and close to the ground where rot, mold and disease tend to start. 
If in doubt about whether your trees are healthy or not, contact a local arborist for recommendations or advice.
Get Rid of Pests & Treat Infected Live Plants & Trees
If any pests or diseases are suspected, take the necessary steps to get rid of the pests and treat any infected live plants and trees using the recommended treatments. It may be wise to consult with a tree specialist for the exact details on how to perform these treatments in a safe and responsible manner. 
Look to Make Sure All Parts of a Tree Begin to Flower/Blossom
Be on the lookout for any tree parts that neglect to begin the usual Springtime flowering or blooming process. This could indicate a dead area that will need to be pruned back to stop the damage from invading the entire tree.
Safely Prune Back Trees & Shrubs
Spring is also the time to consider tree pruning. After the long winter season, it is common for branches and twigs to loosen and break in the onslaught of high winds, heavy rains or brutal cold snow and ice-storms. Safely prune back trees and shrubs or hire a tree specialist to do this task for you.
Mulch Your Garden Space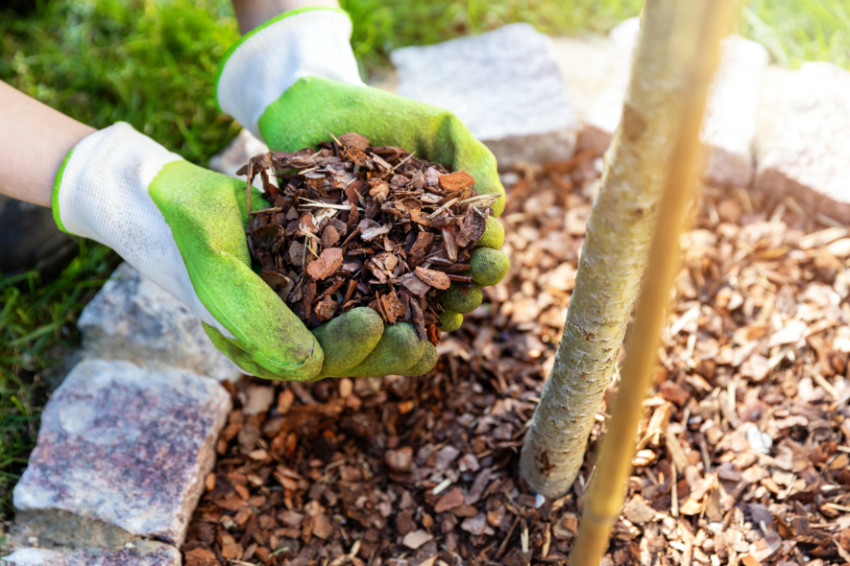 Before planting any new trees or plants in your garden space, take time to properly mulch these areas. This helps to keep rainwater from running off, can keep weeds away and can help ensure that your live plants and trees have the proper soil nutrients especially for new plantings.
Water Trees Appropriately
Ensure that your trees are getting enough water, and check to ensure that the area where your trees are planted has a good drainage setup to encourage deeper root growth. This may be a good time to install a sprinkler system. Newly planted trees will need extra care and attention until they are stable and anchored into the ground.
Fertilize Trees & Live Plants
You will likely want to fertilize trees and live plants on your property to replace some of the soil nutrients that get washed away over time and after heavy rains. 
Choose a fertilizer that is safe and recommended for your specific trees and other plants. There are some excellent organic products that are safer for kids, people, pets, wildlife and the surrounding environment.
Consider Planting New Trees
Spring is an ideal time to consider planting new trees. As this is a delicate process, many property owners find a nearby service experienced in landscaping trees and other live plants. These specialists will know which trees are best for your particular growing zone and geographical location.
Affordable tree services are well-worth the small cost. These tree experts have the necessary training and experience to handle the work.
---
MORE FROM HOMEYOU
How to Help Your Garden Survive the Heat
Spring Gardening and Landscaping Checklist
6 Ways To Keep Your Garden Low-Maintenance