Everyone's favorite holiday is here, so we need to kick it up a notch! Luckily, Thanksgiving decoration ideas are varied enough that you can always find something to suit your taste, as well as the time you have to work on it.
Let's take a moment to get inspired by all the possibilities. Below, you will find everything from beautiful lush centerpieces to subtle mantle decor – regardless of how much time you have to spend on your decor, you're sure to find something you like and can do at home. Happy Thanksgiving! 
"I'd rather regret the things I've done than regret the things I haven't done." – Lucille Ball
1. Fall inspired centerpiece
Thanksgiving centerpieces are one of the most important elements of this holiday's decor, but you don't have to waste too much time and effort to make it beautiful. Since we're talking about last-minute ideas, how about keeping it simple? 
Add some gourds and pumpkins, along with a small pot of flowers and tea light candles. Everything is easy to come by and it's the face of Fall! 
2. Candlelit dinner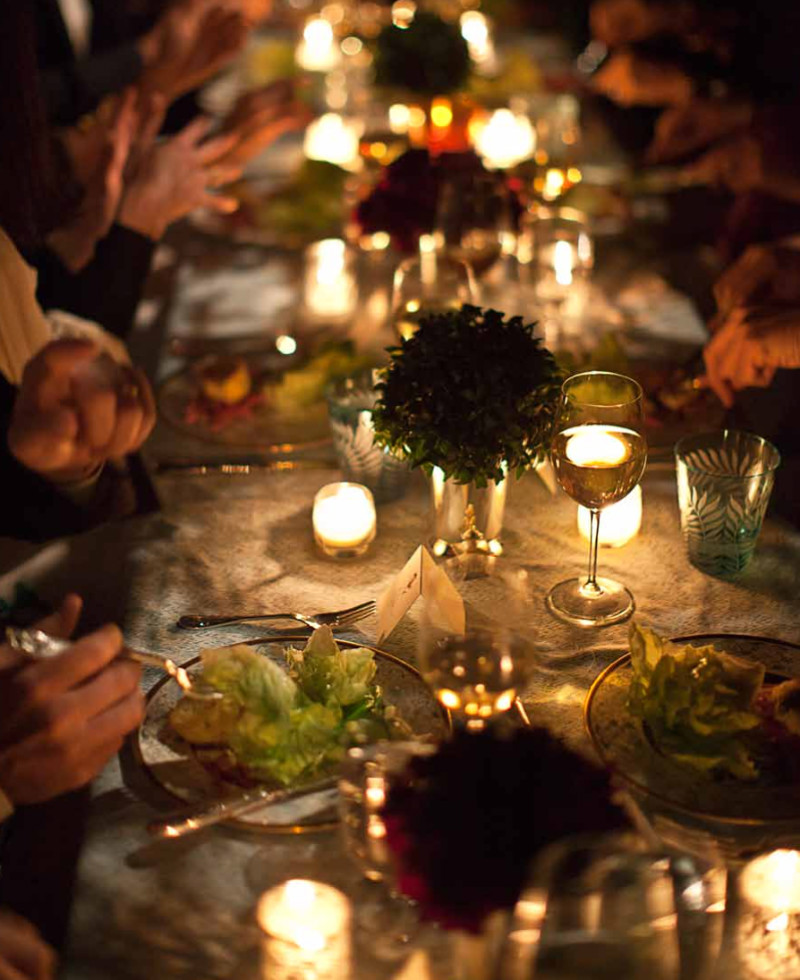 Trust me, you can go a long way by just setting up some candles as decoration. They bring out that rustic vibe we love so much while giving the entire area that beautiful candlelit quality from past centuries. A rustic thanksgiving house decor just makes the night even more welcoming!
Decorate with small bits of foliage resembling shrubs to prevent blocking anyone's eyeline during dinner and your look is ready. And for safety, use LED tea lights – this way, no paper or foliage runs the risk of catching fire from standing close to the candles.
3. Outdoor bench
It's not just about the indoors – you can and should look around the house for other places you can decorate, and one of the most fun places to do so is an outdoor bench. Place the bench by a window or on your porch and surround it with pumpkins, baskets, then add a throw blanket and pillow to make it cozy. Potted plants and stools are also welcome!
4. Colorful wheat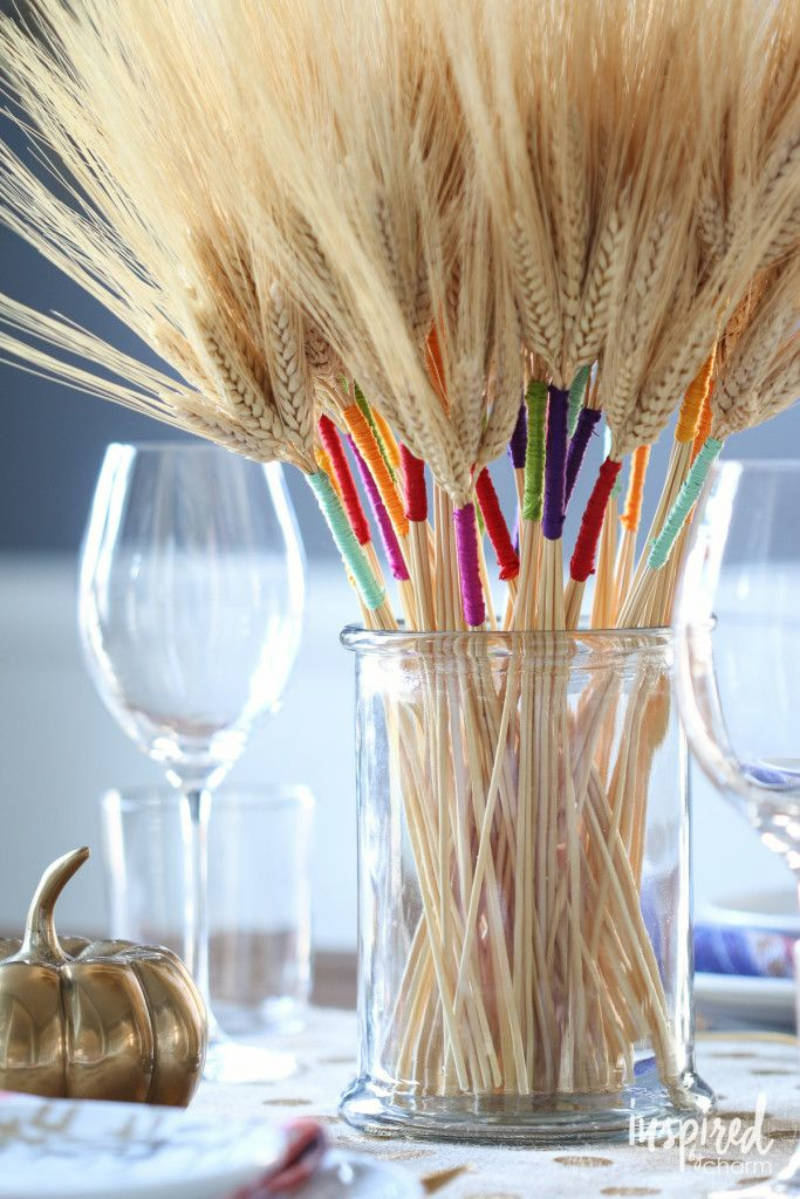 This decoration idea looks great as a centerpiece, but it can also be displayed anywhere for a nice farmhouse-inspired look. Place it above the mantle or on a coffee table for a simple but effective way to celebrate the holiday.
Take a look at more ways to decorate your fireplace mantle!
5. Pumpkin and leaves
If you're looking for a season-inspired decor, nothing says "Fall" better than pumpkins and dry leaves. You can take an assortment of both (either faux or real, up to you) and display them over the mantle, tables, or even as an improvised centerpiece.
6. Name cards
There are many ways you can create custom name cards, even with something as simple as writing on paper leaves cut with a pair of scissors. But if you can afford the time (or if you have the tools), you can create the labels in shaped wood, or even find similar ones on local craft stores and personalize with your guests' names.
7. Decorative bottles
Bottles and wine, whisky, or just any old bottle can be used for decorative purposes. Remove any stamps it might still have and add a bit of nature to it. A branch of berries, some wheat (as seen before), or just some dry twigs – it works wonderfully!
8. Golden accents
A simple way to make your entire Thanksgiving party fancier is by using golden accents. Plates, napkin holders, pieces of decor for the centerpiece, or even cutlery if you have any. Combine it with white and you'll have a dinner table nothing short of royal.
9. Fall entrance
The front door also deserves some love. A Fall wreath will already make a big difference, but you can complete the look with some yeast, lanterns, and farmhouse-style buckets of flowers. Gourds and pumpkins also fit nicely and are very easy to come by!
If you're looking for last-minute thanksgiving decoration, it's best to stick to the basics and not overcomplicate things. Keeping it simple always works!
10. Cabin lights
String lights have been my last-minute savior many times before. Especially if you find yourself out of time but still want to decorate, hanging up some string lights is a nice way to make a room special. Besides, it matches the near-Christmas time of year we're currently in, doesn't it?
Need to get your home ready for Thanksgiving fast? Get free quotes from local house cleaners today!
---
MORE FROM HOMEYOU
How To Cook The Perfect Thanksgiving Turkey
10 Gorgeous Thanksgiving Centerpieces Ideas For All Tastes
How To Host Thanksgiving: A Guide For Newbies