Valentine's Day is a wonderful holiday to celebrate with your loved one, but it seems like going out on a romantic trip or even to your favorite restaurant is out of the menu this year due to the pandemic. But hey, that shouldn't stop you from celebrating. There's a lot you can do at home!

Besides scheduling a romantic movie to watch and getting a good wine to enjoy together, a great way you can surprise your partner is with a romantic dinner… followed by a special dessert. Today I'll be going through my favorite picks for the perfect Valentine's Day idea that you and your partner will love to savor!
"'Tis better to have loved and lost than never to have loved at all." – Alfred Lord Tennyson
Cheesecake chip brownies
I don't know which genius decided to combine cheesecake and brownies in a single dessert, but you can thank me for showing you this one. The recipe basically combines the ingredients of both brownies and cheesecake into one – first you lay the foundation for the brownies, then you make the cheesecake and lay it on top, taking both to the oven for about 30 minutes.
I-heart-you cake
A red and heart-shaped cake covered in cream cheese – doesn't get any more romantic than that! Red is the color of love and the heart shape really drives home the special occasion. The cake recipe isn't anything too crazy, but the special touches really make this one pop.
Besides, is there anything more cheesy than presenting the cake and saying: "Here, I'm giving my heart to you!" Because I know that's way too cheesy and that's exactly why I'm going to do it.
Cute sugar cookies
The best part about this Valentine's Day dessert is that you have a lot of room for creativity! Baking the cookies is as easy as it can be, but the real charm comes from customizing the words you write on them.
With the help of a few piping bags and icing tips, you can write just about anything, making these cookies unique to you and your partner. Write personal nicknames, inside jokes, places, anything goes!
An epic no bake cheesecake
This recipe takes a bit of preparation but the reward is a cheesecake that will be remembered for the ages. It's delicious and incredibly varied with all the different toppings you can customize for each slice, giving the dessert a lot more bang.
Bursting with love mug cake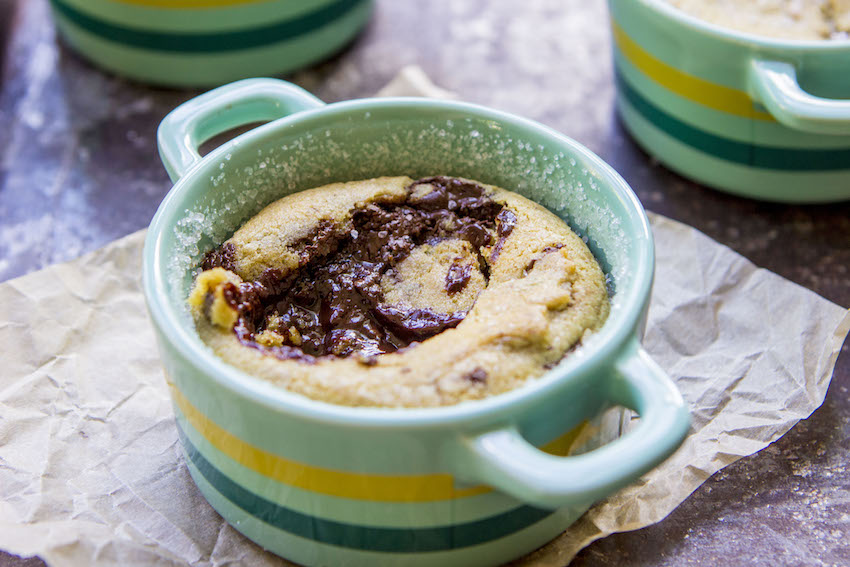 There's no reason to overcomplicate things, especially when it comes to love. The greatest acts of love are simple, thoughtful and easy. That's the weird thing about love: people say it's hard and that it takes a lot of effort, when in fact, it's pretty damn easy.
This chocolate lava cake can be done in about 30 minutes with basic ingredients and I'm sure you and your loved one will absolutely adore it!
Love is simple
Like love, this rosé champagne mug cake is deceivingly simple. You might think you're looking at a complex work of art that takes five hours to complete, but in truth this thing can be done in about 10 minutes with a cook time of only 1 minute in the microwave.
It's unique, light, and aesthetically perfect for Valentine's Day. Grab the recipe and get cooking!
Red velvet cake
Let's close it off with the color of love. The benefit of going for velvet red is that cakes don't usually look like this, making yours feel special for the occasion while thematically appropriate for the holiday.
Better yet, despite the extravagant look, the recipe is super easy. If you've made a cake before it's just about the same, only with the red food coloring and special frosting. Beautiful and romantic!
We often think of love in broad strokes. The big romantic stories, the character arcs, the first kiss in the rain… and not gonna lie, those moments are always the ones that stand out. But the most tender and minute moments are where love shines the brightest and becomes more apparent than ever.

When he throws the blanket over you on a cold night. When you're quietly sipping coffee together before the day starts. Or, in this case, when you're sharing a delicious dessert together.

The big moments make the memories, but the small moments make them last.
Want to make your home perfect for Valentine's Day? Get free quotes today from house cleaners in your area and save yourself the trouble – making more time for you and your loved one!
---
MORE FROM HOMEYOU
Set The Mood For a Perfect Valentine's Day Dinner
10 Creative Valentine's Day Gift Ideas You Can Make
Top 20 Best Romantic Movies For Valentine's Day