Valentine's Day is right around the corner, so there's more than enough time to prepare beautiful gifts for your loved ones! Better yet, you can make yourself these beautiful ideas with a handful of materials and basic tools to really impress your loved ones with creativity!
"Let us always meet each other with smile, for the smile is the beginning of love. – Mother Teresa
1. String art heart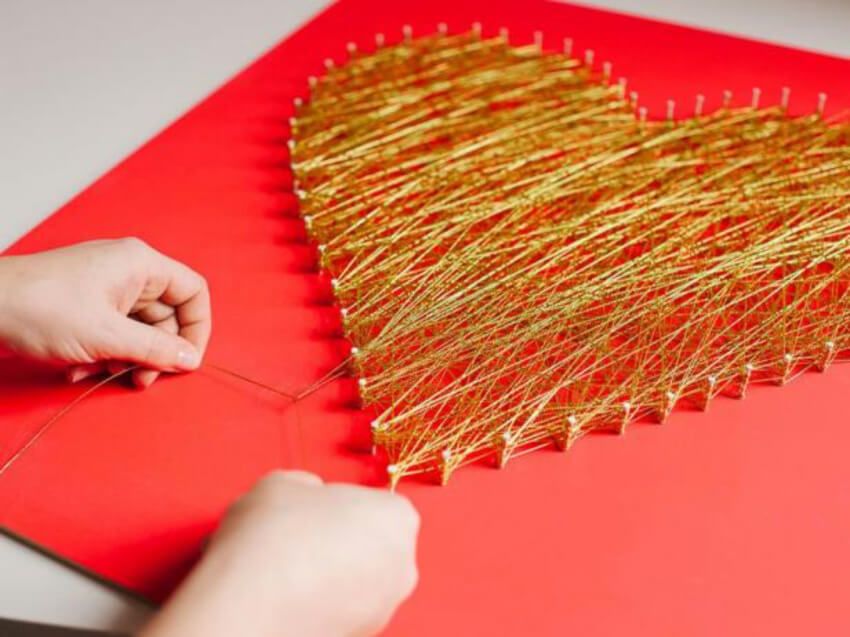 A fancy-looking string art that's actually easy to do. It's light on materials and tools as well, meaning you have plenty of time to get this done before Valentine's Day.
The most important things you'll need are: 
A mason board

1-inch nails

Thin woven thread (the one above is metallic gold, which looks amazing for a gift). 
Then, a few other things everyone should have at home like a pencil, hammer, scissors and a paint brush to paint the board in a color of your choosing.
2. Date night ideas
A simple but adorable gift idea: customize a mason jar with dozens of short and sweet date ideas! 
First, take some time to outline as many as you can, mixing them up as stay-at-home ideas, outdoor ideas, and even ones that need planning, and ones that can be done any day with no preparation.
This makes for a few days of exciting date ideas to celebrate with your loved one! Here are a few ideas:
Go to the movies

Date night in a fancy restaurant 

Netflix and chill

Game night 

Go bowling

Cook together

Etc.
While anyone would love to receive this as a gift, this is simply the perfect homemade Valentine's Day gift for him. 
3. Cozy mug sleeve
Nothing beats serving your partner some well-deserved hot cocoa or coffee during the winter. This Valentine's day idea goes splendidly well with that, as it makes it easier to hold hot mugs without burning your hands.
By the way, want to learn the perfect spiced hot chocolate recipe?
4. White chocolate cheesecake
An easy to make cheesecake with the extra detail of having little hearts all around to show how much you love someone!
The cheesecake recipe itself is simple enough to make, but there's a little secret to making the hearts perfectly. It's a delicious treat any Valentine will love!
5. Mason jar bouquet
Mason jars are wonderful for DIY decoration – easy to come by, easy to place, and even easier to customize to your liking!
The flower choices are almost limitless once you've made the burlap pieces. You can even go for faux flowers, making it a piece of decor you can place and have on display the entire year with no issues or maintenance.
6. Carved candle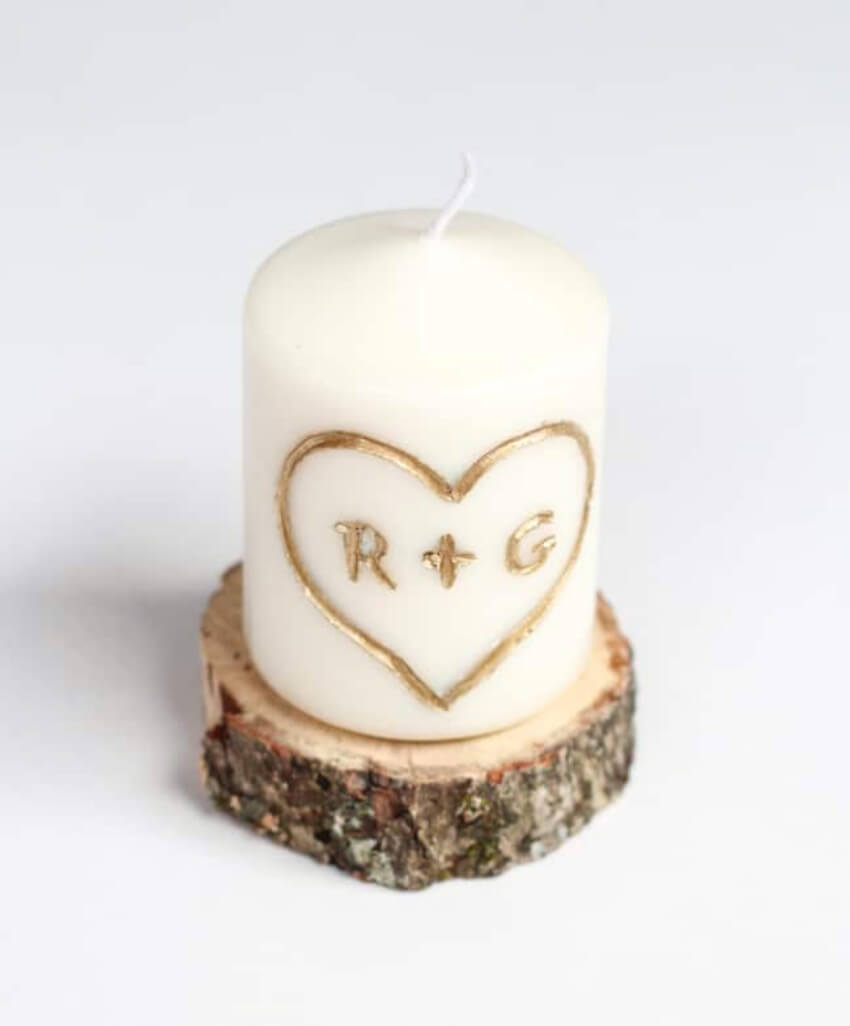 A beautiful and surprisingly easy gift for Valentine's Day – basically looks like something you had an artisan make, but it can be done at home by yourself with just a handful of basic tools.
The first step is deciding what to carve. The simpler the better, since the space is limited: a heart with two initials as seen above is perfect, because there are very few lines to carve, making it quite fast to finish and leaves little room for mistakes.
You should either draw the carving on a piece of paper or print it, then place it over the candle and firmly draw over it with a ball pen to make a soft indent on the candle, making it easier to carve later.
Then comes the fun part: using the indent you've just made, carve the candle with a linoleum cutter. Finally, fill the carving with a gold leaf pen for the final touch!
7. Succulent valentines
Succulents are excellent gifts because they are adorable low-maintenance plants that can be placed as decoration basically anywhere.
But to make it more personal for the holiday, use a special satin-textured pot that can be customized with colors and little hearts! Here's how to make the one from the image above!
8. Favorite music cupcakes
Almost every couple has a playlist's worth of songs that are intrinsically linked to their story. It could be the song that was playing when they first met, the song that played during the first kiss, and so on – every story is different, and so are the songs within them!
So why not celebrate those songs with an assortment of cupcakes containing your favorite lyrics?
This adorable homemade valentine's day gift idea can be customized with ANY of your favorite songs that have meaning to you and your loved one!
9. Bouquet wraps
Bouquets are a classic Valentine's Day gift for a reason, but we can give a fresh twist to surprise your partner: use different wraps to customize them!
Basically all of these bouquet wrap ideas can be made at home with a few basic paper crafts materials, allowing you to write custom messages, love letters, and really make it something personal!
10. Washi tape heart
Washi tape is always present in DIY crafts because it's fairly cheap and easy to use. Here, all it takes are a handful of different but similarly colored washi tapes to create a patterned heart that you can cut and frame!
Want to make Valentine's Day date night even more cozy at home? Then install dimmer lights or get your fireplace working again!
---
MORE FROM HOMEYOU
6 Ways To Keep Your Garden Low-Maintenance
5 Simple Bathroom Makeover Ideas That Can Change Everything
7 Tips To Care and Maintain a Wooden Kitchen Countertop