Independence Day is one of the most important celebrations in the American calendar. 4th of July 1776 was the day the 13 American colonies were officially declared free of the British empire, marking a new era for the country we know and love today.
As such, this day is marked by celebrations that often involve fireworks, barbecues, and patriotic gestures. Today, I want to help you set up a true 4th of July at home, complete with everything you need to make this day special.
"Give me six hours to chop down a tree and I will spend the first four sharpening the axe." – Abraham Lincoln
Backyard barbecue
Hamburgers. You can't go wrong with burgers. You can even set a table up for your guests to assemble their own burgers while you keep the burgers themselves coming from the grill. 
Hot dogs. Same as for burgers, these are pretty easy to assemble on a table so everybody can serve themselves. 
Barbecue. A proper barbecue is obviously a valid option. It takes longer and requires more attention, but you simply can't beat the taste of barbecue meat. Combine that with some appetizers and it will be a day to remember.
Appetizers and snacks
French Fries. A great and easy snack to accompany almost anything. You can even make it with an Air Fryer to avoid messing with oil, which makes the preparation even easier.
Pigs in a blanket. These delights can be made in bulk with an oven, making them the perfect appetizer while you wait for the main course to be ready.
Deviled eggs. You can't go wrong with deviled eggs. These are infinitely customizable to suit the exact flavor you want, but I do recommend trying them with a sprinkle of paprika.
Mini-burgers. OK, maybe it doesn't make sense to go for mini-burgers if your main course is burgers, but if you're going for a barbecue that will take longer, then these are great while the guests wait.
Party items
A 4th of July party wouldn't be complete without some party items! And yes, you guessed it: most of it is red and blue.
There are tons of 4th of July ideas you could go for here, but I'll leave you with some quick brainstormed items to start with:
Sparklers.

Let the sparks fly!

Party hats.

The kids will be crazy about them.

Silent fireworks.

Fireworks are a staple of Independence Day, but dogs are definitely not a huge fan of them. Try to go for silent fireworks this year!

Themed cups.

Red and blue cups for a patriotic toast!

Small American flags.

These are great for decoration as you can wave them around or even add to the table decor.
Learn how to fly the American flag on Independence Day!
Treats and dessert
The main course is one thing, but everyone needs a little bit of sweetness in their lives. Tell everyone to leave some space for dessert!
Cupcakes. The best thing about cupcakes is that they can be easily customized depending on the occasion. And obviously, if you can make yours red and blue, it will look pretty in-theme.
Milkshake. It's summer after all, so why not invest in a refreshing milkshake stand?
Popsicles. Homemade popsicles are surprisingly easy to do. With food coloring, you can make yours red, blue and white to match the celebration.
Cookies. A yummy cookie is irresistible to anyone. Try making yours in star shapes, or perhaps decorate to resemble an American flag.
Popcorn. Whether it's sweet or salty, popcorn is a nice thing to chew on before or after the main course. If you're going for a sweet version, you can throw in some M&M's to make them more colorful.
Decoration
When it comes to 4th of July decoration ideas, there are options aplenty. Obviously, American flags and the usual red, white and blue color scheme will be your go-to, but it doesn't stop there.
You can also decorate with things like: 
Garlands

Table cloth

String lights

Windsocks

Lanterns
Games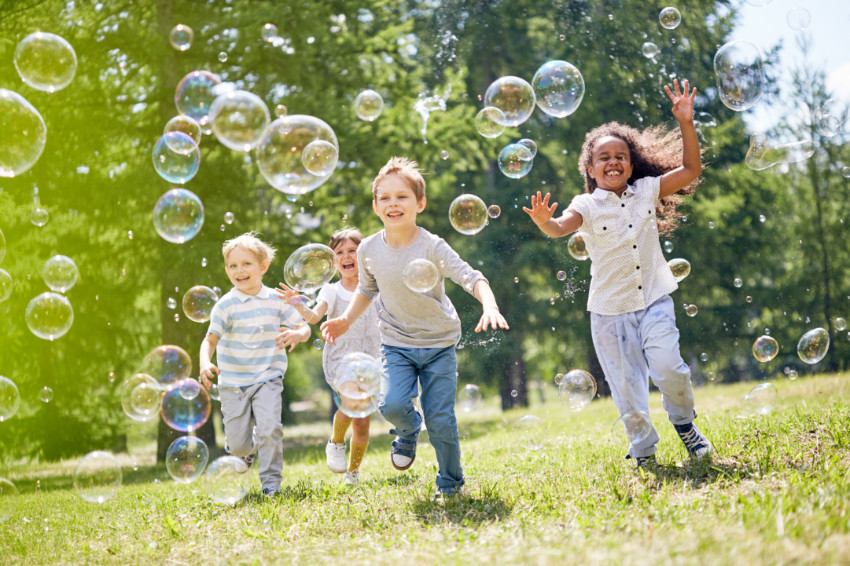 These games are always the main attraction for kids, but even adults can participate. A common idea is to have an easier version for the kids and a slightly harder one for the adults – to keep things interesting!
Check out these awesome 4th of July party game ideas that include balloon popping, ring tossing, and more!
What else are you preparing for your 4th of July party? Let us know in the comments below! Don't forget to follow us on Facebook for more great tips and inspiration!
---
MORE FROM HOMEYOU
10 Beautiful 4th of July Decoration Ideas For Your Home Party
7 Creative Last Minute 4th of July Decorations
How to Keep Your Kids and Pets Safe This 4th of July