Celebrating 4th of July is an important part of every year as an American citizen. We gather the family, make some delicious grilled barbecue, and enjoy the evening with the people we love. 
In 2020, most of us will most likely spend Independence Day in the comfort of our backyard, and that's already a pretty good deal.
We've discussed earlier this week how to get your deck ready for 4th of July, but now it's time to find creative ways to decorate your party accordingly. Some of these you can purchase at a local store, others you can make yourself, but regardless, there are options for every budget!
"The power of imagination makes us infinite. – John Muir
1. Paper pinwheels
Paper pinwheels are super easy to do –  even your kids have probably learned in school already, which is a great way to include them in your crafts!
The idea is to pick up patterned paper – or simple blue, red and white options – and create pinwheels of different sizes and colors to decorate around your party area. They can simply be attached to the wall and that already works as beautiful decor, but you can go the extra mile and make them more dynamic, attaching each to a stick to allow them to react to the wind.
2. Windsocks
All you need for this fun 4th of July decor idea is a tin can that you can paint and a few ribbons – preferably white and red to stick with the theme. Then it's just the basics: 
Scissors

Some glue

Blue paint
Lastly, attach a string to hang the windsock wherever you want. Here's how to do it!
3. Biodegradable straws
An easy purchase for Independence Day, these straws are cute and patriotic to keep with the theme of the holiday, but also biodegradable, meaning they can dissolve much faster – the environment says thanks!
Tip: if you can't find this type exactly, then go for simpler blue, white and red options. 
4. Washi tape cutlery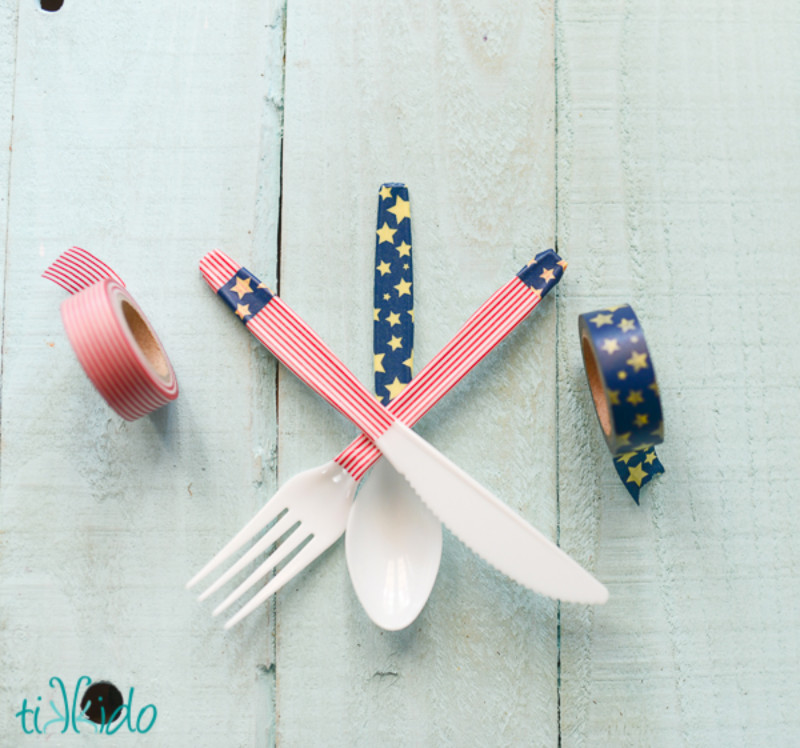 This simple yet lovely patriotic decoration idea involves using themed washi tapes to create party-ready discardable cutlery. 
If you're not a fan of discardable stuff, you can do this with your common cutlery as well, since washi tape is non-permanent and easily removable afterwards.
5. Patriotic table
One of the easiest ways to make your main table ready for the celebration is to use a tablecloth that resembles the American flag – the colors are all there and it looks stunning. Combine that with a few other celebratory pieces from this list and everyone will be impressed!
Tip: Don't have one and don't have the time to purchase? Then focus on making the combination of the three colors: for example, a white tablecloth with a blue table runner and red dishes already makes the table perfect for the date. 
6. Burlap Banner
You can create a rustic and beautiful string of small burlap pieces painted to resemble the American flag. You can even customize along the way based on your taste with different patterns, both for the colors and the shapes.
Hang the banner on the mantel or on the front door! 
7. Popsicle stick vases
An incredibly simple 4th of july decoration idea that brings a rustic charm to your party table. 
Here's how to make it:
Get some wooden popsicle sticks and paint them red and blue – basically any paint will do as long as it dries properly

Once they're dry, glue them together around a vase, tin can or mason jar

Tie a string or ribbon around for extra charm
That's it! Enlist the kids for the painting and it will be a fun afternoon activity. 
8. Star lanterns
Lanterns are smart additions to your party, regardless if they're decorated or not. Lighting is important for a late evening 4th of July party anyway, so having some of these around will be great. 
However, you can go the extra mile and decorate them with stars, or simply paint them in creative ways with red and blue!
9. Decorative balls
You can make a very effective and colorful decorative piece with just a few styrofoam balls, glue and decorative napkins. The idea is to cut the napkins into smaller pieces and use the glue with a brush to stick them around the entire ball. Pretty easy and looks really cool!
It's also a great idea to keep the kids entertained during a lazy afternoon! 
10. Rockets full of candy
Now what would July 4th be without any fireworks? But hey, these are not exactly what they seem… they're actually full of candy!
These crafts are easy to do with some scissors, paper, glue and tape, and they work as a little treat for the kids – in a way they get their own fireworks, but these are simply filled with candy, which is much more interesting for them!
Want to find other great 4th of July party ideas? Follow us on Facebook and stay up-to-date on every new article!
---
MORE FROM HOMEYOU
7 Creative Last Minute 4th of July Decorations
How to Display The Flag on 4th of July
12 Red, White and Blue Recipes to Celebrate 4th of July