With summer here, it might be time to seal your deck and make the perfect hangout spot for sunny afternoons! After all, with the pandemic still being an ongoing issue, we have to find other ways to make ourselves and our family more comfortable at home.A great way to do that is to give yourself more reasons to enjoy your backyard. 
A good deck cleaning and sealing will protect your deck from weather conditions and make it look brand new. Being made of wood, they are susceptible to absorbing water or accumulating mold and mildew, which ends up slashing your deck's life expectancy.
The process of applying deck stain and sealer is fairly simple in theory, but you do need a bit of preparation and precaution to get it just right. Let's get over the basics and get your deck ready for the season!
"The best and most beautiful things in the world cannot be seen or even touched - they must be felt with the heart. – Helen Keller
Step 1: cleaning your deck
Before thinking about applying a sealer you have to clean your deck thoroughly, otherwise the sealer won't apply properly. To start, remove any debris from in between the boards with the tip of a screwdriver or a knife, then proceed by sweeping the boards with a broom.
Finally, you should use a proper deck cleaner, which you can find in a hardware store. There are many types of deck cleaners, but you should have no problem finding the one you need depending on which type of wood your deck is made of. A deck brightener might also come in handy for removing stains.
Once you've gotten that settled, apply the cleaner with a paint roller or bristle brush (a garden sprayer also works), and make sure you work your way from the bottom to the top. It's better to do this on a cloudy day so the sun doesn't dry the cleaner too quickly, just make sure there's no rain coming in the weather forecast, since the cleaner has to dry for about 48 hours after applying.
If you have nearby shrubs, plants or trees, you might want to protect them temporarily with plastic wrapping to make sure none of the cleaner products get on them, as they can be quite abrasive to plants.
Step 2: preparation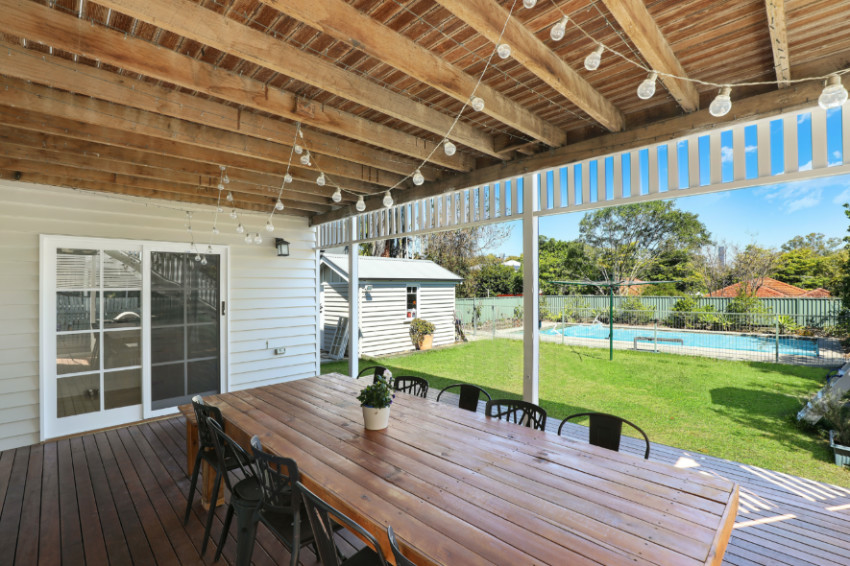 The first thing to do after cleaning is to find a roughly 48-hour period with average temperature where it won't rain. You need to make your work smoother and allow for the deck sealer to dry later.
But before you start to seal the deck, you should sand it completely and then sweep or vacuum the dust – this will make the wood perfectly smooth for applying the sealer. While you're at it, keep an eye out for any raised nail heads.
Step 3: applying the deck sealer
When it comes to deck sealing, you have a couple of finish options: 
Clear or wood-toned sealants, perfect for enhancing the natural color of wood, and semi-transparent sealants, which are lightly pigmented and can be used to change the tone of the wood.
As for resilience, the general rule of thumb is that the lighter the sealer, the more it will show the natural color of wood, but the more often you will have to clean and seal it. The opaque ones are better for weather and water resistance, but they make a more noticeable impact on the look of your deck – so you have to be more deliberate with your choices. If protecting it from rain and weather is your main goal, you can look for a proper deck water seal.
Before your start sealing, be sure to apply painter's tape on nearby surfaces and protect shrubs and plants with plastic wrapping. 
To start sealing, use a natural bristle brush. A roller is fine too, but the brush is more efficient. Go for three or four boards at once and apply their entire length, doing your best to not let it spill on nearby boards before you get to them – this may create stains that are hard to fix later. Repeat the process for the entire deck and finally, let it absorb and dry for 48 hours
Need help sealing your deck? Get free quotes from a professional deck sealer in your area today!
---
MORE FROM HOMEYOU
10 Home Improvement Tasks That Will Get You Ready For Summer
5 Common Deck Problems and How To Fix Them
5 Steps To Paint Your Deck or Porch The Right Way