Anything can be cleaned to look almost brand new, but we often don't notice when things need it. Of course we take care of most basic things – we clean our sinks, tubs, and change our bedsheets, but there are other items and parts of our homes that naturally get dirtier with time and it's hard to notice.
For example, walls and floors. Most people take the time to sweep and clean them regularly, sure, but over the course of two, four, or eight years, they can get considerably darker due to accumulating dirt and grime – and we don't notice it because the build-up happens slowly.
But that's not all: there are also things we don't clean because we think it won't make a difference. Why clean an old rug when you're already thinking of buying a new one in a few months, right? Well, the cleaning can be far more effective than you think.
And to prove that, here are some incredible before and after pictures of all sorts of cleaning and organizing so you can see side-by-side the difference they make!
"The best and most beautiful things in the world cannot be seen or even touched - they must be felt with the heart. – Helen Keller
1. Steel kettle
Kettles and most pans tend to suffer the effect of burns, no matter what material they're made of. These stainless steel kettles are quite popular and most people tend to leave them over the gas hob to use on the go, but when frying something near it, it can get stained pretty easily.
The best way to erase this damage is by mixing lemon juice and vinegar, boiling it, and then using it to remove the stain. The results, as you can see, are extremely effective!
2. Bricks around the house
Bricks can suffer a lot of wear and tear given how they take sunlight, rain, and all kinds of wildly different temperature spikes. If not cared for, they will start to lose their natural color and get darker.
This is where a good power wash comes in to save the day. It's powerful enough to remove the crust of dirt and grime that accumulates over the years, but harmless enough that it won't damage the bricks. Suddenly the ground that looked beyond saving turns into a brand new sidewalk! 
3. Bathroom tiles
Tiles – especially textured ones – are very hard to judge. We can easily mistake their rough textures for a natural design, when in fact it could be greatly exacerbated by dirt and stains.
Cleaning them will more often than not reveal a much smoother texture that was hiding in there the whole time, so consider tile cleaning at least once a year. Invest in cleaning the grout between the tiles as well and the bathroom will look as good as new!
4. Closet
Everyone loves an organized closet, but we all know how easy it is to let it turn into a messy pile of stuff. And no shame in that – every home has a messy closet for sure! The important part is to find the time every now and then to cleanse and organize it.
I personally recommend using the KonMari strategy. It's all about considering what you actually need, what goes away, and finally, what goes where. By the end you'll probably find yourself free of tons of junk, papers, and clothes that don't fit anymore. This, in turn, makes organizing whatever's left much easier, since you don't have nearly as much stuff to go through!
5. Garage
The garage is another one of those places that can easily get out of hand, simply because in most homes, it's never a hangout spot. No one minds the fact that it's too messy because no one's hanging around to see it for too long, but that doesn't mean we should just let it go.
Garages are prone to accumulating boxes, old furniture, tools, all sorts of junk we don't really know where to put. The immediate first step would be to actually decide what stays – get rid of everything you don't want so it's easier to organize your actual possessions later.
Having done that, it's time to take inventory. Consider what you have now and think of a better way to store it: a couple bikes might be way better on a special wall rack, keeping them safe and out of the way. Boxes can be useful, so if you want to keep them, unfold them and store them aside. Finally, a simple shelf might solve the remaining clutter!
6. Any place can look messy
This might seem like an extreme example, but it's just fun proof that any place can look terribly uninviting when messy – even somewhere as beautiful as this. It's nothing short of a dream home for most people, but when messy… not so pretty, is it?
Even the disposition of furniture plays a role here – notice how both couches pushed to one side make the room feel smaller and more cramped (along with everything else around it, of course). But without all the mess, both couches can be placed on opposite ends of the room, making for a much more spacious and comfortable zone.
7. Rug cleaning
You don't really need pets to start accumulating all sorts of hair, fur, and dirt on your rugs. And if you have a tendency for dark rugs and white pets… well, it's a recipe for disaster.
But nothing a proper tool or professional can't fix: you can have your own fur removal tool at home, but many professionals specialize in cleaning rugs and upholstery from anything that sticks to them.
8. Drawer
A messy closet is one thing, but a messy drawer is basically an unchanging rule of the universe. Every home has at least one drawer that just becomes the "I'll-put-it-here-because-I-don't-know-where-it-goes drawer – no exceptions.
The problem is that other nearby drawers can start abiding by this wild way of life and suddenly you don't know where anything is.
The rule is the same as before: throw away everything you don't actually need and organize the rest. For small items it's a good idea to get a few small baskets as a way to separate them, but also prevent them from getting lost inside the drawer.
9. Grout cleaning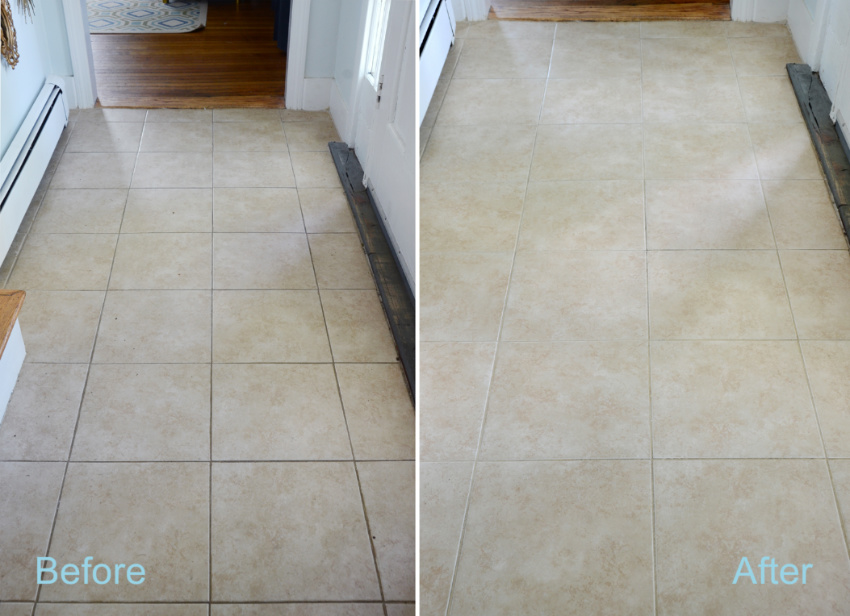 The grout is often overlooked when it comes to tile cleaning. I brought up the tiles before, but the grout is a different beast that requires special care. Being a porous surface, it can absorb humidity, accumulate grime and even grow mold depending on the location.
When you decide to clean your tiles, it's always good practice to include the grout in the deal. There are DIY solutions for this, but a professional grout cleaner can always get the job done faster.
10. Upholstery
Upholstery is another one of those things where it's hard to notice how progressively dirtier they get with time – until they become extremely dirty. White or any upholstery in a brighter color suffers especially here, since stains become way more noticeable, along with their darker color. 
There's no reason to wait that long: there are upholstery professionals that can make most pieces look brand new once they're done with them. 
Ready to get some cleaning done? Contact a house cleaning service nearby and get free quotes today!
---
MORE FROM HOMEYOU
When to Worry About Mold and How to Prevent It
10 Simple Things You Shouldn't Skip On Your Spring Cleaning
10 Easy Ways To Keep Your Laundry Room Organized