Halloween decor has the advantage of being super quirky, but still easily affordable and available in a variety of ways. Give yourself a few milk jugs and a pen, and you can make something work!
But of course we'll be looking into a lot of ideas today, everything from outdoors to indoors decoration, but all very easy to do and without having to spend much. Halloween spirit is just too fun to ignore!
"Believe you can and you're halfway there. – Theodore Roosevelt
1. Spooky jugs
These beautiful spooky jugs are so easy you can probably figure out how to DIY them by just looking at the image: basically, draw the spooky faces with a marker, them cut a hole of the jugs to insert the lights (which can be string lights from Christmas trees), and you've got yourself a spooky entrance!
2. Window silhouettes
Once again, as easy as cutting up some black paper with a pair of scissors! As for the patterns, you can either take the challenge of cutting them by sight, or print them from your computer to better match them on the paper.
After that, simply place or tape them on your window – closing the curtains makes them stand out even more from outside!
3. Jack'o lantern
I can't believe it took us until topic number 3 to mention Jack o'Lanterns – now there's some restraint!
Anyway, you can absolutely consider the good old pumpkin, since it's also a super affordable and effective craft. But if you want something a little different, perhaps even easier, consider adapting a vase or plant container into a jack o'lantern! 
4. Bat branches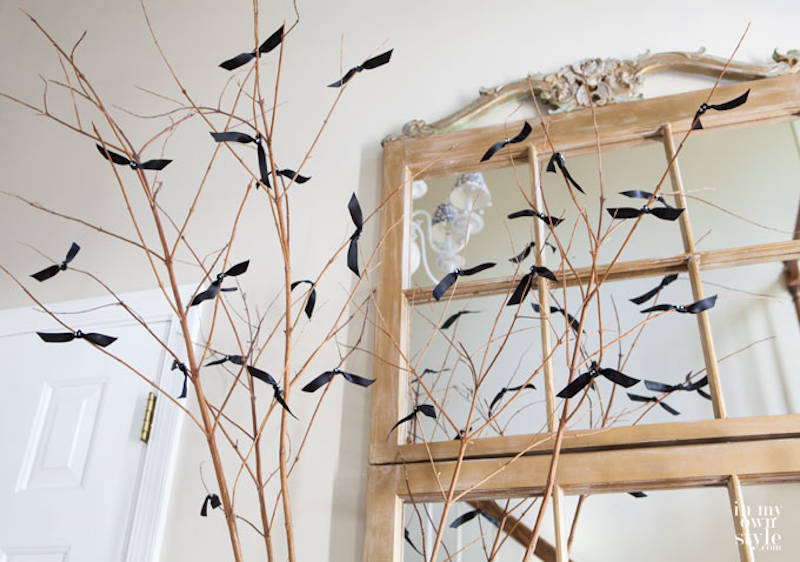 This adorable craft is easy to do and retains the Halloween spirit with a minimal aesthetic. So you can have this inside your home without it ever becoming an eye sore!
It basically boils down to crafting the tiny bats and attaching them to the branches, which you can get from assembling some twigs, or from an actual plant you may already own.
5. DIY ghost
All you need to add a ghostly presence to your front yard is a stand with a couple tin-made spooky ghosts. You can also attach them on your porch! These guys will float around in the wind and make for an awesome Halloween project!
6. Ghostly garland
If you haven't already made a Fall inspired garland, you're just in time to make a Halloween themed one! This one combines the usual Fall leaf idea but turns them into little ghosts! 
7. Eyeballs
It's as simple as this: get some styrofoam balls from your local market, paint them with eyes, and add a bunch of eyeballs to your front porch. It's eerie, but still adorable in it's own way, and most importantly, super easy and cheap to pull off!
8. Witch's hat lamp
Indeed, this lovely craft makes spooky lamps out of witches hats that you can create yourself with some sewing dexterity. Combine that with a few more elements of decoration and you've got yourself a themed front porch ready for Halloween!
9. Front porch wooden pumpkins
If carving out a real pumpkin is too much of a hassle (or you just want something different), how about putting some wooden blocks to good use? A light coat of paint and a couple decorative elements make for a lovely "faux pumpkin to sit on your front porch!
10. Spider wreath
An incredibly easy Halloween wreath idea that can be adapted into a number of different wreaths, maybe one you already have. It boils down to setting up the web and adding one or more toy spiders to it.
Need some interior decor advice? Or maybe some home design tips? Get in touch with a professional for more info!
---
MORE FROM HOMEYOU
5 Easy Weekend Projects That Cost Less Than $20
5 Best Fall Wreaths to DIY This Season
5 DIY Crafts To Get You In The Mood for Fall