It's finally time to celebrate Christmas – one of the most delightful holidays in the year. Though a catholic holiday by tradition, Christmas is celebrated all around the world. It's a wonderful time that involves tons of fun decoration, giving and receiving gifts, eating delicious treats and having fun with the family.
We'll be going through everything you need to know about getting ready for the holidays in the following weeks, but today we'll start light with a few beautiful Christmas mantle decoration ideas!
"Dost thou love life? Then do not squander time, for that is the stuff life is made of." – Benjamin Franklin
1. Snowy interior
There is a way to bring snow indoors without chilling – use an abundance of white along with a Christmas tree decorated with faux snow. This will bring that frosty atmosphere to your living room, but in a way you can enjoy!
You know, without having to be like: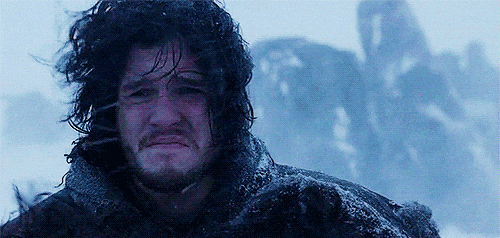 2. Vintage
For an interesting holiday decor that can last throughout winter, make good use of an antique mirror frame by combining it with greenery for a vintage, yet timeless look. It works for Christmas just as well, but it's neutral enough that you can make adjustments without locking it in for the season.
3. Non-traditional colors
The traditional red and green is always a great choice, but maybe you're tired of seeing it everywhere and want something different. If you prefer a more lively decor, try some light neon colors!
They make your mantle decor look happy and kid-friendly – combine that with gift wraps along the same style for an extra dash of color.
4. Plaid socks
One of the most classic ways to decorate your mantle for Christmas is by hanging up socks for Santa. You can always use actual socks, but it looks much nicer to use big plaid socks for this special occasion. 
Also, if you have kids, you can fill the socks with little notes or candy as an extra gift for your kids when the day comes! 
5. Clean look
There is a way to use the traditional red and green we remember Christmas for, but in a neat and economic way that doesn't seem overbearing. The trick is to use more green than red, because the warm tone is a much more aggressive color – imagine this same image but replacing the green ratio for red. It would be too much.
However, with the help of a white mantle, this ratio makes for a balanced, light, but still distinctively holiday look. As an extra touch, incorporate small houses and minimal trees to simulate a small village!
6. Classic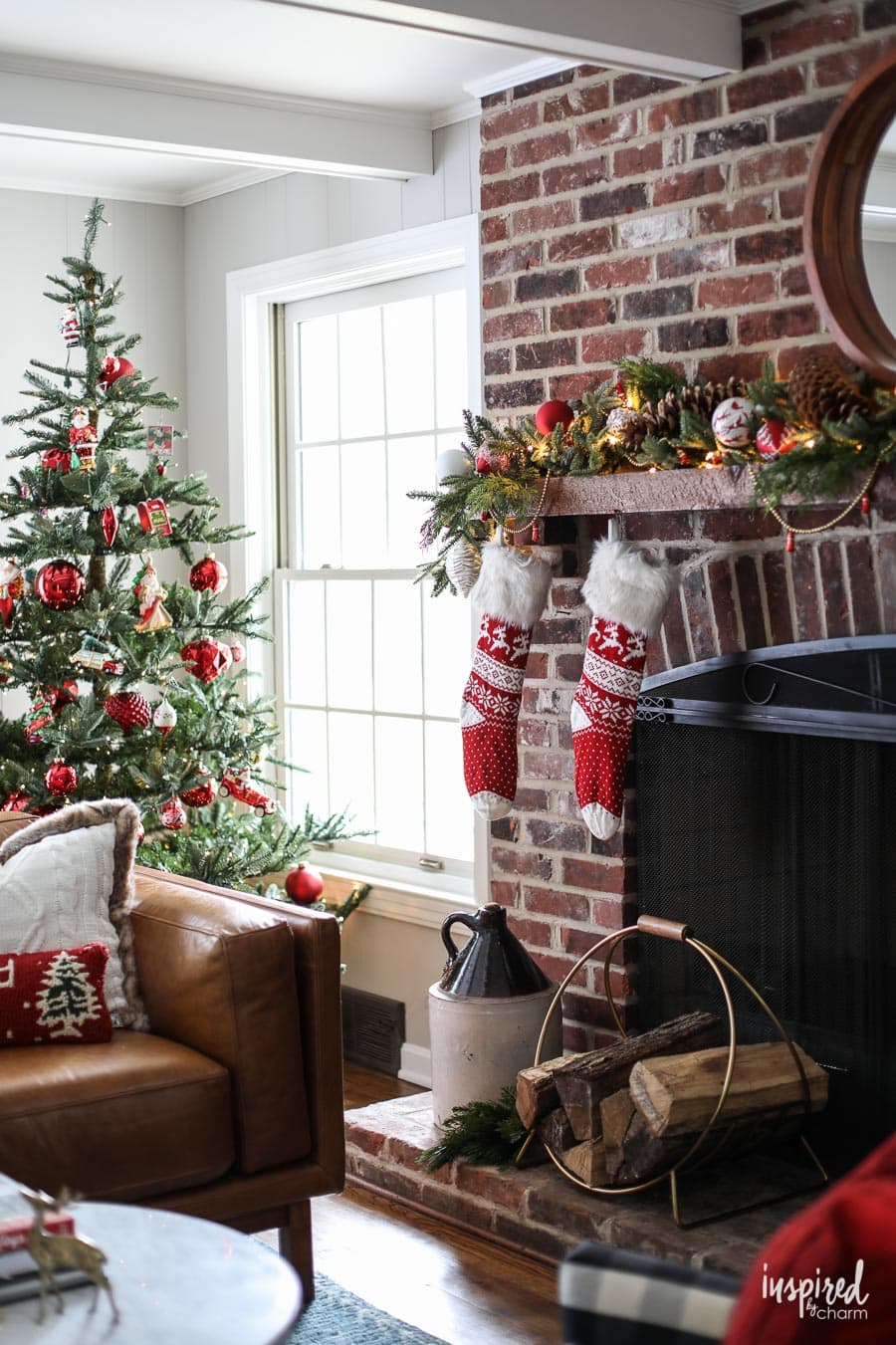 I've been laying out a lot of different ideas here, but that doesn't mean we have to ignore the classic. If you prefer a more traditional decor, you can embrace the red and green mantle decoration for Christmas!
Everything here is as iconic as it gets. The simple but well decorated pine tree, the pine cones and firewood decorating the mantle (with string lights for extra charm), and of course, the red socks for Santa.
It doesn't get more Christmas-y than this!
7. Advent calendar
A wonderfully creative idea for the countdown until Christmas! Separate the envelopes and add small surprises inside each one – perhaps a hint to a gift hidden around the house, candy, coupons, hints on gifts that are already waiting by the tree… whatever you can think of!
To top it off, add some faux greenery with Christmas balls and apples mixed together for an organic yet charming final look.
8. Golden
Now this is the decor of legends. Green and golden match very well to elevate your decoration efforts to the next level. Combine that with string lights to add a bit of glow to your golden decor and the whole thing will pop with elegance.
Golden gift wraps also look phenomenal under the Christmas tree. After all, if it's wrapped in gold it must be worth a lot, right? If the gift comes from the heart – no matter how small – it's worth way more than gold.
9. Candles
A simple way to make your mantle more charming is by adding a few candleholders. If the space allows for it, you can even light the candles to subtly illuminate the room with a natural glow.
Of course, if you do light the candles just be sure there's nothing flammable nearby. You can always use LED candles for safety since they look almost identical.
I'll be using LED candles, personally. Between Christmas, New Year's, work, my cats, and of course my family, I really don't have time to put out fires right now!
10. Ribbons
Regardless of your color choices, you can still add more pop or variety by using ribbons. Hang ribbons across the mantle in strings of three to add color without taking up any space at all. Ribbons can be used for this purpose on wreaths or even the Christmas tree as well.
And that about wraps it up for today. Have fun decorating!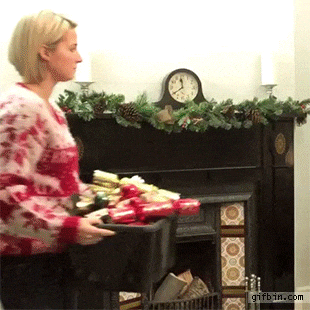 Need help getting the house ready for Christmas? Get free quotes from a professional house cleaner in your area today!
---
MORE FROM HOMEYOU
How To Fix Scratches On Wood Floors
These Are The Best Trees To Have In Your Backyard
How To Close Your Pool For The Winter