There's a lot of people out there who, like me, love the start of a new season. There's something special about it – a different feeling in the air, the colors changing, the way the sun hits… it's truly special. And what better way to welcome the new season in than with some themed decoration?
Keep reading to find out some gorgeous fall decoration ideas that would look lovely in your home! 
"For success, attitude is equally as important as ability. – Walter Scott
1. Front porch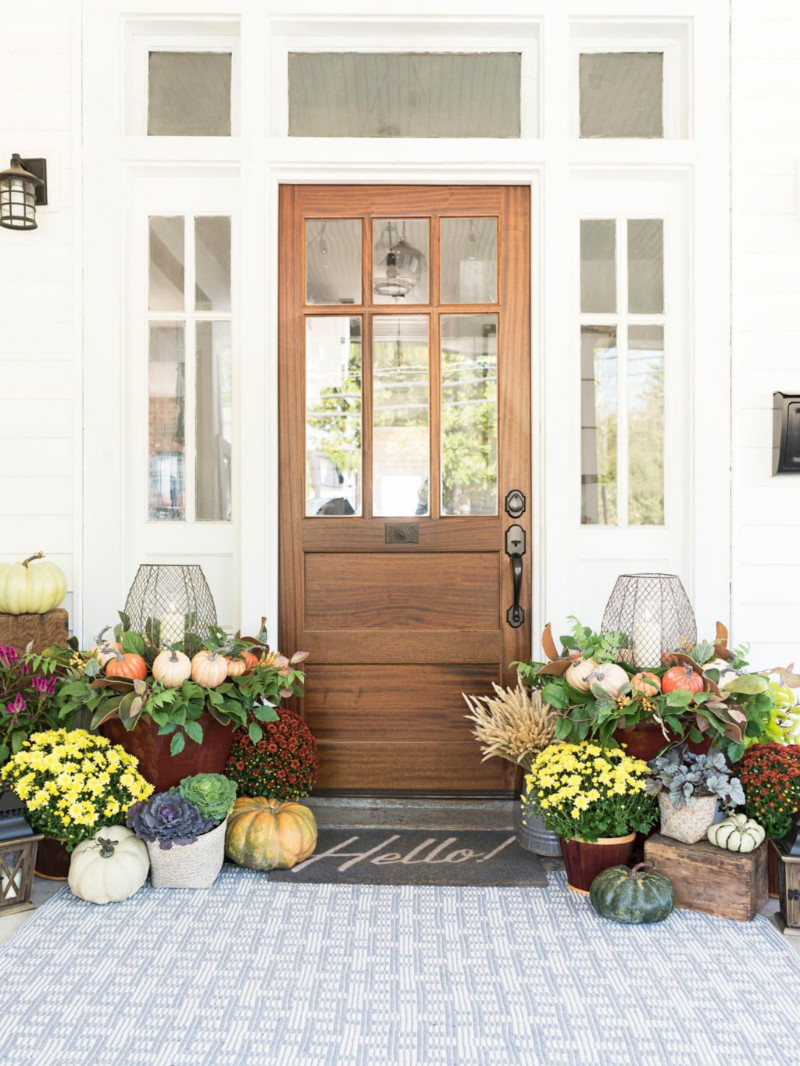 We want to show everyone that Fall is right around the corner, so naturally, we should start by decorating the front porch! There's a lot you can do here, but you can keep it simple by using on-theme potted plants and greenery, along with some pumpkins and welcome mat to match.
Keep in mind: a simple and cheap power washing service can completely transform your porch and deck and renew its look! 
2. Pumpkin centerpiece
Pumpkins are often seen as the symbol of Fall and the absolute unmistakable sign that the season is upon us. You can almost smell the pumpkin pie already!
You can set these up to decorate the front porch or around the house too, but to give them more of a proper place, lay them out as your centerpiece. Tiny pumpkins are great for this because they won't get in your way and leave more than enough room for the rest of your props and table setting.
3. Make the outdoors cozier
The season still offers mild weather outside for the most part, so you can create a cozy outdoor spot to enjoy during the day and evening. The centerpiece works well here too, along with some candles and rustic furniture to complete the look… It's the backyard of dreams! 
4. Fall foliage
And could we forget, the face of Fall – the red and orange leaves! If you have a garden and some plants at your disposal you can set up a variation of these with no problems, but for the sake of practicality you can also get some faux plants solely for the purpose of decoration.
5. Bar cart
A rather simple addition to your outdoor space, but definitely a welcome one –  a bar cart. Mobile, lightweight, and stylish, add some plants and fruits to it and you'll have the perfect companion for a cool Fall afternoon.
6. Fall colors
People tend to bounce off the clichés as if they're bad, but far from it. Clichés only turn that way because they work! Don't be afraid to embrace tradition and decorate with the traditional colors of the season, namely the rich orange that resembles dry leaves and pumpkins.
7. Hanging leaves
A simple fall home decor idea that looks great outdoors and indoors. You can easily get this DIY project done in a few hours and the material requirements are pretty low. It's a perfect piece to display in full color that Fall season is here to stay!
You can use this lovely decoration idea in different places around the house, such as:
The mantel 

The front door

On windows 

Clustered suspended on the entryway, to greet visitors
To make this DIY project last for weeks, simply dip the leaves in melted beeswax and leave them to dry on a string, attached by a clothespin. Once they're dry, remove the clothespins and glue the leaves to the string for a nicer look. You can also suspend each leave on a monofilament on different heights to make it even more interesting.
8. Wreath
Another staple of the Fall season, the wreath can be made in a variety of ways. Here, a very natural-looking wreath made of twigs and faux leaves beautify a neutral background. Easy to DIY and perfect for your front door!
9. Sunflowers
These sunflowers look great as a centerpiece for your dinner table or a standout decorative piece for your mantel. However, if sunflowers are hard to come by where you live, keep in mind you can always resort to faux sunflowers and have the same results with no maintenance required. A DIY fall decor idea that fits anywhere!
10. White pumpkins
White pumpkins are just as classy of an addition to your decorative efforts, even with the completely different visual style they provide. If the bright oranges and reds from the usual Fall decor don't fancy you very much, you can try a more neutral approach like this!
Looking for help to make your home ready for the Fall season? Get free quotes from local contractors in your area today!
---
MORE FROM HOMEYOU
6 Ways To Keep Your Garden Low-Maintenance
How To Use Leaves To Make Your Garden Better
5 DIY Crafts To Get You In The Mood for Fall