Fall leaves are everywhere right now! As beautiful as they are, the usual course of action is to sweep and get rid of them regularly to prevent them from taking over completely… but it turns out these leaves are quite useful for a handful of gardening and landscaping-related activities, so don't throw them away before reading this!
If you've been exercising your gardening skills, either for flowers or herbs and veggies, Fall leaves can become a tool at your disposal. They can be used for creating mulch, compost, and even insulating your plants for the Winter.
Keep reading to learn more about what you can do with Fall leaves!
"Live life to the fullest, and focus on the positive." – Matt Cameron
Compost pile
Compost is made by letting organic materials decompose so that they can be used as a soil conditioner, because it's so rich in nutrients. When creating compost, you need a decent amount of green and brown materials, and that's where Fall leaves come in – they fit into the former category.
You can even shred them if possible, which causes them to decompose faster (but that's not obligatory). It takes at least a few months for compost to be ready for use, so the sooner you start this process, the better.
You can make your own compost pile with: 
Shredded leaves

Straws

Corn stalks

Twigs

Organic compounds (like manure and grass clippings)
Add a layer of topsoil and you've got yourself homemade compost pile!
Shred them into your lawn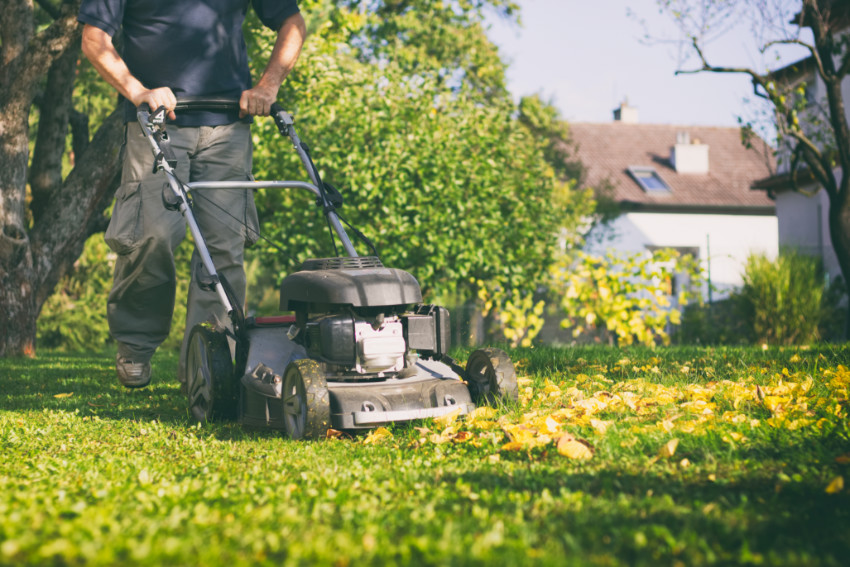 With a mulching mower (which you can rent or borrow if you don't own one) you can mow your lawn and already shred and disperse the leaves. A thick layer of leaves is not good for your lawn, but by using a mulching mower, they will be shredded and pushed into the earth, serving as "food" for your lawn.
Plus, you can do this regularly which on occasion saves you the trouble of raking the leaves – which often requires more effort and time. Shredding the leaves also helps your lawn to retain more water, meaning you will have to water less often, thus saving you money on water bills.
Mulch
Mulch is an extremely useful resource for your landscaping efforts. Mulch made of leaves will naturally protect the soil and eventually decompose, adding to its nutrition as a natural part of the process.
With winter in tow, you need to find ways to protect plants from the cold. The mulch can prevent the soil from absorbing too much water, which during the winter, prevents your roots from freezing.
You may need to shred the leaves and hose them down so they don't fly away with the wind, but the effort is worth it!
Protect your vegetables
The simple act of layering some shredded leaves to your vegetable beds can work wonders to protect them. This will keep the soil firm, safe, and because they're organic, they will naturally decompose over time, which keeps the soil healthy.
And as mentioned before, winter can freeze your roots. Protecting your veggies with leaves won't 100% fix the issue, but it can help by creating an extra layer of protection and preventing the soil from absorbing too much water.
Plant insulation
This is a very useful technique for protecting specific plants, especially during winter. For flower beds, putting down a layer of mulch made with shredded leaves will certainly help, but for other plants that may be separated from the pack, just the mulch may not be enough.
To protect a plant, here's what you do: 
Circle the plant with wire fencing to create a small perimeter around it

You can use sticks attached to the ground to keep them upright if necessary

Fill the container with leaves (they don't have to be shredded) until the plant is fully covered

There you go. This will insulate the plant and keep it more protected from cold weather!
Need help with your landscaping efforts this Fall? Get free quotes from professional landscapers in your area today and start planning!
---
MORE FROM HOMEYOU
5 Reasons Why You Should Clean Your Gutters Right Now
10 Great Ways To Add Color To Your Yard
10 Fall Gardening Tips To Protect Your Soil During Cold Season