The fireplace is often the focal point of a living room so it's important we make it as beautiful as it can be. With the right care, your fireplace can become the ultimate hangout spot and mesmerize anyone who sees it!
How exactly can you upgrade your fireplace though?
Let's take a look at some awesome ideas that fit any budget!
"There is nothing permanent except change. – Heraclitus
1. Fireplace screen
A fireplace screen is more than just a safety cover, it can and most certainly will add to the style of your fireplace.
The options here are vast – metal covers like the one above are common, easy to handle, and come in many varieties to choose from. But there are also glass screens, and a lot of them are specifically made for decoration purposes, coming with beautiful engravings and decals. 
2. Decorate
Don't shy away from adding decoration elements on top of your fireplace. A big mirror is always a nice addition, as it gives a bit more dimension to the room by adding the impression of space – which is why you see it all the time above fireplaces. It really gives that feeling that the room goes beyond the wall, which is great.
But the very top of the mantle can be home to small plants, portraits, vases, and so on. Portraits are particularly nice, since the fireplace itself is such an attractive eye-catcher, it's a good place to display your favorite family photos!
3. Accent your fireplace wall
If the design of your home agrees, it might be worth making an accent wall out of your fireplace area. To do this, make it a different color than the other three walls in the room to truly make it stand out – making it a darker color works very well. If you can combine it with other elements of your decor, you get bonus points for style.
But the ideas don't stop there. You can also take it to the next level and make that one wall a completely different texture, like covering it with exposed bricks. Adding elements of decor like paintings just adds an extra touch of color.
4. Mantel
The choice of mantel is also of great importance for your fireplace. They can be purchased brand new, repurposed, updated…
Basically, there are options a-plenty to fit any budget.
A more economic idea would be to repaint your fireplace mantel, and then adding either brick or tile work to surround the fireplace – both relatively cheap projects that will completely change the overall look!
Don't forget the inside of your fireplace: they can also be customized with brick patterns!
5. Tile surround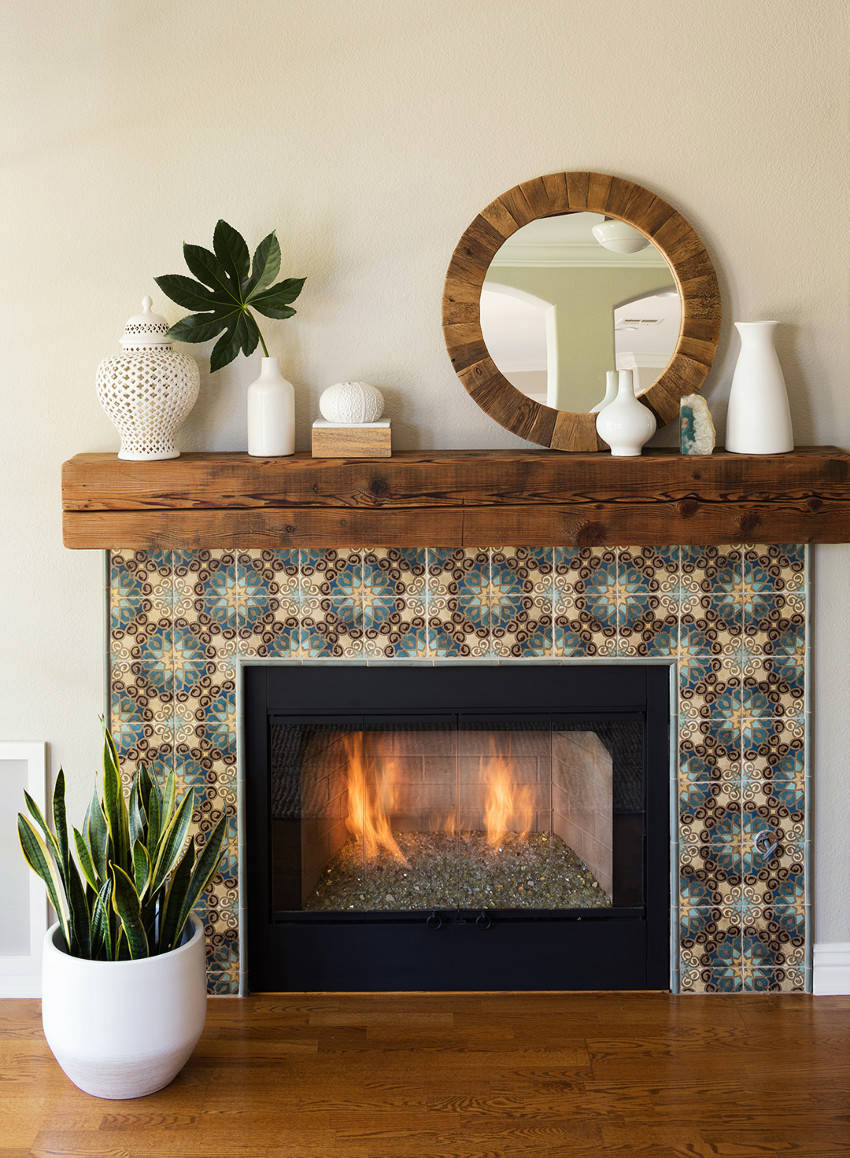 And speaking of the surrounding area, although bricks are quite common, you should not forget about tile work. Tiles come in many shapes, sizes and with thousands of different colors and textures. Plus, they're highly resistant to heat, so durability isn't a problem!
But we should also mention the beautiful pinewood top – a touch of vintage that also holds a number of decoration elements. Definitely worth considering for an updated fireplace.
Need help with a fireplace project? Ask a professional for free quotes in your area today!
---
MORE FROM HOMEYOU
The Pros and Cons of Concrete Countertops
5 Low-Cost Ideas for a Kitchen Remodel on a Budget
How to Design a Warm and Welcoming Bathroom