Furniture is an essential part of interior design. They have practical applications, but at the same time, they do a lot for your visual appeal. So much in fact that many homeowners neglect the warnings that come with certain furniture styles – not necessarily downsides, but important characteristics that make them not suited for every situation.
This is what I want to warn you about today. Hopefully, with this information in hand, you can make more informed decisions about your furniture purchases in the future!
"Start where you are. Use what you have. Do what you can." – Arthur Ashe
Ottomans
Ottomans are incredibly charming, making them a favorite for interior designers. Small and stylish, they're easy to add to your living spaces without much planning. Plus, they're adorable!
So what's the problem?
Well, many people purchase ottomans to use them as benches, and that's not ideal. Ottomans are used to rest your feet and legs when sitting down, they're not made for sitting.
They have no support and are usually very close to the ground, making for an uncomfortable experience. Stools are the same, but these are often used in areas where you're not expected to sit for very long.
In the living room, you're better off investing in proper couches and chairs, with an ottoman on the side for resting your legs. You can sit on them, of course, but avoid leaving them as your main sitting area. Guests will be very uncomfortable!
Pedestal tables
There's nothing wrong with a pedestal table for a quick snack. But if you're planning a dining area, pedestal tables are too small and clunky to accommodate your family.
They also suffer from not offering a lot of leg space underneath, forcing you to sit a bit further away than you might want to. Even worse, children and pets can sit on or grab the edges, tumbling the whole thing over unless the table is attached to the floor in some way.
Obviously, a pedestal table has its uses. It's perfect for a small corner or a coffee table if you can afford the space. Just be aware that it isn't suited for dining, as it offers very little room.
Leather furniture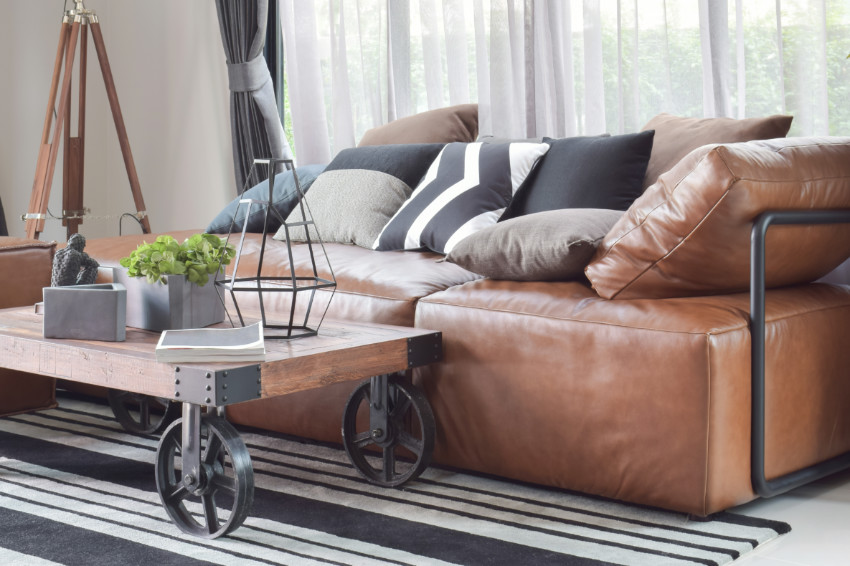 Leather furniture is considered a deluxe asset due to the quality of the material and, of course, the stylish look. So you might think that you can't go wrong with it...
The thing about leather is that it's expensive to acquire, and expensive to maintain. Yes, sitting on a leather couch feels great, but since it doesn't dissipate heat, it can be very uncomfortable during warm weather.
If you've ever driven a car with leather seats during the summer, you know what I'm talking about.
Furthermore, fixing torn or scratch leather is more expensive and difficult than your regular upholstery. There are, of course, many advantages to leather furniture, but don't assume that it's the best for you just because it's the most expensive.
Wooden furniture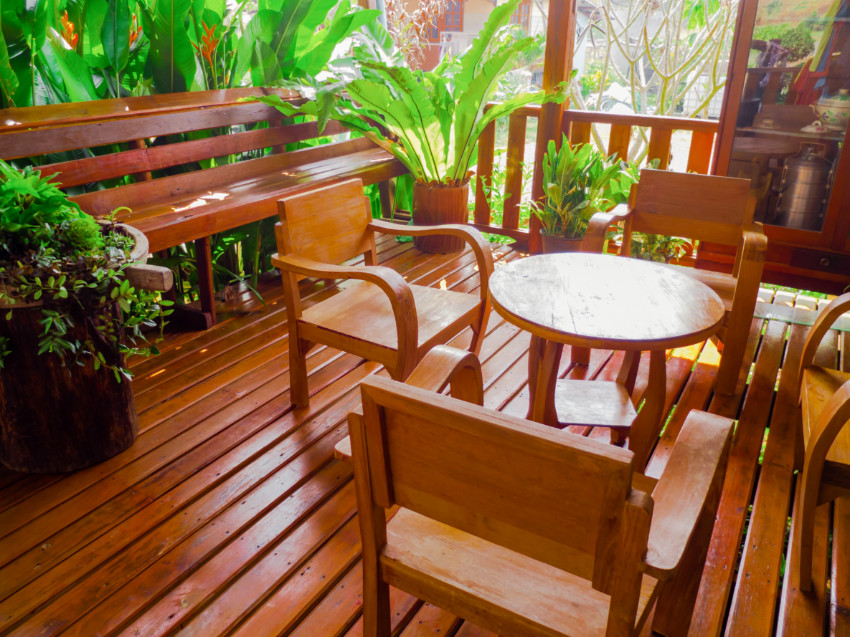 There's a lot to love about wooden furniture. Affordable, durable, and stylish – there are far more pros than cons here.
A word of warning though, wooden furniture requires some care if you want to see it last for years. They are susceptible to termites, for example, which can destroy them from the inside. Same for water absorption in humid environments, requiring you to seal the wood to make sure it doesn't rot so fast.
Don't get me wrong, wooden furniture is highly resilient and one of the most versatile options when it comes to furniture. But some care is required to see them last a long time, as well as regular maintenance.
Steel furniture
Like wooden furniture, steel furniture has tons of advantages. One of the best options for outdoor furniture, it's sturdy and requires little maintenance. So what's the issue?
Well, if you have wooden floors, you must know that steel furniture can scratch them very easily. Chairs and tables can be dragged around and do some serious damage to wooden floors. The damage can be repaired, of course, but that's not ideal.
The most common solution is to install softeners under chairs and tables to prevent this. Usually works really well, so be sure to get them installed before you're done decorating!
Ready to decide on your next piece of furniture? Get free quotes from interior designers today to get some help!
---
MORE FROM HOMEYOU
Checklist: The Most Important Home Maintenance Tasks For August
The Most Interesting Summer Decor Trends For 2021
10 Relaxing Summer Decoration Ideas For a Perfect Staycation