Staying fit and healthy is a huge priority for most people these days. There are several ways you can explore towards that goal, but hitting the gym frequently is proven to be one of the most effective options. 
But sometimes going to a gym is not possible. Whether it's the fact that you don't have enough time to drop in there or simply don't like the idea of paying high monthly gees, gyms aren't for everyone. 
This is why many people are investing in a good home gym, especially now that everybody is staying home because of the Coronavirus. 
Home gyms are not only personalized to your workout needs but they also give you the freedom of exercising any time it's best for you.
Keep reading to learn great home gym ideas and some essential elements you need to make it even more convenient! 
"The secret of getting ahead is getting started. – Mark Twain
Mirrors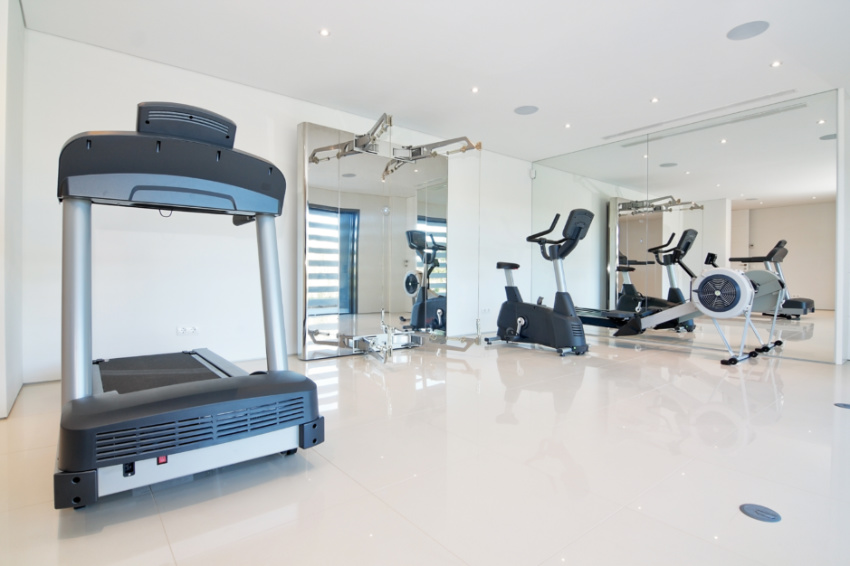 As you have probably noticed already, mirrors are almost a must at any gym. They play two key roles in home fitness:
First, they give you a chance to check your workout routines and ensure you have proper form in everything you do. 

Second, doing a

mirror installation

will also help reflecting and scattering the light, making the gym seem bigger and brighter.
Gear Storage
A small home gym won't have nearly as much equipment as a commercial gym since you are going to use it on your own. Despite that, it has to be organized nonetheless. 
Investing on a dumbbell rack, for example, is absolutely crucial. You also need to think about the layout of the room and plan out how your equipment will be arranged. The goal is to make sure that your workout space is as big as possible.
Non-Slip Rubber Floors 
You may also want to install a rubber gym flooring as well. Keep in mind that you will be moving a lot during your workouts, and in some cases, you may also need to lift heavy weights while standing on your feet. 
Stability in such scenarios is absolutely crucial for your safety. A non-slip floor will go a long way in making sure of this. It also protects the floor from the impact of falling weights.
Water Dispenser 
When you take the time to exercise, the last thing you want is to keep walking from the gym to the kitchen in the middle of a workout just to get some drinking water. Workouts can be intense and you will need to rehydrate as much as possible. 
Having some clean fresh water inside the room will make sure of that. In that case, consider adding a dispenser or any other source of fresh water that can be accessed anytime you need.
Entertainment 
We all love working out to the sound of music, don't we? Most people will agree that workouts feel much more fulfilling and exciting when done in the background of some good entertainment. It's, therefore, a good idea to install a sound system in your home gym. 
Consider adding a TV as well as part of your setup. You can actually mount it on one corner of the room for that outstanding experience.
Compact Low Table 
You may also want to add a compact low table into your home gym too, and it will be more functional than you think. 
Let's say for example you have some in-workout smoothies or foods that you need to eat. Where will you place them? A low-profile table can also be used for water bottles, towels, or to keep your phone.
Art 
Working out on plain walls can be a little discouraging. Adding a few inspirational pieces of art here and there goes a long way in setting up the right mood in every workout. 
Don't overdo it, though. A good rule would be to have many smaller pieces of art in a single wall as part of the overall home gym decor.
Towel Cabinet 
Ultimately, you want your home gym to be fully equipped with everything you'd need for every workout, so adding a small and compact towel cabinet should be in your list of priorities. 
In case you're not on board with the idea of having an extra cabinet in there, or perhaps you don't have the space, just get a storage wicker basket that can hold three or four rolled-up towels, and that will already work.
Proper Lighting 
Finally, you may also want to ensure that your gym is properly lit. The rule of thumb is to make sure there's as much natural light coming in as possible. Don't also forget to install ambient lighting solutions too that allow you to work out at night if needed.
Creating the perfect home gym doesn't take a lot. With some equipment, a sizable space, and some good organization skills, anyone set it up easily.
---
Need a gym flooring expert or a local handyman to help you set up your home gym? You're at the right place!
MORE FROM HOMEYOU
The Pros and Cons of Vinyl Flooring
How To Deal With Scratched Wood Floors
6 Tips To Make Painted Walls Look Like Wallpaper