Wallpapers bring a lot of texture to a room, but there are some downsides to using them. They are not as long-lasting as paint, and while they are fairly cheap and easy to replace, it can be a hassle to do so.
But what if I told you there's a way to achieve the same kind of look from wallpapers using paint?
Yes! And it's not the hardest thing either, all it takes is finding the right inspiration and planning your room painting ahead. And it's worth pointing out that wallpapers can be a bad idea depending on your house and location, but some homeowners want that look without the downsides, and this is basically the best of both worlds. 
Let's take a closer look at what's possible so you can take your wall paint to the next level!
"The most difficult thing is the decision to act, the rest is merely tenacity. The fears are paper tigers. You can do anything you decide to do. You can act to change and control your life; and the procedure, the process is its own reward. – Amelia Earhart
Geometric shapes
Geometric shapes are great for children's rooms, since it makes them pop with color without making the room overwhelming. For this effect, combine neutral light tones with a light background – match this with your decoration and the effect speaks for itself.
When you're deciding colors and designs to use, make sure to look for the best interior paint as well. Low quality paint is less durable and less efficient, which might take more than two coats to finish the job.
Simple patterns
Some patterns can be handmade by a skilled painter, but you can have them done much faster with a stencil. You can find these to purchase or make your own if you want something very specific, but either way the results are great: a repeating pattern that adds a much needed charm to an otherwise solid wall.
For the stencil to work, you might have to paint the entire wall, so it's worth looking into interior painting costs in your area.
Complex patterns
These are probably the ones that most look like wallpapers and they might seem really tricky, but in reality it's very simple.
You can purchase these paint rollers with beautiful patterns that allow you to paint entire walls with a wallpaper-like texture, and it's as easy as rolling the thing up and down. Of course, a professional painter is always recommended to ensure the best possible result!
Stripes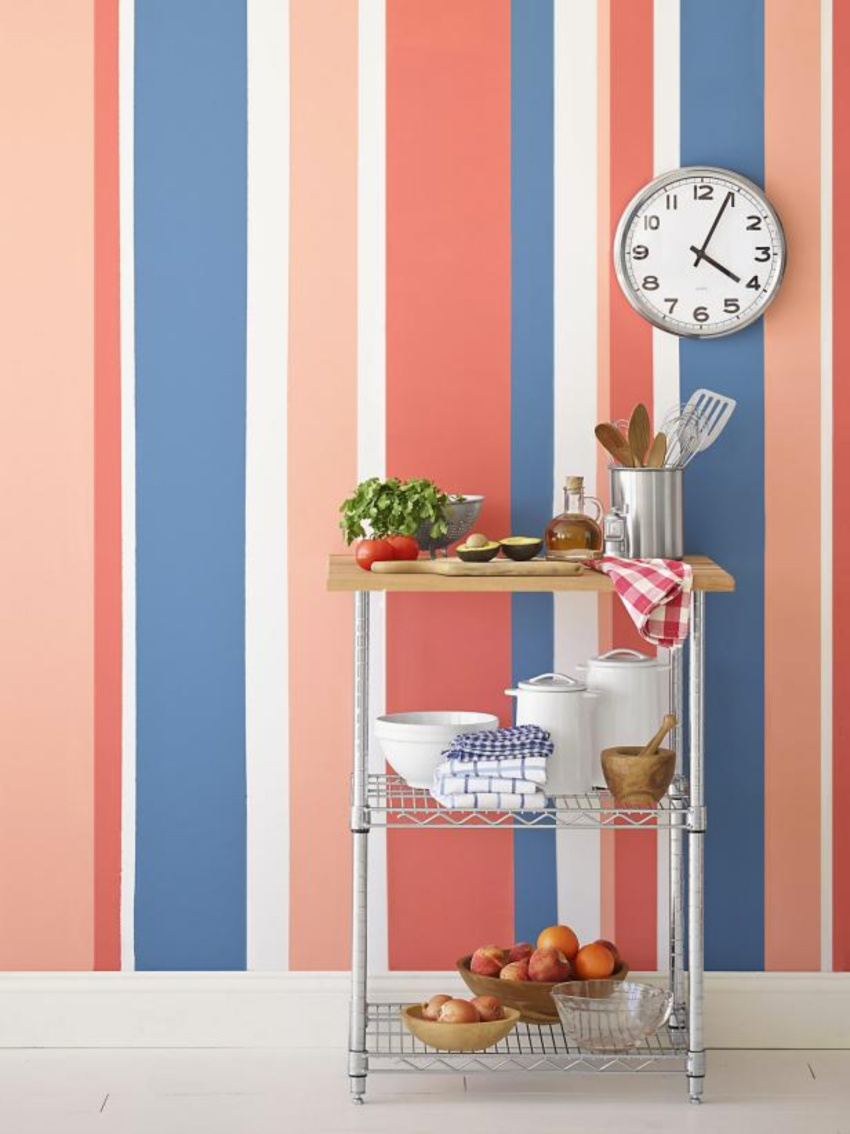 Colorful stripes are excellent to bring life to a room, but you don't have to make it this energetic – sometimes a simple horizontal stripe covering half or a third of the wall is all you need to add some personality to your walls.
While some rooms look better with more subtle tones, others need bold wall colors, and in that case, experiment with color palettes and different patterns to determine what you want. A local painter can help you make this decision by showing you these palettes and suggesting what colors go well with each room. 
Brushstrokes
A project like this is so simple that you could even do it yourself! This room had a solid white wall, but the owner felt it lacked something special. The solution was covering the wall in short handmade brushstrokes, creating a texture that looks rustic and homey!
Tips:
You can make it more colorful by using two or more colors

If you prefer a more subtle look, use a brighter color like yellow, beige or light grey. 
Stencils
I've already brought up stencils before, but while they are useful for painting solid patterns that don't connect, they can also be used to make patterns that almost seem like tile work. Hiring an interior paint service will be of great help here, since keeping the stencils lined up is really important to ensure a good look.
Inspired yet? If you want some fresh paint for your home, talk to a professional painter today and ask for free quotes in your area!
---
MORE FROM HOMEYOU
5 Times When It's Better To Hire an Interior Designer
How To Remodel Your Kitchen: From Planning to Execution
5 Easy Ways To Upgrade Your Laundry Room