Bringing home a new puppy can be fun and exciting. You may even think that it's easy and that you don't need to do anything special beyond picking up a leash and some food and toys. However, that cute and fluffy puppy can wreak havoc on your home if you're not prepared.
You also risk the dog getting into places you didn't expect, which may require an expensive trip to the vet. When you look at how to dog-proof a door and your home, you'll learn how to keep your new pet safe.
Bedroom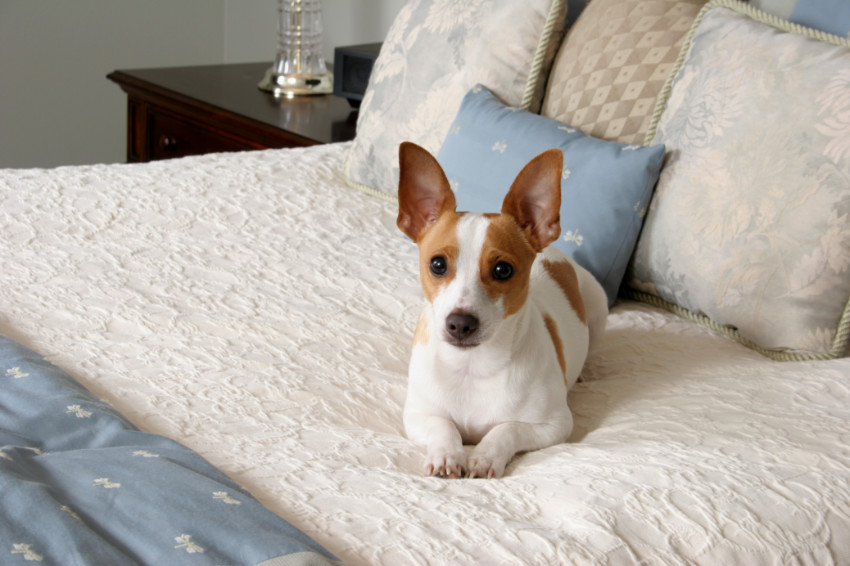 You should start in your bedroom, especially if you plan to let the pup sleep with you. Even if you plan on keeping the puppy in a kennel, you still want to make sure the room is safe for the animal. 
Always keep small objects out of the puppy's reach. 

If you have jewelry in your bedroom, move it to a higher shelf. 

You'll also want to tuck any medications into your dresser drawers. 

Pet-friendly flooring

such as laminate also comes in handy if your new dog has an accident in the middle of the night.
Kitchen
Dogs are often nosy. Your new puppy might love running into the kitchen and checking out everything it finds in the cabinets. Before you bring the dog home, take some time to move all chemicals and cleaning supplies to higher cabinets and other places your pet cannot reach. 
Using the same latches that you used when your kids were small can also help. Though the latches may make it hard for you to get inside the cabinets, they'll also make it impossible for the dog to get inside.
Don't forget to keep an eye out for foods that are dangerous and toxic to dogs. 
Onions and garlic can lead to vomiting and make your puppy feel lethargic for days. 

Grapes and raisins can lead to kidney failure and other serious medical conditions. 

Make sure that you keep all artificial sweeteners and nuts out of your puppy's reach, too.
Bathroom
There are a few things to keep in mind about your bathroom beyond simply adding the best flooring for pets. The products you use to clean the room are often dangerous to pets and can cause vomiting and even death. You should keep those chemicals in other rooms or in locked cabinets. 
Take time to put away all of the medications that you also store in your bathroom. Puppies love to chew and can easily chew through the lid or chew it off and swallow the pills inside. 
Stop your new puppy from drinking out of the toilet bowl, too. The dog can ingest cleaning chemicals from the toilet along with bacteria.
Laundry Room
Many pet owners who look for puppy-proofing hacks forget about their laundry rooms. Your laundry room is home to multiple chemicals and cleaners that are hazardous to dogs such as detergent. Your dog can also swallow fabric softener sheets that cause intestinal turmoil. 
If you often leave clean laundry sitting out until you put it away, you also risk your new puppy swallowing a sock or a pair of underwear, or stealing them away from the room.
Another thing to think about is the appliances in that room. If you have a small puppy, always check the washer and dryer before you use them. 
Small animals often climb inside washers because they think the appliances are fun hiding spots. They can also hop in the dryer because it feels warm and comfy. Never turn on either appliance unless you can see your puppy is not inside.
Yard
As much as you look forward to running and playing outside with your new puppy, keep in mind that your yard is potentially dangerous. Never take your eye off that dog for a second, especially if they're not used to the space. 
Many pet owners are surprised at how fast puppies can move. If you turn your head for even a second, it's enough time for the dog to get down the block or run into traffic. 
It's also important to consider microchipping, so talk to your vet about it. The chip will not hurt your pup, and it gives you a better chance of finding your dog if the animal gets out of your yard.
A dog-proof fence is another good option. This fence comes with a collar that your dog wears. If your dog gets too close to the fence, the animal will hear a loud noise that tells them to back away. 
You may want to look over your yard for plants that are toxic to dogs and remove them, including aloe vera, tulips, and ivy. 
Knowing how to dog-proof your home will help you get every room and space ready for your new puppy before you bring the dog home. 
Talk to a local fence installer to make sure your new puppy is safe inside your property!
---
MORE FROM HOMEYOU
Which Is The Best Flooring For Dogs and Cats?
5 Homemade Frozen Treats for your Dog this Summer
How To Save Up To 30% More Water During The Summer