Fences can offer much more than privacy around your home. In fact, a lot of the time fences can be used for the simple purpose of creating boundaries and stylizing either the front of your home or your backyard. They can be used for setting up a gardening spot, creating privacy around a pool, or boundaries near neighbor terrain. But most importantly, all of this can be done in style!
Today I'll be going over what you can do with fences and show some of the most common fence styles. This is just scratching the surface in terms of variety, but it should give you a pretty good idea of what materials you'll need, as well as the cost and labour involved in the process. 

"If you don't know where you are going, any road will get you there. – Lewis Carroll
1. Lattice + climbing plants
Lattice fences are good for creating boundaries without making the yard claustrophobic. They're not built for privacy, which is why you can see through them, but this in turn creates a much more pleasant look.
What you can do to enhance lattice fences even further is to let your garden intertwine with it. This makes the fence itself look more interesting, but also enhances the privacy by offering a bit more cover without compromising the see-through quality.
2. Solid concrete
It might seem a bit strange to consider a fence made of solid concrete, but when done properly, the concrete can create an incredibly slick and modern style that looks very unique. 
Obviously, we're talking about a sturdy structure that is very resilient and greatly improves privacy. It will likely require a bit more prep work than your usual fence (the weight of the concrete needs to be sustained), but it's definitely worth it. 
Ask local pros about fence installation cost if you're interested in this look!
3. Classic wood
The classic wooden fence isn't built very tall, and comes off at a good price, making it one of the most cost-effective options you can find. And because it's made of wood, it's also fairly easy to paint for even more customization.
Wood fences do require some regular maintenance, so keep that in mind when searching for fence installation cost!
The most popular types of wood for fencing are:
Pine wood

Cedar wood

Cypress wood

Redwood
4. Horizontal planks
Horizontal planks may seem like a meaningless change, but the horizontal lines make your fences look wider and not as tall – even if they are quite high. This is the visual trickery caused by the lines in a single direction and it can be useful to make your fence feel less imposing if you want to improve backyard privacy.
5. Classic vinyl fence
There's something irresistibly charming about the white vinyl fence. Simple, practical, and with the benefit that vinyl is an excellent material that's easy to clean and can withstand almost anything. Due to its ease of installation, it's a great option if you want to replace your current fence with a brand new one.
6. Slatted screen
A variation of the lattice fence, this slatted screen has a very similar effect. A decent amount of privacy but with a see-through quality, helping in creating zones for a small backyard without making it feel cramped and isolated. 
Additionally, since it's made of wood, the installation is very easy to the point of being DIY-able, and doesn't require a lot of prep work since the wood itself is very light.
7. Tall privacy fence
We've been talking mostly about style so far, but what if you want a fence specifically for the purposes of privacy without sacrificing a stylish look? Consider very tall wooden fences – painted black or another dark color – and with tiny gaps in between the planks.
These gaps should be much closer together than the usual lattice fence, since their main goal is style. We want a little bit of the outside to be visible to let the space breathe and not feel too claustrophobic, but the gaps won't allow for anything to be seen from outside, especially not from a distance.
8. Corrugated metal fence
Metal is a popular material for fences due to its resilience and slick look. This is one of the most durable fences you can find, which in turn means less maintenance over time. 
Though the initial cost is higher than something like a wood fence, a corrugated metal fence can last years with no problems, while a wood fence will need repairs from time to time.
9. Victorian style iron fence
If you want classy, you got classy – iron fences are some of the most beautiful fences on the market, reminiscent of Victorian Era designs. Sturdy, durable and beautiful, the only downside to iron fences is their price, as they tend to be quite costly compared to other types. 
However, if you want a fence that will look beautiful for decades, this is a fantastic option.
10. Modern short wall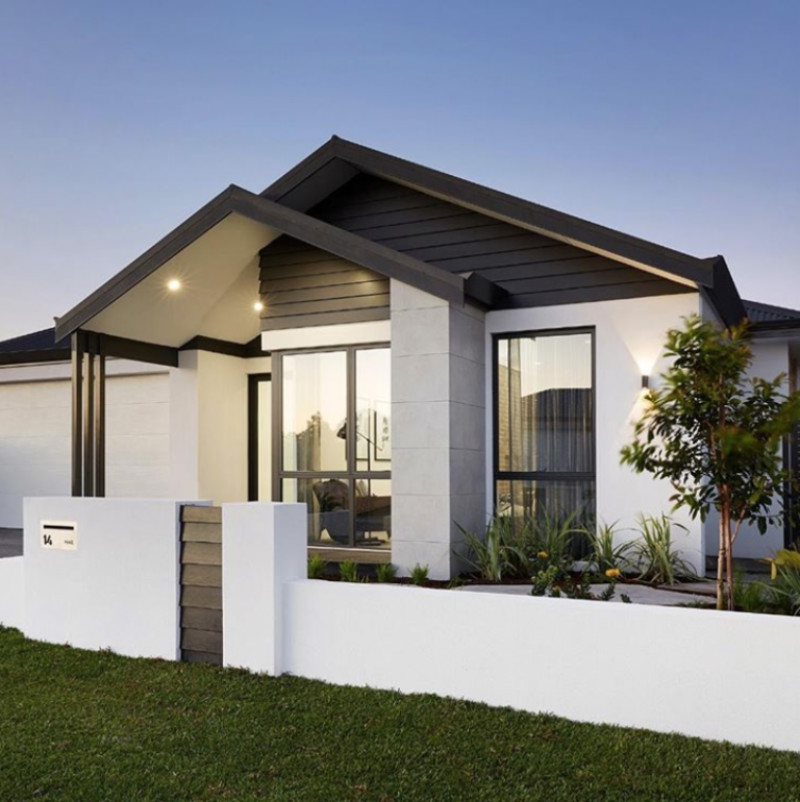 The perfect fit for a modern home, this short concrete fence blends in with a home's modern architecture to create a subtle boundary that demands respect, but remains welcoming. Better yet, the concrete and paint requirements are low, making it an excellent choice for adding that bit of extra style to your front yard.
Inspired to install a new fence on your property? Get free quotes from pros in your area today!
---
MORE FROM HOMEYOU
6 Tips To Design A Cozy Outdoors Living Space
7 Repairs You Should Make Before Selling Your House
The Pros and Cons of the Most Popular Roof Types