Most bathrooms are typically small. House plans often opt for squeezing more real estate out of living rooms and bedrooms, leaving bathrooms only as practical as they can be. There are exceptions to this, of course, but it's not a stretch to say that most american homes have small bathrooms.
This leads to homeowners looking for ways to make these bathrooms feel a bit bigger. Changing the floor plans is obviously effective to truly expand the room, but that creates a whole remodeling project that most people aren't ready for. 
Luckily, there are many ways you can make this work. Outside of their purely practical limited size, bathrooms can be made to look stunning and larger than they actually are without ever changing the floor plans, plumbing or making dramatic remodels.
Keep reading to learn some small changes, decoration efforts and additions that you can make so your small bathroom looks bigger and feels more spacious!
"Start where you are. Use what you have. Do what you can." – Arthur Ashe
Minimal decor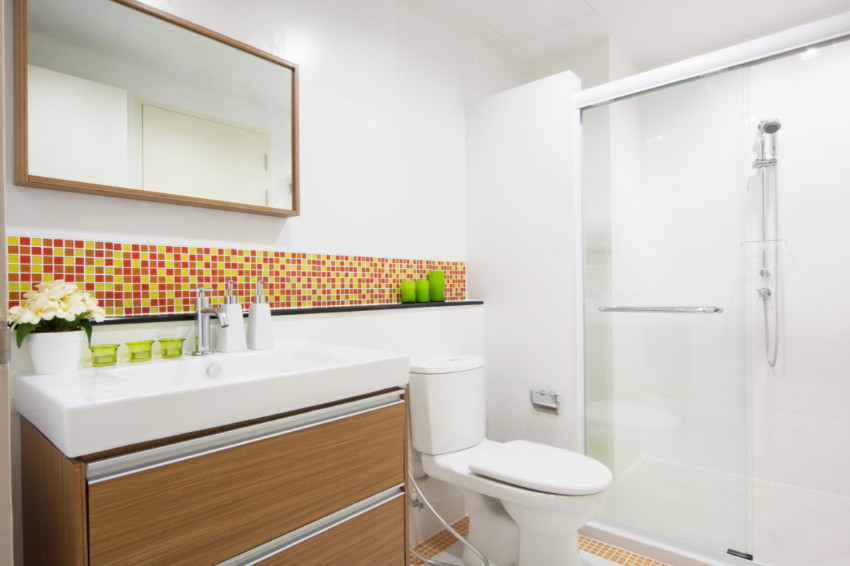 There's nothing wrong with adding small bathroom decorations – in fact, it's highly encouraged to make the place more interesting and alive...
But you should do it judiciously.
Avoid clutter. More stuff lying around means more things to get disorganized, lost, dirty… and it's just more visual noise for no reason.
That doesn't mean you can't use color and have trinkets, though. You should always feel free to decorate with things you love and that look nice, but when organizing such a small space, you shouldn't overdo it.
Use a few items with some visual consistency, such as decoration in the same color as the tiled walls, or matching the knobs and handles, or if your bathroom is all white, perhaps a small houseplant for a dash of color.
Soft tones
White is always a good option for bathrooms in general, but small bathrooms benefit from it the most. Dark colors tend to make surrounding areas feel more oppressive when used in excessive ways, but pure white reflects more light, thus making the place brighter – which helps a lot.
Besides that, softer colors for bathrooms are also on the plate, especially for details and accents. Soft beige, earthy brown, golden, all of these work wonders against a white bathroom, making the place feel less sterile.
Tiles are also a great way to add some accents, whether if it's to a shower corner or by the sink, it works really well and even allows for more dramatic color usage since it's for smaller details or creating zones.
Mirrors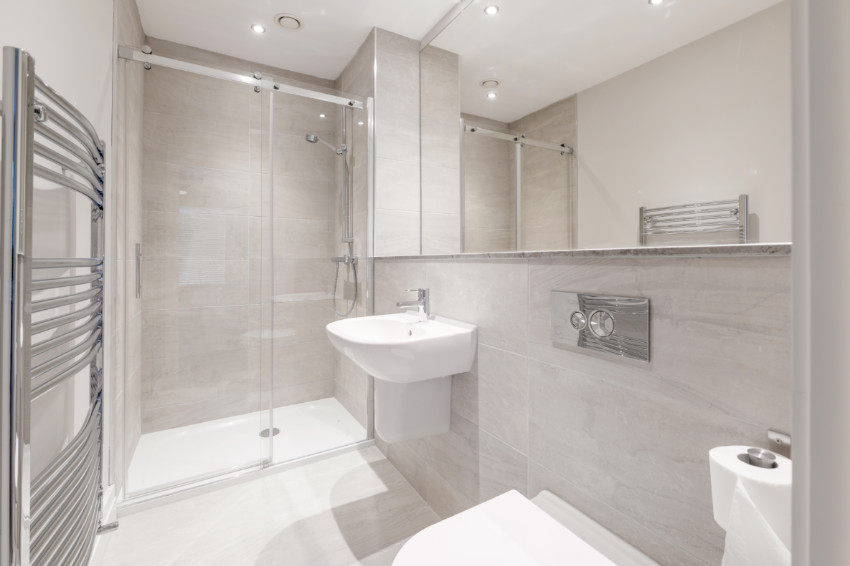 Mirrors are basically the oldest trick in the book when it comes to making small rooms feel bigger… and there's a good reason for it.
Even a small mirror will already make a difference, but here it's really up to your personal taste and the space you have to work with. If you really want that spacious feeling, add a really large mirror panel – it will visually double the room's size.
But if you don't want to go that far, you can instead add two or three smaller mirrors side by side. Much easier to install but still adds to your bathroom's visual space.
Glass panels
Some people prefer curtains for privacy, but keep in mind that glass panels can also be slightly customized to block the view while remaining semi-transparent – which is what we want.
Curtains definitely offer more in terms of visual variety, but when closed they cut off a small portion of an already small bathroom. Glass panels however, because of their much slicker design and transparency, allow for more of the room to be seen, thus giving it more space.
If you want a bit more privacy, you can opt for frosted glass panels.
Let the light in
If your bathroom has windows it's always a good idea to allow for natural light in whenever possible. But if not, we can get around this by using lots of white and properly installing vanity lighting.
One thing that will absolutely ruin a small bathroom is darkness caused by bad lighting. For example, say you're standing by the mirror brushing your teeth or combing your hair and the only light is shining from behind you. Your face and everything in front of you would be uncomfortably darker, making it very unpleasant for grooming.
You can fix this by installing vanity lighting. These can be installed behind the mirror as a backlight, which is quite fancy, but are most commonly installed by the sides or slightly above the mirror.
Here are some tips on good lighting for small bathrooms:
Avoid single light sources directly behind you;

Avoid exposed bulbs as these can be uncomfortable to look at directly and cause strong glare in mirrors and other reflexive surfaces;

Try to light the bathroom as evenly as possible;

If not using a mirror backlight, position lights at an angle from your face, slightly to the side and slightly above. You don't want to create hard shadows on either side of your face or under your eyes and nose.
Need help in making your small bathroom look bigger? Get free quotes from bathroom remodeling companies in your area today!
---
MORE FROM HOMEYOU
Windows That Improve Bathroom Lighting While Keeping Your Privacy
Your Ultimate Guide To The Perfect Bathroom Vanity Lighting
5 Simple Bathroom Makeover Ideas That Can Change Everything