There are some particular tips you can follow to paint a small bathroom the right way. The options are, to be honest, almost endless and you can do a lot with a good color choice… but that's exactly why it can be hard to decide. With so many possibilities, it's really hard to trim it down to just a few that work for you.
So here's a pro tip:
Let's talk about the best colors specifically for small bathrooms – but not being too specific. We'll be going through the ones that work better, but leaving a lot of room for you to decide which ones you want. There's plenty of room for creating your own personal touch!
"The secret of getting ahead is getting started. – Mark Twain
Bright colors
If you're planning a small bathroom remodel, it's always a good idea to find ways to make it feel larger through clever design. One of the ways you can do that is by making good use of bright colors (and by "bright we mean as close to the color white as possible).
Bright colors reflect more light around the environment, which helps in making a small bathroom feel spacious. This is especially useful if your bathroom window is in an unfortunate position that makes it harder to receive natural light – with bright colors, whatever natural light enters will be much more effective.
Basically, when in doubt, paint it white.
And don't worry about white making your bathroom lifeless or sterile – you can use other design elements like houseplants and decorative elements in other tones to create colorful details that will bring your bathroom to life!
Neutral tones
Neutral tones are made of any color, but the tone is neutered closer to white. This makes even dark and strong colors such as brown turn into soft, welcoming and bright tones. This is a great way to add some color to your bathroom, but still keep it soft on the eyes. You'll see these all the time when looking for small bathroom paint colors.
Neutral tones consist of beige, light gray, soft tan, anything pulling in that direction. When these tones make the majority of your bathroom's color spectrum, it's easy to create accents with details in those same tones, but outside of the "neutral realm.
For example, if your bathroom is mostly beige or soft tan, you can create matching accents with dark brown in the form of wood (or faux wood).
White tones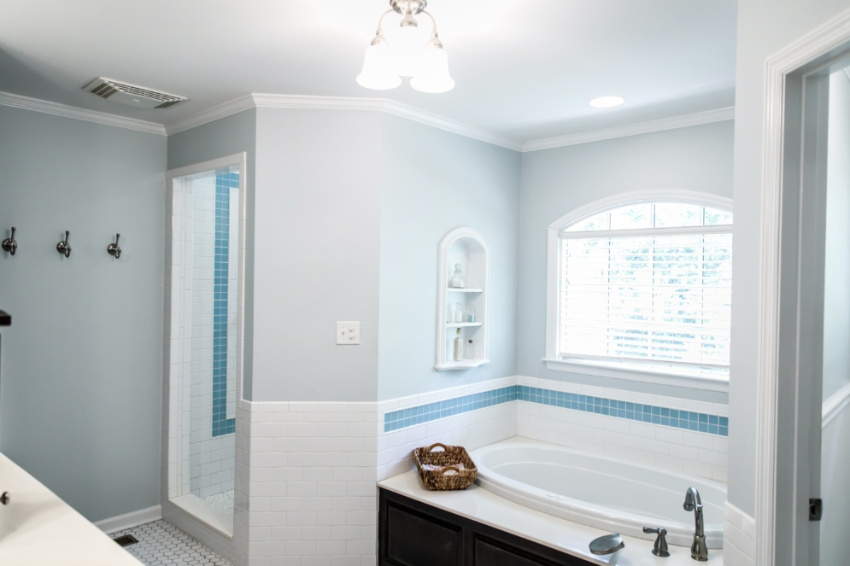 I know what you're thinking: didn't we just talk about white tones?
Not exactly.
Bright tones encompass white tones, sure, but "white tones are a specific kind of paint color for homeowners who want a bright bathroom, but not devoid of atmosphere.
White tones are, essentially, white that pulls slightly towards a certain color hue. For example, if you want a bright and cool bathroom, your white tone will pull slightly to blue. If you want it warm, it will pull slightly towards red (likely a hue that resembles tan or beige).
It's a little hard to explain, but if you see display samples of these tones, you'll know exactly what I mean. These come up all the time when looking for small bathroom paint ideas – they work really well.
Bold colors
Alright, enough with the soft, bright and neutrals – let's talk bold.
Most homeowners don't like painting their entire bathroom in such a strong and imposing color like black, royal blue, or yellow. There are ways to make it work with the help of an interior designer, sure, but usually this is too much of a niche idea for homeowners who just want a simple bathroom that looks nice and fits the rest of the house.
So an alternative is painting one wall a bold color -- for example, the wall where the sink is attached to -- while the rest of the bathroom remains a softer color. 
A simple way to visualize this: imagine an all white bathroom, but the wall you're facing most of the time is royal blue. It makes for an attractive and unique contrast without making for an oppressive bathroom, since you still have bright colors to balance it out! We'll talk more about this kind of accent on the next topic.
It's important to keep in mind though – for bold colors more than anything it's important to hire an interior designer. It's really easy to get these colors wrong. An interior designer will help you create the bold bathroom of your dreams!
Dark accents
By now you've probably caught up that most people prefer their small bathrooms to be bright. This helps in making it feel bigger, but another great effect is that it helps in making the place feel cleaner.
But whether you're going for bright colors, white tones, or neutral tones, you can always bring some more life into your bathroom by adding dark details. These can be, for example, wooden accents on your sink, or golden knobs for doors, cabinets and faucets, or a specific tile pattern on the floor… There are many ways to go about it.
And finally, don't forget to always look for the best paint for small bathrooms – here's a helpful paint color guide to send you on your way!
Want to paint your bathroom? Get free quotes from a professional painter from your area today!
---
MORE FROM HOMEYOU
6 Tips To Make Painted Walls Look Like Wallpaper
How a Glass Tub Enclosure Can Make Your Bathroom Even Better
5 Times When It's Better To Hire an Interior Designer