Whether you or a loved one uses a wheelchair, a ramp is a perfect addition to your home. Those who use wheelchairs need an easy way to get in and out of their homes by themselves. However, the ramp must meet the requirements of the Americans with Disabilities Act (ADA) to ensure that users can safely use it. 
Wheelchair ramps are also helpful for older people who have limited mobility and people who have problems using traditional stairs. Below, you can look at some of the key things you need to consider before searching for handicap ramp installation.
"If you're not making mistakes, then you're not doing anything. I'm positive that a doer makes mistakes." – John Wooden
ADA Requirements
Whether you choose DIY or professional home ramp installation, you must meet all ADA requirements. The ADA implemented these standards to ensure that anyone who uses the ramp can do so safely. 
The first thing to consider is the slope of the ramp. You want a

maximum slope of no more than 1/12 of the ramp

. A higher slope can lead to accidents as users lose control of their chairs, while a lower slope can make it harder for them to move. 

The ramp should have a maximum rise of no more than 30 inches. 

You also want to consider the ADA requirements for the width of a wheelchair ramp, which is 36 inches or more. This gives the wheelchair user enough space to move freely.
Handrails
Handicap ramp installation may require more than just the ramp itself. One thing that you can add to help disabled users is one or more handrails. 
Each handrail should stick out from the wall at least 2.5 inches. 

It's usually best to add one rail to each side of the ramp, especially if you want to help people with limited mobility. 

Make sure that the rails have rounded edges as sharp edges can cause injuries. 
You can choose handrails that connect to the bottom of the ramp or those that attach to the walls. Some handrails also attach to individual posts along the sides of the ramp.
Landings
A landing gives a wheelchair user a place to stop and rest, which is helpful if you have a longer ramp. You'll also want to add landings to ramps that have one or more levels. 
For example, 
You may have a ramp that consists of multiple levels and turns that cover the distance between your yard and front porch. Someone in a wheelchair will use the landings as they work their way around the ramp. 
A few other things to consider:
Each landing must have the same width as the ramp. 

They need a length of no more than 60 inches.

Landings must remain clear. Something as simple as a potted plant placed on the landing can already block a wheelchair.
Space
As you look at wheelchair ramp installation, make sure that you have enough space. The ramp should connect your front door to the lawn or driveway to ensure that someone in a wheelchair can easily use it. 
You can measure the height of your door to see how high it sits off the ground. Any door that stands a minimum of two feet tall is high enough that it needs a ramp. 
You can then see how long the ramp should be based on the slope and rise requirements. There's a chance that you will need to extend the ramp and make it longer than you wanted to reach these requirements.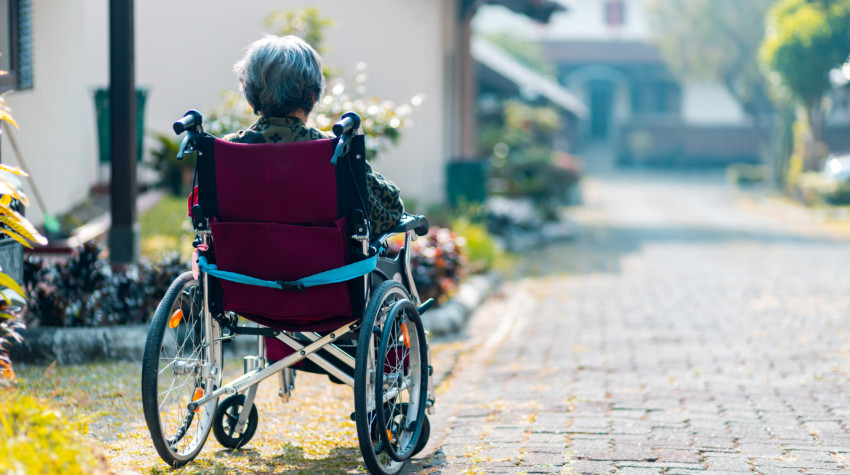 Weatherproofing
Two of the best materials to use for ramp installation for seniors are stainless steel and weatherproof wood. Weatherproof wood comes in different colors and will form the base of the ramp. Adding stainless steel accents is a good way to ensure that the wood doesn't fall apart due to the weather outside. 
Keep in mind that the ramp will remain exposed to all kinds of weather conditions, including rain and snow. Stainless steel comes in slip-resistant designs that are suitable for limited mobility users in addition to wheelchair users.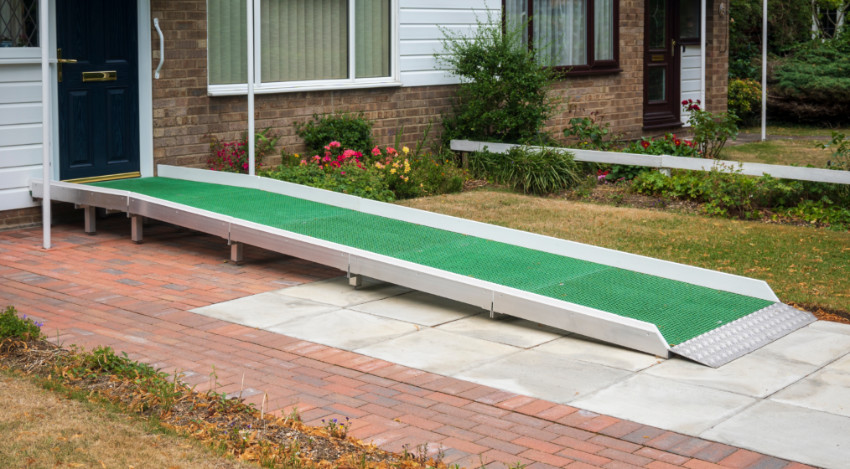 Visibility
Though ramp installers can easily install the ramp that you need, some may not take the time to talk with you about the ramp's visibility. 
Do you worry that your loved one might hit their arms or legs on the sides of the ramp or suffer other injuries because they can't see where they're going? Motion-activated lights are a great option for you. These lights detect the smallest amount of activity and will instantly come on, but they also shut off when there is no one around. 
You can also add high-viz tape and similar materials to make sure that others can see your loved one. 
When you consider all of these key things, you can rest assured that you created the best outdoor wheelchair ramp for your home.
---
MORE FROM HOMEYOU
Here's What You Need to Get a Stairlift Installed
How to Get Your Home Ready for Summer
How to Reduce Your Greenhouse Gas Emissions