Your parties will truly come to life with these ideas to make your kitchen ready for any occasion! There's a little bit of everything, from custom kitchen islands to minibars, from pizza ovens to wet bars – you're sure to find something that inspires you to make the perfect party-ready kitchen.
"The best preparation for tomorrow is doing your best today. – H. Jackson Brown, Jr.
Kitchen island
A kitchen island is the perfect addition for a party-ready kitchen. It will add a whole new world of extra space for you to manage your cooking, but it can also double as a place for snacks and talking to guests – even while still cooking.
Or, how about transforming your kitchen island into a hamburger station? A place where everyone can dive in and make the perfect burger just the way they like it!
Even better, you can improvise a faux kitchen island with ease, that you can either use for yourself or just during a party. 
Outdoor kitchen
The perfect outdoor kitchen is within your reach. The outdoor scenery is wonderful for parties and there's a lot you can do (even at limited budgets) to have an incredible outdoor kitchen that suits any party.
The cooking area itself can be as simple as it needs to be – if you don't have any way to implement that, opt for a barbecue area instead. Combine that with a dinner table well suited for the outdoors and you've got yourself a party.
Pizza oven
There are many pizza oven options for a quick and easy purchase, but for an outdoor setting, this DIY option takes the cake – or should we say, the pizza?
Getting this pizza oven ready by DIY methods is pretty easy too, so don't be intimidated by the looks of it. The materials can be easily found in any hardware store and the crafting itself is beginner friendly.
But if you want to purchase a pizza oven that's ready to work, that's not a problem. It will make for a fine addition to your kitchen, whether it's outdoors or indoors!
Outdoor minibar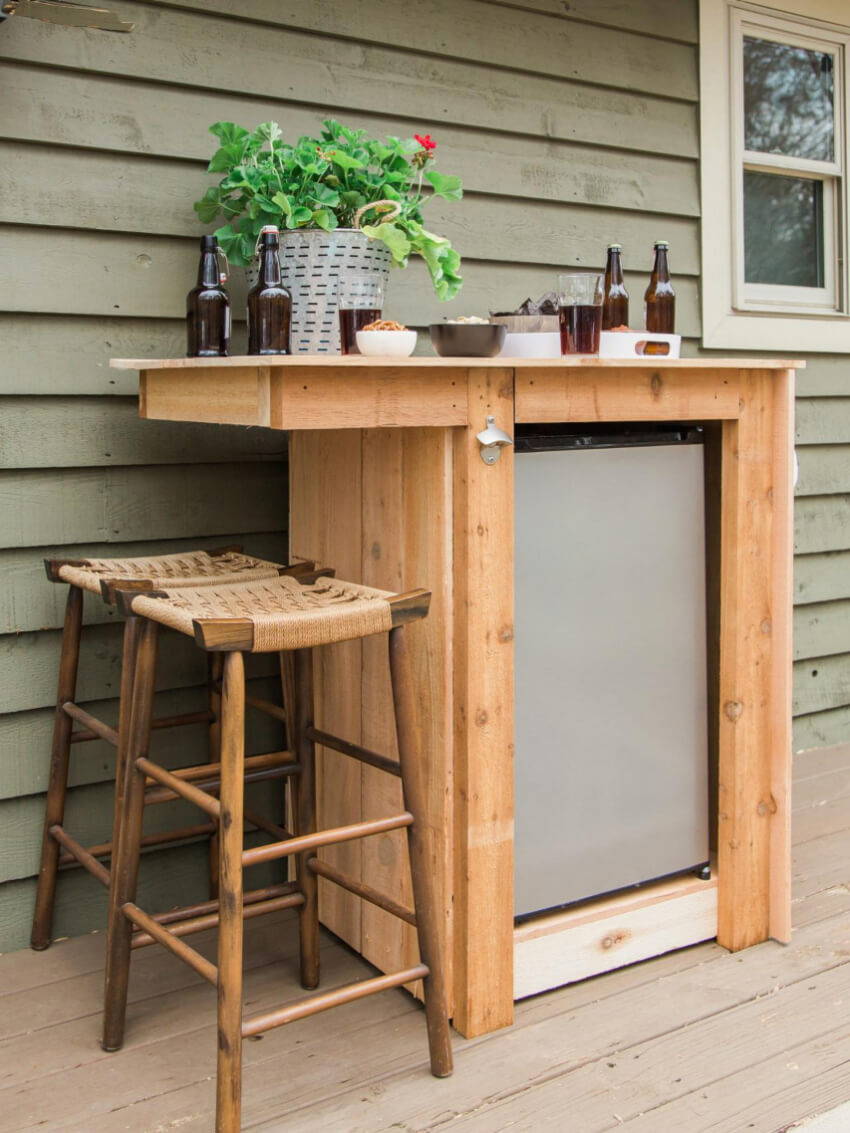 This beautiful DIY project homes a minifridge but also doubles as a tiny bar. The materials and tools required are what you'd expect for this kind of woodwork (check the full list here), so if you've ever done this sort of DIY, it should be pretty straightforward!
Indoor/outdoor combo
Now for a bigger project: an outdoor bar that extends from your indoor kitchen! Combine this with a backyard porch or deck and you're in for an incredible project.
The basic idea is to create an opening from your kitchen to your backyard that can be closed like a window when not being used. If possible, take advantage of pre-existing plumbing to add an extra sink in there for more space and convenience during parties.
Wet bar kitchen addition
A wet bar is perfect for parties. Especially in cases where you need the kitchen to be free so you can cook freely, the wet bar is there for general guest needs – as a place to get clean cups and serve themselves, find cutlery, etc.
Need more help with a kitchen project? Talk to a kitchen expert today and get free quotes in your area!
---
MORE FROM HOMEYOU
10 Creative Ways To Have Your Own Home Bar
5 Low-Cost Ideas for a Kitchen Remodel on a Budget
8 Outdoor Upgrades That Will Boost Your Home's Value