The new year is the perfect excuse to renovate your kitchen and bring in some of the hottest trends. Though you might think that you don't have the budget for a full renovation, you can still rely on some hot tips that will transform the space. Not only will you love cooking again, but you may even want to invite friends over once you use just a few of the hottest 2023 kitchen trends! 
"Good, better, best. Never let it rest. 'Til your good is better and your better is best." – St. Jerome
Bold and Bright Colors
Do you assume that only pale and neutral colors work in your kitchen? Well, think again. One of the biggest trends that designers found is the use of both bold and bright colors. They see homeowners who want to show off their sense of style along with their personality. 
Instead of sticking to the same neutral colors found in millions of homes, they go with bold shades such as navy blue on their cabinets and emerald green on their counters. 
Warm Touches
Kitchens have a tendency to feel cold due to the appliances and decorations found in those rooms. Between your stainless steel appliances and tile floors, the room can both look and feel cooler than you would like. 
However, homeowners are now countering that with kitchen styles that are a little different and that bring in some warm touches. This often includes decorations from other rooms in the house, such as: 
Houseplants

Artwork

Rustic wooden furniture 

Table lamps 

Throw pillows for the chairs

Etc.
Marble Accents
Marble is a popular counter material, but the type of marble that is on-trend for 2023 is a little different. While you might normally go with a more pale color with a slight vein running through it, many people now are going for marble options with a thicker and darker vein. 
The combination of white marble with gold veins will immediately catch the eye and create a focal point in your kitchen. Designers recommend choosing a busy type of marble to add a luxurious accent to the room.
Hot Water Taps
In addition to looking at hot kitchen paint colors, you might consider some of the newest accessories. One item that many people cannot live without is a hot water tap. 
Whether you love cooking or kicking back with a cup of tea, you'll love having this type of tap in your kitchen. It sits on the side of your sink and gives you boiling water almost instantly, preventing you from wasting time boiling a kettle. The sales of hot water taps jumped by more than 10% in 2020 and will likely grow at an even faster rate this year.
Black and White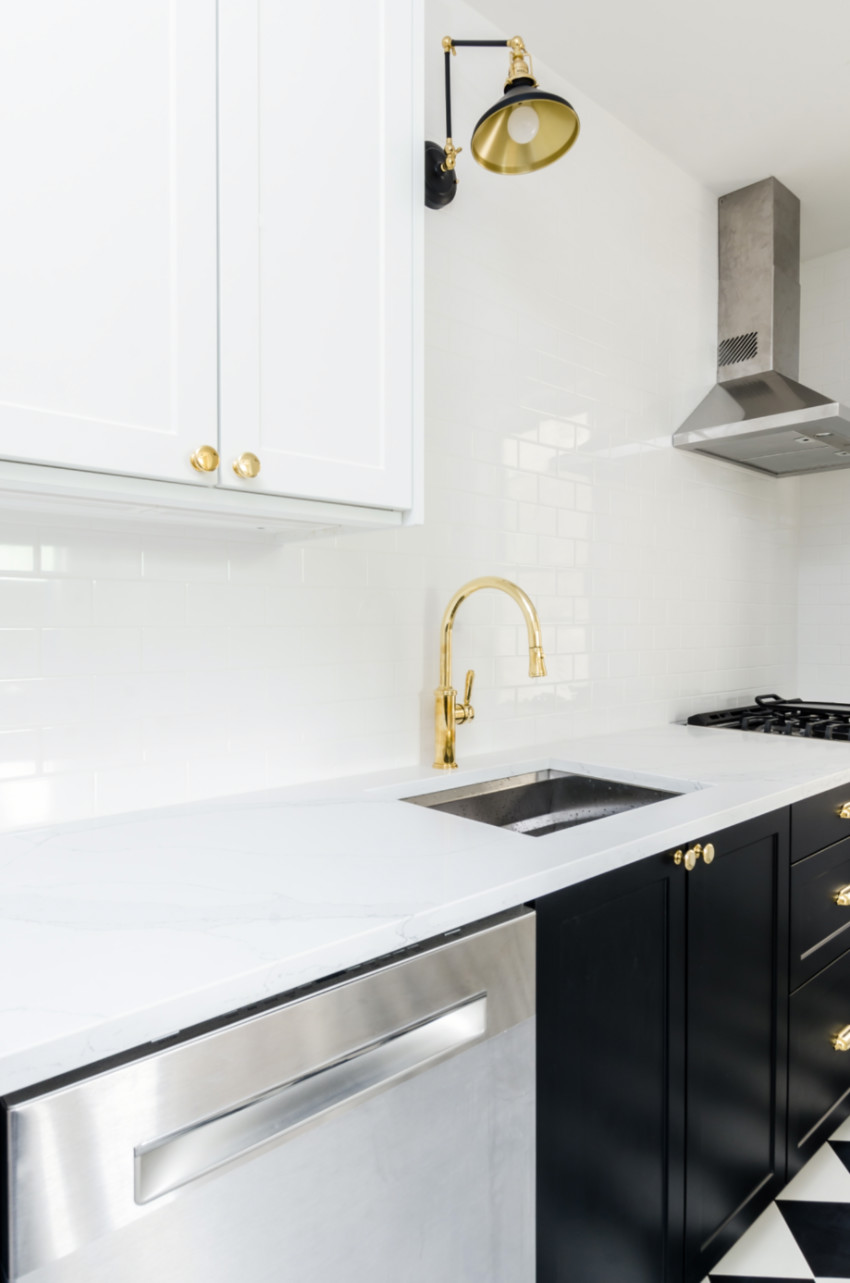 While you might think that the black-and-white color combination is a little boring, this is one of the hottest kitchen cabinet color trends of the year. The trend relies heavily on the idea that white accents brighten up the dark pieces and at the same time that the dark pieces tone down the white colors. 
One of the best ways to incorporate this look is with your counters. Instead of using white counters, opt for black counters that you pair with white cabinets. You can also do the reverse and go with dark cabinets and white counters, which you can see how the contrast looks in the image above. 
Bright Cabinets
If you aren't a fan of black and white, you can add a bright touch to your cabinets with a fresh coat of paint. Painting the cabinets is much cheaper than replacing them, which makes it a very popular project for those on a budget. You can even replace the existing hardware on most cabinet models. 
Some of the hottest kitchen color trends include sunshine yellow, hunter green, and sky blue. Yellow cabinets add a fun touch to your kitchen and might make you smile while cooking dinner. Hunter green is a deeper and darker color that can make your kitchen feel more inviting. No matter what color you choose, pair it with white or wooden accents to make it stand out.
Minimalist Design
The main thing to keep in mind when using this trend is that less is always more. Instead of filling your kitchen with dozens of small appliances and decorations that make the space look cluttered and busy, you pare things down to only the necessities. 
When you have fewer things on display, those items have a bigger impact.
Built-in Pantries
You'll also see many people adding built-in pantries to their kitchens. Even if you think that you don't have room for one, you can easily add organizers to your cabinets that provide space for groceries and cleaning supplies. If you have a closet near the kitchen, it can serve as your pantry, too. 
With all of these ideas, you can make your kitchen rock with the hottest trends of the year.
Want to know more about 2023 kitchen trends and how to incorporate them into your home? Then contact a local interior designer and request a free quote! 
---
MORE FROM HOMEYOU
How To Upgrade Kitchen Cabinets Without Replacing
5 Low-Cost Ideas for a Kitchen Remodel on a Budget
How To Save Money on Kitchen Cabinets