If you want to renovate your kitchen and you find yourself on a budget, you might not always be able to do everything you want. You may want to do away with your existing cabinets, but you cannot find room in the budget to do so. If that is your case, then I have some good news for you: there are plenty of ways you can add to your kitchen cabinets without the expense of replacing them.
There are many inexpensive kitchen cabinet upgrades that you can do that can completely transform their look without replacing. Keep reading to learn some of the best ways!
"Set your goals high, and don't stop till you get there." – Bo Jackson
Paint the Cabinets
If you are looking to upgrade your kitchen cabinets, you can do so by getting a few buckets of paint. Painting kitchen cabinets can help to give yours a brand new look. There are many paint choice options out there, and many different combinations to think about, such as this gorgeous blue and white combo. 
Tip: When choosing your new color, make sure it matches your kitchen decor and does not clash with the walls or countertops. You will also want to make sure that you choose paint that is made for kitchen cabinets. This will help to ensure that the paint is easy to wipe down if it gets dirty.
Adding Trim or Molding
You can add a distinct custom cabinet look by adding trim or molding to your cabinets. If you're doing it yourself, remember to attach the trim with nails only if you have thick cabinets. If you have thin ones, you should only use a strong adhesive to prevent damage to the wood. 
Remember: If you plan to paint your cabinets, it would be a good idea to go ahead and paint the trim before you place it on the cabinet doors.
Adding Beadboard
Another great way to enhance the look of your cabinets is to put beadboard inside the area that has been trimmed. Beadboard is relatively inexpensive, and you can add it to other areas of your kitchen to enhance the look, such as the island. 
Adding Hardware
A great way to add to the look of your cabinets is to change the hardware. If your cabinets have dated hardware or none at all, adding a modern option can create the appearance of brand new cabinets. 
There are many different options when it comes to hardware, including size, material, finishes, and colors. Take your time to determine what fits best with your current kitchen decor. It might be a good idea to purchase a few different types to bring home and try on your cabinets, so see what looks best. Take your time to ensure that you get the right look!
Add Feet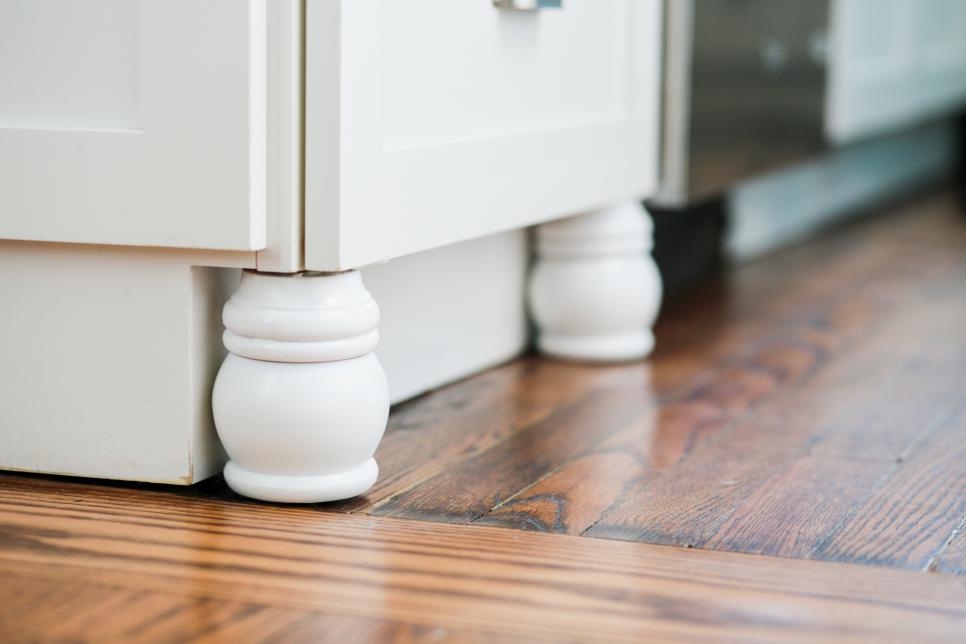 To create a custom look and feel to your cabinets, consider adding feet. You can find bun feet or chair legs to create a great look. To find bun feet, look in the molding section of your local home improvement store. You can stain or paint the chair legs to match your existing cabinets.
Adding Corbels
Adding corbels will give the under part of your cabinets a unique look. All you will need to do is make sure that they match the color of your cabinets and attach them. You will be amazed at how much they change the look and feel of the space! 
Adding Lighting
If you want to have modern kitchen cabinets, you will want to consider adding lighting to the underside of your cabinets. Not only will this give your kitchen a unique look, it will also help to brighten your workspace when you are cooking. You can use strips of LED lights, or there are several more options. Take your time to consider what you want to do.
If you want to give your kitchen a completely new look, you should consider upgrading your kitchen cabinets. If you are interested in looking at some different styles, then get in contact with local cabinet makers. You can get some ideas on how to make your cabinets pop without having to replace them. 
Take your time to consider what you want to do. Upgrading your cabinets is a great inexpensive way to make your kitchen look brand new. 
---
MORE FROM HOMEYOU
How To Increase The Value of Your Home (With Small Repairs)
7 Quality of Life Home Improvements To Simplify Your Days
How To Fix Scratches On Wood Floors