Cabinet doors are indeed a very important aspect of a kitchen's personality and style, making a big difference in the final result of a renovation or even a simple cabinet door replacement.
But with so many options, it can be hard to decide which is the best. Well, however it may seem, choosing your cabinet doors doesn't need to be a hard task. There are several styles of cabinets that work well with many types of kitchens, and some of them would certainly fit well in your desired kitchen.
Read below about some of the most popular cabinet door styles that everyone loves – you may love them too!
1. Shaker
The shaker style is one the most popular cabinet styles, being fairly common with a lot of homeowners. The principal aspects of these cabinet doors are the clean lines, simplicity, and the emphasis on utility.
This style is really malleable, fitting well in any type of kitchen style and design because of its timelessness. Since it's a cabinet door style that has always been trending, it's adapted well to many different styles over the years.
2. Flat
The flat style is, in many ways, similar to the shaker one. For decades it has been popular in Europe, however it became more common in the United States with time.
Hard lines, simplicity, and minimalism are good aspects to describe this style, being great matches with the modern and contemporary styles. The flat cabinet doors sometimes can also be called slab doors when they have no ornamentation or beveling.
3. Glass Ready
Becoming more popular nowadays, glass-ready cabinet doors are those that fit a glass panel instead of wood. They are able to make your kitchen seem more spacious and brighter, and turn the colorful elements in the room more interesting in the overall design, having the presence of clean lines and clear glass to turn the space airy and open.
Perhaps interesting for smaller and modern kitchens that need a way to "open up and feel less claustrophobic.
4. Cottage Chic
If you have a farmhouse kitchen, cottage chic cabinet doors are a great option for your kitchen renovation. They mostly show light colors, always providing an airy space and clean feels with rustic finishes, such as wooden finishes.
You can combine this with big windows in order to customize the cabinet doors inside the cottage chic aesthetic.
5. Open Shelving
Certainly the least expensive style, open shelving is a creative and practical way of customizing your cabinets. This style makes the space brighter and airier, which saves space and gives you the chance of using things already owned as decor objects.
That's an easy choice for cabinet installation and repair, and great for small kitchens. It also makes your kitchen look very organized and practical.
6. Thermofoil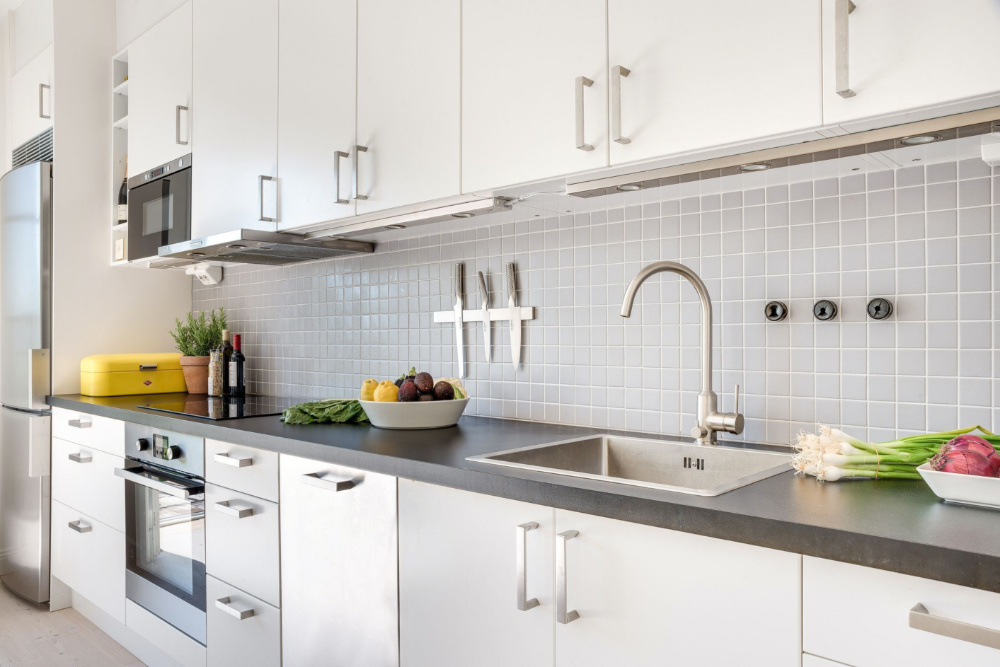 An interesting option to consider is the thermofoil cabinet doors. They are molded out of MDF (medium-density fiberboard) and made to have an impervious seal. This cabinet door type comes in solid colors and some reproduction of wood grains.
They are really durable and cost-effective, though in contrast, cabinet repair can be a challenge, since it's hard to repair any damage caused in this material, like chips, scratches, and some light colors yellowed from heat over time.
But the versatility in style and good durability makes up for it, making thermofoil a very competitive pick.
---
Need more help with your project? Talk to a kitchen cabinet expert today and get free quotes in your area!
MORE FROM HOMEYOU
7 Tips To Care and Maintain a Wooden Kitchen Countertop
6 Party-Ready Kitchen Ideas That Will Inspire You
5 Low-Cost Ideas for a Kitchen Remodel on a Budget