Carving pumpkins is the quintessential Halloween activity – it's fun, easy, and there are many options if you want to get creative!
So let me guide you through some of the best pumpkin carving ideas I found, from cute to scary, from adorable to practical. You'll surely find the perfect idea for you!
1. Black cat
Painting pumpkins is something that can easily be combined with carving to create really unique visuals. One of the easiest is to paint two pumpkins totally black and only carve out cat eyes, giving yourself a scary-looking black cat!
For the ears, you can use cardboard paper also painted black, and simply glue them to the smaller pumpkin.
2. Lantern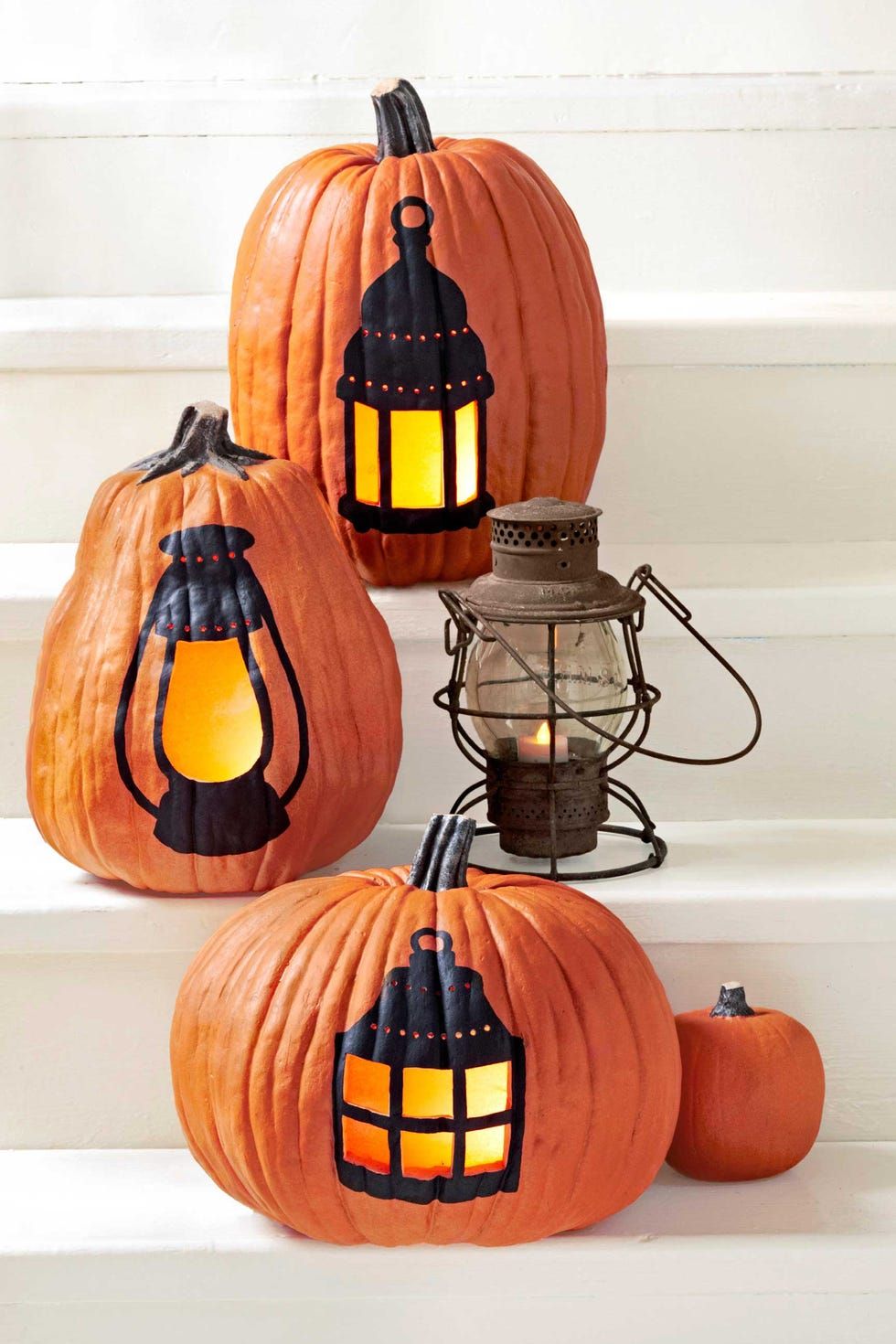 Lanterns are really cool rustic pieces of decor for Halloween, and pumpkins themselves can be used as lanterns… but we can take it one step further.
You can combine carving and painting to draw lanterns in your pumpkins, which can then be lit up with candles to create a really cool visual!
3. Tiny candy house
If you want something a bit more creative and interesting, you can use carving to design a small house with windows and doors, and then decorate it with all sorts of sweets. It makes for a really cool miniature that everyone will have to stop and look at.
We have plenty more Halloween decoration ideas!
4. Lollipop wig
Trick or treating is a huge part of Halloween and there's a cute way to engage with it by using a friendly pumpkin. You can carve the face as usual and then add a bunch of small holes over the head, that you can then decorate with lollipops!
Now everyone who sees it can take one for the road until your pumpkin goes bald. It won't mind!
5. Spray painted
To create something that looks a bit spookier and more in line with Halloween, you can carve a pumpkin with a creepy smile and spray-paint it black, both inside and outside with a few liberal sprays.
It makes a much darker pumpkin design that looks scary even in daylight!
6. Free candy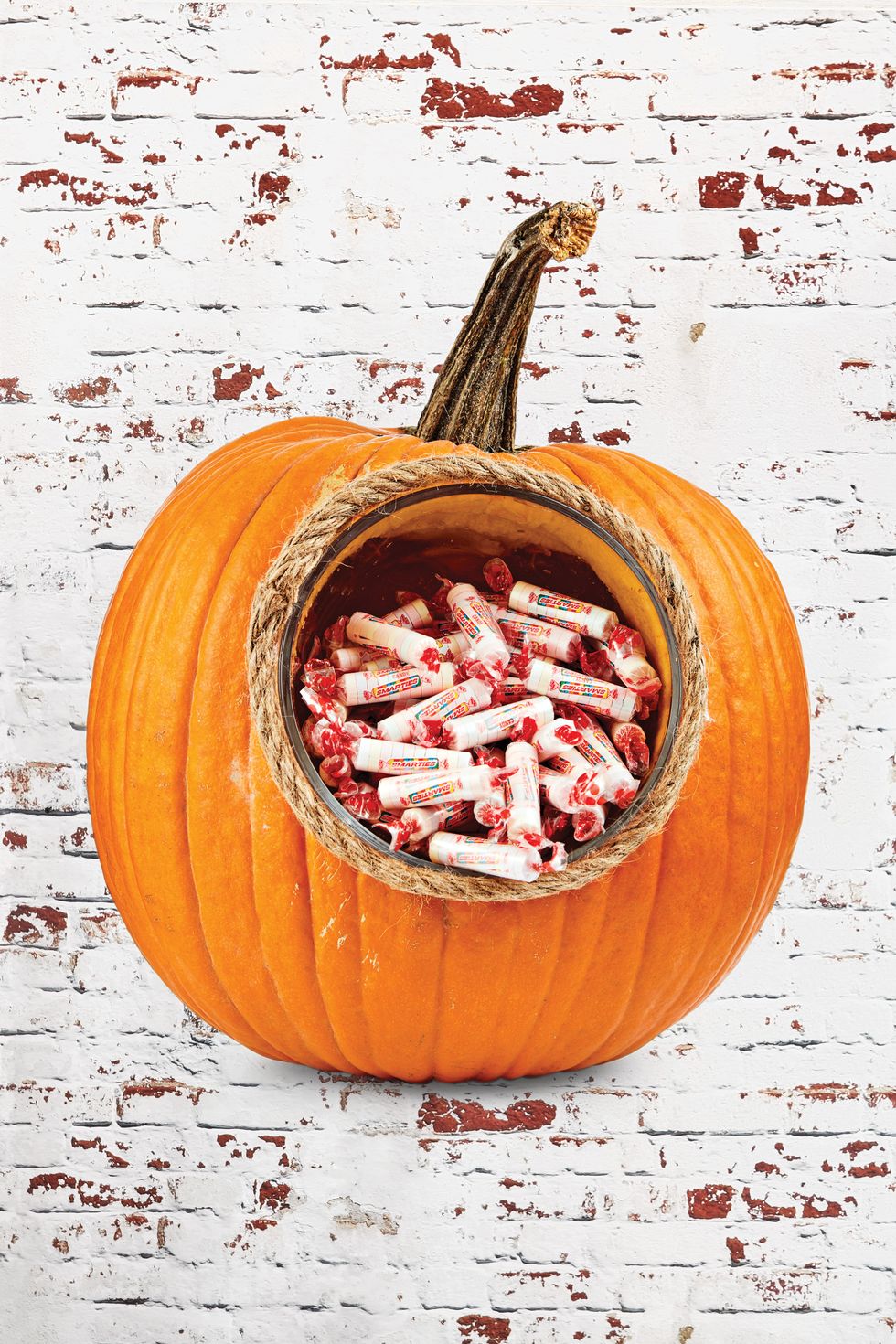 You don't always have to carve a face in your pumpkin. In fact, this is a good alternative if you struggle to create faces with the tools you have.
Instead, simply carve out a round hole and fill the pumpkin with free candy for the taking. Gets the job done and allows you to participate in trick-or-treating!
7. Numbers
Carving out numbers may be difficult without the proper tools, but it allows you to make some really cool designs. For example, you can use small pumpkins to mark table numbers for your Halloween party, or just to decorate your porch with your house numbers.
8. Pumpkin planter
If you have a knack for gardening, you can create some truly unique pumpkin designs. Carve a face like usual, but do try to make the mouth and eyes a bit larger (you'll understand why). Then you can fill the pumpkin with shrubs, succulents, or even an entire plant.
It makes a really beautiful piece of decor that still fits in perfectly around Halloween!
9. Terrarium
Pumpkins can also work to decorate indoors, which allows you to work on something more intimate that can be appreciated up close.
Case in point: a terrarium.
It takes a bit more work, but with some printed artwork and a pair of scissors, you can create a really awesome terrarium. Just be sure to either get a faux pumpkin or a very large real one that gives you enough space to work in once it's been carved out.
10. Family of pumpkins
This is a wonderful combination of the different techniques we've seen so far. You carve out the top to turn the pumpkin into a succulent planter, and then paint cute faces on them to create a family.
Basically, any size will do, as long as you can fit your plants inside them. As for the faces, you can just wing it or copy a cartoon face you found online. Just be sure to have some smaller brushes if you want a more detailed painting.
---
MORE FROM HOMEYOU
10 Halloween Decor Ideas to Impress Your Guests
5 Ways To Celebrate Halloween Like The Old Days
The Origin of Halloween As We Know It