Renovation doesn't have to be costly. Contrary to what people think when they hear the words "renovation or "upgrade is that they always come with a hefty price tag. That can sometimes be true, but you can do a lot even on a budget.
It's all a matter of respecting your budget, knowing your limits, and thinking of clever home renovation ideas that allow you to see big results with small changes.
Below, I'll walk you through a few of these clever ideas where you can change only a few things and already see amazing results!
1. Kitchen: faux kitchen island
A kitchen island is a perfect addition that combines style and practicality in one package.
But a proper kitchen island may be out of reach right now, so you can always opt for a faux kitchen island – any table with a decent countertop material will do. It's great to get you started on enjoying the benefits of a kitchen island without having to make any additions or remodels.
If you really enjoy it, then you can plan for a proper kitchen island later, of course. But nothing's stopping you from having the benefit right now for much cheaper.
2. Living room: rug
A rug in the living room is basically the glue that binds the place together.
It's pleasing to the eyes and adds a lot of comfort without any need for dramatic changes. In many cases, you don't even have to move furniture around.
Measure your living room and look for a nice rug to match – you can find local stores with discounts so that you can see them in person before buying. This simple addition is enough to revitalize the living room.
3. Bathroom: new mirror
The mirror is often considered a practical feature rather than an aesthetical one, but you'd be surprised how much a new mirror can improve your bathroom.
First, consider the size. A small bathroom benefits from a large mirror, as it gives the space a lot more light and depth without remodeling anything.
Then, even if you don't want to change the size, mirrors start getting scratched and stained over time and it's hard to notice because you look at them every day. The sight of a new clear mirror should not be underrated.
And hey, you can always find other bathroom remodel ideas around here!
4. Bedroom: new curtains
A new set of curtains can be the breath of fresh air you need.
I never cared much for curtains myself until I was proven otherwise. I had a random set of green curtains in the bedroom that I installed there just because and never gave it much thought. One day, I got a new set as a gift and replaced it – the difference was incredible.
Not only was the color a bit garish to look at, but the entire mood of the bedroom also changed for the better. And I only noticed after the change!
5. Entry: paint or refinish the stairs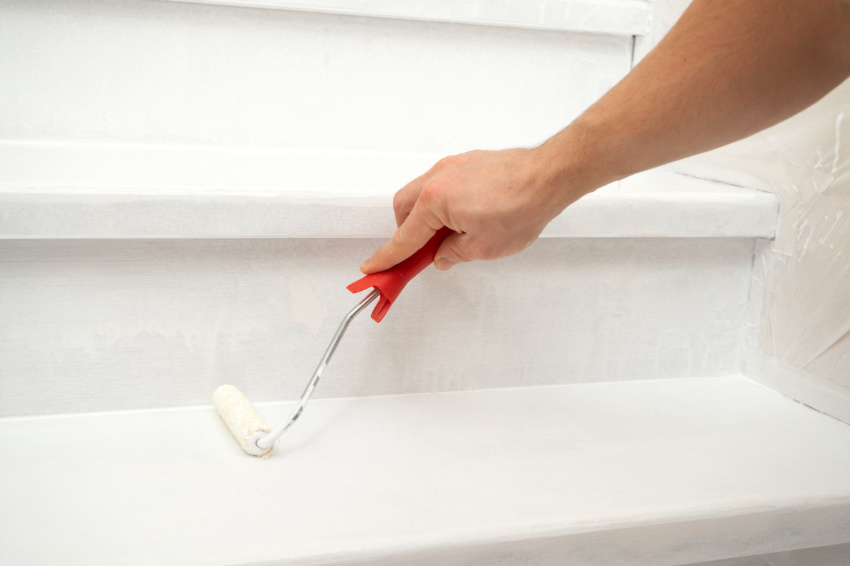 The entry stairs are often a focal point, so it's nice to give them some attention. A new paint job is enough to give it a new look, but if your stairs are made of wood and you like them, consider refinishing them instead – it's even cheaper than painting.
6. Laundry room: storage
Laundry room storage is always welcome. Usually, laundry rooms are not given a lot of space, making storage options even more valuable.
Adding a basket or a few open shelves is already of great help – and fits the budget nicely. But of course, there are many other ways to improve your laundry room.
7. Dining room: a light fixture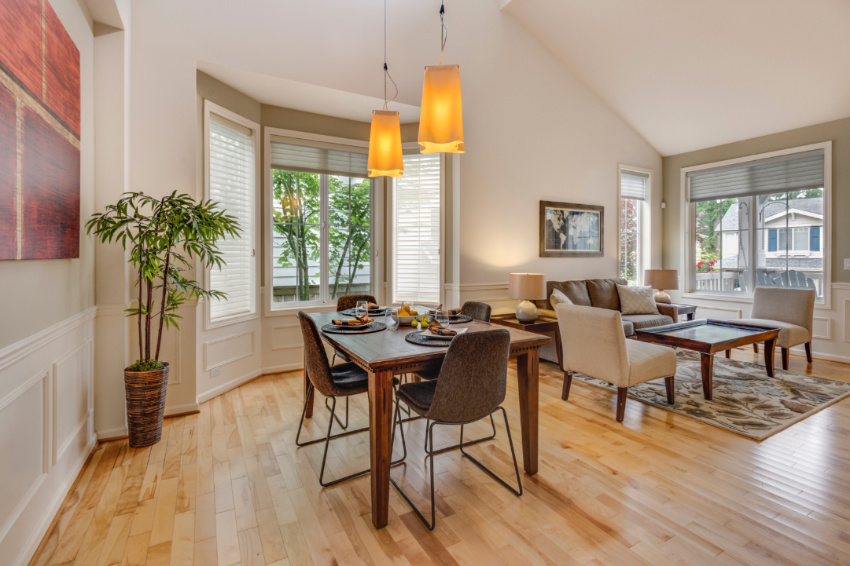 The great focal point of a dining room is always the light fixture. If you want to see a dramatic change, invest in a new light fixture – the results are instant.
In fact, that goes for most rooms that have a distinct focal point: to renovate your home on a budget, opt for changing the most important elements first!
A recommendation for better results is to seek a light fixture that actually illuminates the table properly because many of them look great but provide little light, which leaves the main dining table in the darkness.
8. Exterior: refinish your deck
Decks can be remodeled, expanded, and even transformed into other outdoor spaces (like an outdoor kitchen). But a simple way to renovate your deck without any big transformations is to refinish it.
The wood tends to lose a lot of luster over time, especially after winter. Now is the perfect time to refinish your deck and enjoy it throughout Spring and Summer!
There's no better time than now to start planning your next home improvement project. Get free quotes from additions and remodel pros in your area today!
---
MORE FROM HOMEYOU
5 Spring Cleaning Tips That Will Make Your Life Much Easier
5 Smart Ways To Remodel a Bathroom On a Budget
The 6 Biggest Home Improvement Trends For 2022