Something you must have during a kitchen remodeling project is creativity. Design ideas, in this situation, are never enough. With that in mind, it's important to know which ideas are worth investing in and which will make an actual difference in your kitchen. 
Every homeowner wants to achieve that "Wow factor, especially in a room that is used daily and where you go to entertain guests. And this is what I'm here for today! Check out below some of these game-changing remodel ideas that will completely transform your kitchen.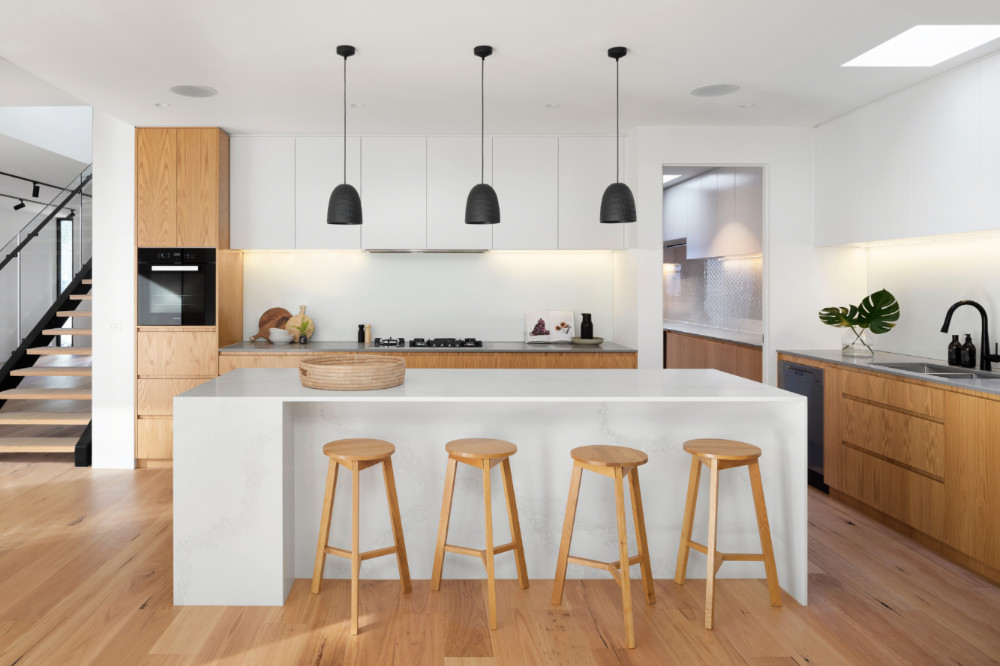 Don't Run From The Base
Among several mistakes homeowners make while remodeling their kitchen, a pretty common one is trying to change its structure. Before decorating your kitchen, you must understand its base and get to know its size, space, and conditions. 
You need to know your limits before you can discover which kitchen renovation ideas would or would not match.
Choose a Design Style
When renovating a kitchen or any other type of room, you might want to have an initial idea of how you're designing it, which can be easier if you choose a style to follow. There are several home design styles with their own aspects and features, and I'm sure one of them would please you.
The most popular styles for kitchen decor nowadays are generally traditional, contemporary, and transitional. The transitional style is commonly known as a mix of elements from the traditional and contemporary styles. 
Besides these, there are several other designs you may get interested in, such as the coastal, french, and Mediterranean ones, which indeed have a really pretty and unique personality. 
Turn The Lights On
Even though lighting is mostly seen as purely utility, it can also be decorative. If you know how to use them in your favor, a gorgeous kitchen pendant or different wall light fixtures can transform the look of the room. 
Unique light fixtures and pendant lights can be a great shot in your kitchen remodeling project, giving it personality and presence. 
The Right Color
Choosing a color for a room in a house is in one way or another a big decision, and you will have to decide this during your kitchen remodeling project. Choosing the right color for a kitchen consists of matching its structure, furniture, and even flooring and ceiling, but obviously also to your taste.
If your kitchen is small, this topic is extra important. Choosing the right color is very important in a small kitchen reno since it is one of the most essential elements for the design, due to its ability to make the room appear bigger or smaller.
Storage is Essential
Storage is very important in any type of kitchen, whether yours is small or not. Open shelves are great to keep your everyday items in easy access, but it also creates the need to keep them always clean and organized. 
Seasonal appliances should be stored in cabinets, and you need to be careful when choosing where to place each kitchenware. Remember to store away things you don't use often, and to keep nearby everything you need during the week. 
Learn 8 ways to add more pantry storage to your home! 
The Flooring
In this aspect, a common recommendation is to tie the rooms together by using the same flooring in the kitchen as the other rooms. This improves flow and makes your home feel bigger.
However, if your kitchen sees a lot of traffic or if you have a big family, you may need to choose a more durable type of flooring, such as ceramic, porcelain, or solid hardwood. 
Don't forget that choosing the right floor doesn't affect only your kitchen look, but also your comfort. If you have pets, you should consider a scratch-resistant type of flooring. If you are or live with elderly family members, a non-slip flooring option is your best bet. Choose a flooring material that suits your family's needs.
The Ceiling
The ceiling is usually overlooked in aspects of design, but it makes such a difference in any type of room, so don't let it go unconsidered.
Your ceiling design can be simple or not, it all depends on you and your preferences. From painting it a matching color to the furniture or other kitchen element or adding extra aspects like textures, moldings, and beams, there are several ideas to decorate the ceiling.
Add Some Personality
You certainly cannot design your kitchen without letting some aspects of your own personality in it. Adding splashes of a certain color, a style of furniture, or a type of material you love is probably the best way of inserting some of your personality into the room design. 
Don't Ignore Your Hardware
Kitchen hardware such as the sink, faucet, and cabinet handles, is easily seen as simple details, mostly as pure utility. However, you can use these elements in your favor, making a huge difference in your kitchen design. 
Matching the hardware to the furniture, with the same design styles, or matching complementary colors are great ways of putting this method into action. A great combination of colors for this tactic are:
White with gold

Blue with orange

Red with grey

Black and white
Put Practicality In Action
Besides designing a beautiful kitchen, you must also consider the functionality of everything. Choose convenient furniture and appliances for your kitchen, things that would be easier to use and that would improve your quality of life. 
For example, there's no use investing in a beautiful gas range with a dual oven setup if your lower back pain doesn't let you bend over to use the oven. Or to install that trendy type of sink that can't even fit in a big pan. You want your kitchen to be beautiful, but it also needs to be practical and make your life easier, not harder. 
Make Some Space for Seating
Depending on your kitchen's size, it's recommended to add a few seating options around your island. Having stools around makes great opportunities for quick meals or the ability to entertain guests while you're cooking.
If it's something you believe would be useful and convenient for your kitchen routine and space, then it would probably be a great investment in your kitchen renovation. 
What About Quartz Countertops?
Countertops are certainly important elements in any type of kitchen, therefore choosing the right one is very important. If you still haven't decided which material to use, consider quartz. 
It is a durable natural stone, and it is considered one of the best materials to use in the kitchen. In fact, quartz is known to be almost indestructible, and unlike granite which has a porous surface, it's very easy to keep the surface relatively bacteria-free.
Panel-Ready Appliances
A good move for a kitchen remodeling project is certainly the choice of having panel-ready appliances, which can make the project less complicated. They are usually used to create a consistent and simplified look around the kitchen, matching the cabinetries and appliances, and are indeed great for big or small kitchen projects. 
Requesting a free quote for the service is the first step to kickstart your kitchen remodeling project. Talk to a local pro and solve all your doubts before deciding anything! 
MORE FROM HOMEYOU
How To Save Money on Kitchen Cabinets
How To Remodel Your Kitchen: From Planning to Execution
5 Low-Cost Ideas for a Kitchen Remodel on a Budget