When you're Spring Cleaning you need to take your time and really be patient. There's no reason why you should rush through a deep cleaning process. Of course, nobody wants to spend the entire season doing the cleaning, so instead of feeling overwhelmed and start panicking over the idea of Spring Cleaning, here's a checklist with everything you need to do in each room of the house.
Before we go on,
Remember that there's a couple of things you need to do in every room, tasks like:
Replace smoke alarm batteries
Clean light fixtures
Sanitize door handles
Sanitize light switches
Dust ceiling fans
Wash or clean curtains
Disinfect cabinet handles
Ready to learn what you need to do in each room now? Keep reading!
"Housekeeping ain't no joke." - Louisa May Alcott
Entryway
The entryway is the first thing everyone sees when entering your home, so it's important to have it cleaned and refreshed regularly. Of course, spring is the time to add some gorgeous flowers and decor there too. Here's what you need to do:
Sweep and mop floors
Wipe down walls
Wipe baseboards
Clean the door
Wash (or replace) your doormat
Organize shoes (remove snowshoes and bring out your gardening boots)
Hang jackets, raincoats, and an umbrella (because spring rains will happen!)
Living room
The living room, right along with the kitchen, is the main and most used room in every house. It's where the whole family hangs out and where you receive your friends when they come over for dinner parties and gatherings. No need to reemphasize the importance of keeping it neat, right? These are the tasks to add to your checklist for Spring Cleaning:
Wash slipcovers, blankets, and pillows
Vacuum the couch and chairs
Dust the blinds and curtains rods
Wash windows
Dust ceiling fans and lamp shades
Dust electronics and decorations
Sanitize remote controls
Sweep and mop the floors (or vacuum)
Wash rugs (or get the carpets cleaned)
One tip I'll give you here but that's worth for every room: always start from top to bottom! Meaning, you'll want to start by dusting the ceiling fans and lampshades (or lighting fixtures) and then work your way down, that way you won't have to clean the same thing more than once.
Dining room
Whether you have a separate room for the dining room or if it shares the space with the living room or kitchen, these are the things you'll want to do to guarantee a spotless place for your next dinner:
Dust china
Launder table linens
Polish silver
Dust and polish furniture
Vacuum chairs
Wipe down walls and baseboards
Dust blinds and curtains rods (or wash/vacuum the curtains)
Wash windows and clean window sills
Wash rugs (or carpet)
Sweep and mop the floors
This checklist is quite similar to the living room one, you basically just add the china and silverware parts.
Kitchen
You'll want to give some extra attention to the kitchen and don't expect to have it all done in one afternoon. Take your time to complete the whole checklist without leaving any spots behind! Here's what you need to do:
Deep clean the oven
Clean stove top
Clean microwave, coffeemaker, and dishwasher
Clean refrigerator (make sure to wipe drawers and shelves too, as well as the seal)
Defrost the freezer
Clean countertops
Degrease cabinet doors and backsplash
Clean inside cabinets
Dust the top of higher surfaces
Deodorize and degrease kitchen drain
Sweep and mop the floors
Clean (or replace) floor mats
Clean behind and beneath the refrigerator
Bedroom
The bedroom is that place you want to go after a long, busy day to put your feet up after taking a shower and just relax. To fully enjoy those moments, it's essential you have a clean bedroom! Here's the Spring Cleaning checklist for the bedroom:
Declutter the closet and donate unused clothes
Organize closets
Wash bedding and pillows
Flip the mattress
Dust blind and curtain rods (or wash curtains)
Clean window sills and wash windows
Wash rugs
Kids' playroom
Not all houses have a playroom for the kids, but if that's your case or not, you still need to pay attention to kid's toys! This is what you need to do:
Sanitize plastic toys
Wash stuffed animals and soft toys
Donate unused toys
Mop the floors
Wash rugs
The office
Same thing for the office: not all houses have one. But if you work from home, these are tasks you definitely need to add to your Spring Cleaning checklist:
Go through your paperwork and recycle what you don't need any more
Dust bookshelf (also go through your books and donate what you don't want anymore)
Dust electronics
Sanitize the keyboard
Disinfect computer mouse and phone
Garage
The garage is THE place to accumulate things you don't use anymore, you'll need to take some time to calmly go through it all and get all your tools and gears organized. This is the checklist you need:
Declutter tools, sporting equipment, and toys
Keep garage door open for a couple of hours to air out
Wipe down walls
Sweep floor
Clean garage door and windows
Replace batteries in garage door openers
Bathroom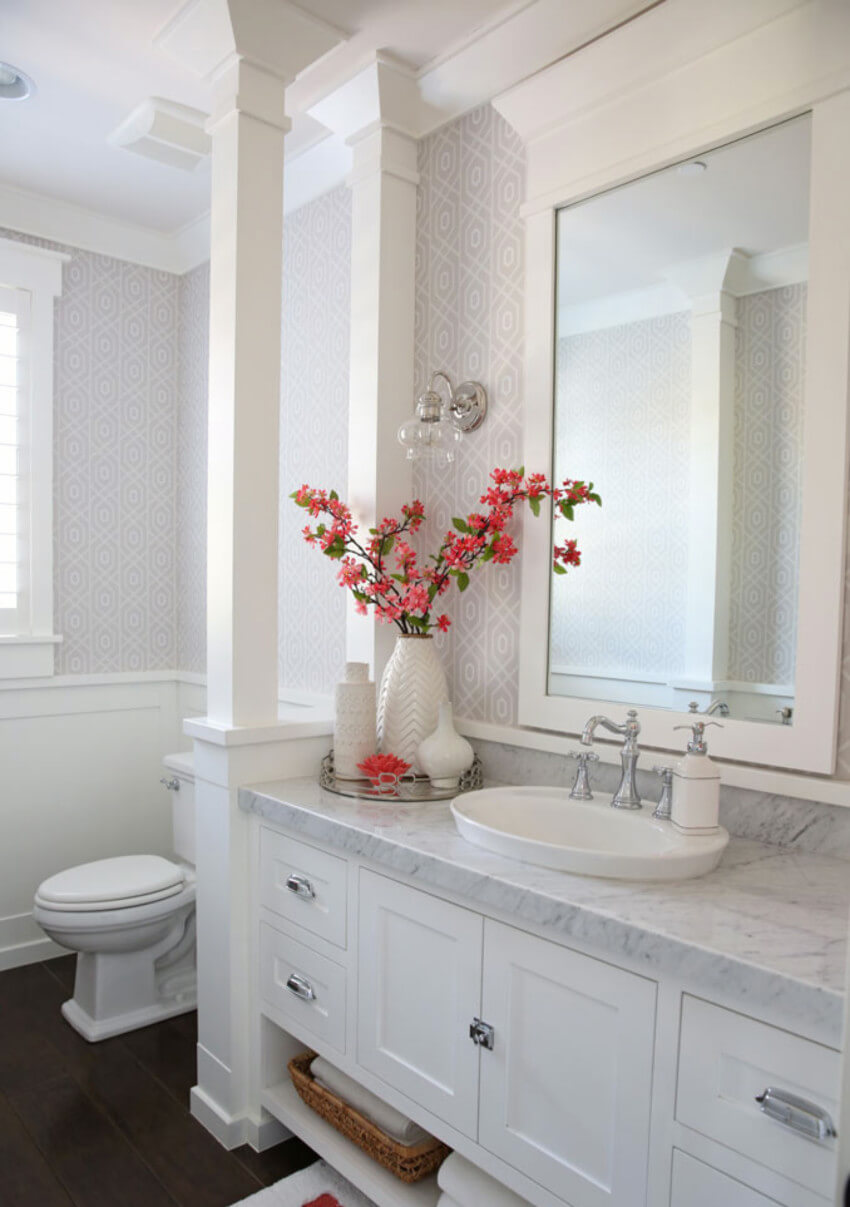 It's easy for the bathroom to end up looking bad at a quick pace, so as a homeowner, you're probably taking good care of it even through the coldest season of the year. However, here are some tasks to get done for Spring Cleaning:
Discard expired medication and cosmetics
Clean makeup brushes
Clean vanity
Wipe mirror
Clean the tub and shower (including the shower head)
Clean the toilet and around it
Clean hardware
Scrub tile grout
Wash shower curtains and floormat (if needed, replace the shower curtain liner)
Organize cabinets and drawers
Laundry room
The laundry room can also look dirty pretty quick, especially because of that moldy smell sometimes it seems you can't get rid of. Well, good news: you can get rid of it in an easy way this Spring Cleaning and also go through this checklist:
Clean washing machine and dryer vent
Clean lint trap in washer and dryer
Organize laundry supplies
Clean behind and underneath washer and dryer
Mop floors
Outdoors
Of course, when it comes to spring, the outdoors is just as important as the indoors. So here's the spring cleaning checklist for your house exterior:
Get your roof, siding, deck and walkways power washed
Clean outside door frames
Clean grill
Get your gutters cleaned and repaired
Replace broken bricks, rood, or stone
Clean outdoor light fixtures
Wash windows and screens
Clean patio furniture
Get your trees and bushes trimmed
Clean outdoor trash cans
Plan your garden and start planting some flowers
Have you started Spring Cleaning yet? Here are some services that can help you during the process (and you can get free quotes for all of them!):