The dishwasher is probably one of the most important appliances in the kitchen. After all, no one wants to wash dishes over the sink, wasting time and effort in a task that feels like it will never be over. The fact that you can put them in the washer for a quick and thorough cleaning is a huge timesaver, and even a convenient way to keep the space clean all the time. 
Despite this, 
It is a fairly large appliance so you will need to find just the right place to put it. Usually, there's no standard dishwasher placement recommendation. In fact, it totally depends on the size of your kitchen and its general layout. 
However, it has to go somewhere convenient and the following are a few suggestions that may give you some ideas on the best placement for your own space! 
"Quality is not an act, it is a habit. – Aristotle
Next to the Sink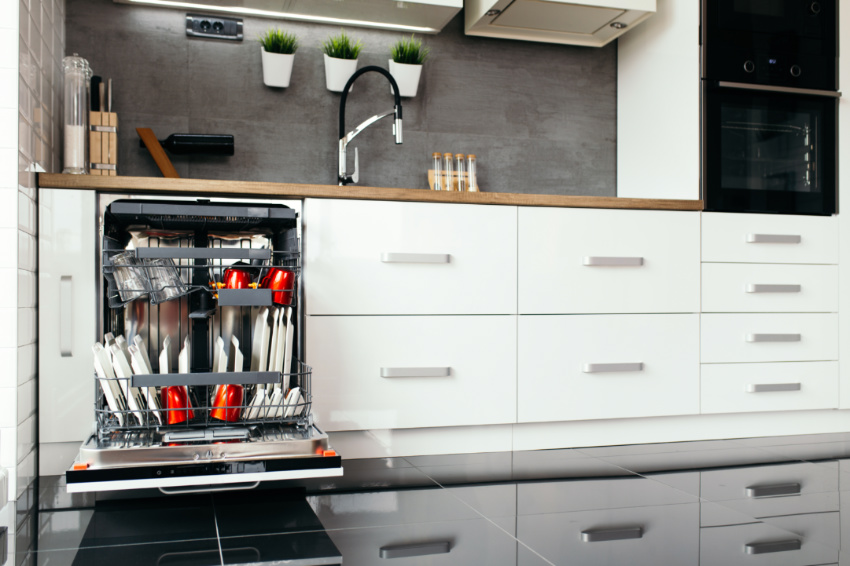 One of the more obvious areas to place the washer would be next to the sink. In fact, this is where a lot of people install it. There are two reasons why this is perhaps the most recommended dishwasher placement in kitchens: 
First of all, since the washer is closer to a water source, it will require less work and time plumbing it into your home's water supply system. This will save you a lot of money on installation fees. 

Secondly, it's convenient. Since you still need to rinse the dishes first before putting them in the dishwasher, it helps if the distance between the sink and the appliance is as little as possible. 
Of course, there are some dishwasher brands that don't require the dishes to be rinsed before they are loaded. But still, our behavioral wiring will almost lead us to the sink when we are done eating so it's still a good idea to have the washer close to the sink regardless of the brand that you are using.
Figure Out Which Side Works Best for You 
Now that we have established that the best place to place a portable dishwasher or a common one is next to the sink, the next step is to determine which side exactly we should focus on. 
For example, if you are generally a right-handed person, you are more likely to find it easier stacking the dishes into the washer on your right-hand side. 
In some cases, whether you are right-handed or left-handed won't matter. Since we are all behavioral beings, if you are installing a new dishwasher, you may want to put it on the same side as your old washer since you were already used to that location. Or maybe, for you it makes more sense to place it near the cupboards. It usually comes down to preference. 
Make Sure the Drawers Are Nearby Too 
It's also a good idea to have your dishwasher installed closer to the drawers, which are presumably the places where you will be storing your dishes. As a matter of fact, a lot of kitchen designers agree that to create a practical and convenient kitchen, it's better to make sure that all major appliances, including the countertop dishwasher, are close enough to your storage options as possible. 
The last thing you want is to have to move across the entire room just to put dishes away after they are clean. If you can find a few drawers closer to the sink and the dishwasher too, just designate them for dishes to make the space more practical.
Mobility is Very Important 
You may also want to make sure that access to your dishwasher is not affected in any way. It's not uncommon to find kitchens that feature big islands in the middle that limit the amount of space you can use to load or unload the washer. In other cases, the kitchen may be too small. 
Regardless of your situation, you want to make sure that your mobility to and from the washer is as smooth as possible. This will create a convenient experience and will reduce the risk of you accidentally dropping delicate dishes.
Consider Island Counters
Placing a dishwasher in a central location can be a great idea. A washer installed just underneath the kitchen island would be easily accessible from any part of the room. 
The only challenge here is the plumbing. Since the island is relatively far away from a water source, it will require a lot of time and money to plumb it in. However, if you don't mind incurring those expenses or if you already have or plant to have a sink installed, you can still go for it. 
Have you made your decision about where to place the dishwasher in the kitchen? Then contact a local pro to get it done ASAP! 
---
MORE FROM HOMEYOU
10 Pros You Need on Your Contacts for a Well-Maintained Home
How To Organize the Kitchen for Easier Cooking and Flow
How To Remodel Your Kitchen: From Planning to Execution