The exterior of a house is the first impression it passes onto guests, which can make it as important as the decoration inside. Keeping your home looking good and your landscape neat can not only improve your curb appeal but also boost your home's value, which is something that every homeowner can benefit from. 
Take a look below to learn some great tips to add curb appeal and value to your home instantly. 
"Love begins by taking care of the closest ones - the ones at home." –Mother Teresa
Clean Everything Up
Sometimes, a basic cleanup can make a really big difference. Power washing the siding and driveway, washing the front door and windows, and cleaning up the courtyard are some simple things that can easily make you realize the house was much dirtier than you thought it was. 
And if you're trying to add some house curb appeal, you can start with a front cleaning. That will already make your home shine and look instantly better. 
Renew Your Painting
As time goes by, any paint from any wall starts to wear out naturally. Repainting your walls or changing the colors can give a really good boost to the home's curb appeal. Off-white, beige, and some other neutral colors are always seen as good choices for the outside of a house.
Decorate Your Front Porch
It doesn't need to be a wild design project, but decorating your front porch can instantly improve your curb appeal. Placing some plants or adding a courting chair close to the door would give some charm to your home's entrance. 
You can decorate it according to your preferences, matching your home's style and what you like, and giving the value your house deserves.
Don't Forget Your Mailbox
Cleaning or replacing your mailbox can be a great move depending on its conditions. You can choose another mailbox, which matches better the new landscape of your house, or any other that delights you. It isn't the greatest move for the project but certainly would already make a difference.
Take Care of Your Lawn
Keep in mind that your home's curb appeal also includes your lawn. Therefore giving it some attention would be a good move to renew the value of the house. If you don't take care of your lawn often, start doing it now. Start with the basics, water the grass as needed, weed the lawn, and mow it to the right height, and soon it will be beautiful.
And if you already take care of your lawn, then why not do a little extra? Plant some different flowers you may like, plant a vegetable garden in your yard, you can even plant some trees if you get interested. These are just some basic front yard curb appeal ideas you can go for, but every change can make a difference.
Give Some Attention to Your Roof
You may think nobody is gonna take a look at your roof, but taking care of it can be a great idea. Washing the gutters and shingles, repairing some roof tiles, and cleaning your chimney are just some things you can do to keep the roof cleaning updated as it should be. 
But be careful, if you're not used to washing your roof and chimney, it's recommended to hire professionals for this service, due to the risk of accidents.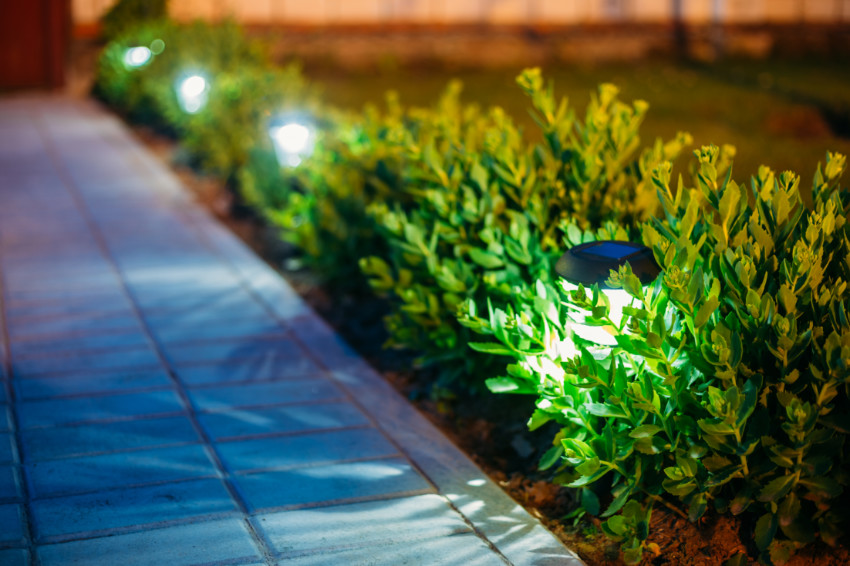 Light Up The Outdoor
Not only would it give the outdoors a better look, but the outside lighting can also be helpful. There are some kinds of lights recommended for the outdoor area, and others that are indeed specific to it.
A good recommendation is the solar energy light, which it's already self-explanatory. These lights get their electricity from the sun during the daytime, and when the night comes, they automatically turn on, lasting all night. 
Heads Up At Symmetry Patterns
A great way to decorate your house is to keep symmetric patterns. This way, the landscaping doesn't get too visually polluted. Symmetry patterns create a harmonious scenery, with balanced sizes, amounts, and colors to capture a stable image.
What About New House Numbers?
Among all those curb appeal ideas, getting new house numbers may be simple and a little basic, but any change is welcome. Depending on how long your house has been there, the house numbers may be old, giving you a good chance to change it to new ones.
Furthermore, if you have painted your walls a different color during this project to improve the curb appeal of the house, switching the old numbers to new ones to match better to the painting can be a great idea to harmonize the combination of colors on your front porch.
Keep Maintenance Updated
What's the point in keeping the house beautiful, if it ain't functional? If there's something that needs to be repaired, that's the moment. And indeed it's recommended to be the first thing added to this curb appeal checklist, so you can start renewing the house when everything is already back on track.
Want to improve the curb appeal so your home stands out in the neighborhood? Then check out a few great ideas and request a free quote!
---
MORE FROM HOMEYOU
4 Ways to Add Curb Appeal with Your Front Yard
8 Guaranteed Ways To Boost Your Curb Appeal
6 Gorgeous Before-and-After Curb Appeal Makeovers