Curb appeal is a key part of transforming your home and making it stand out in the neighborhood. But we all know that with our busy lives, it's very hard to pay attention to the small things that really matter. 
If your property has been looking a little dated, we have some curb appeal ideas along with before and after pictures that will surely inspire you towards that perfect makeover you're dreaming about! 
"The power of imagination makes us infinite. – John Muir
Dark and Boring Becomes a Sleek Vision of White 
There's nothing more detrimental to your home's curb appeal than a washed-out paint and a poorly kept lawn. These are your top priorities!
This house above was looking dark and faded before a complete makeover gave it a new vision of sleek white, matched with neutral tones and a beautiful and well-lit lawn. Notice how the house has a much better presence now? We also loved the personal touches on the front doorsteps and the plant pots on both sides of the door.
While the added room was a great addition, obviously, it was just a plus: you can achieve a similar look by simply focusing on the painting and the landscaping. 
Updated to Better Utilize the Space 
Sometimes, adding curb appeal is all about freeing up more space and getting rid of the clutter. Don't get me wrong, you are welcome to put in as many flower vases and plant pots as you want in your exterior living spaces. But if the place looks too crowded, then it may be time to clear it off. 
In some cases, the best decoration you can do is adding nothing at all. Open spaces with plenty of light are always incredible. Well, if you don't believe, just see for yourself in this makeover above. The driveway expansion and update made this house look bigger and fancier, while the garage door addition made it more private. 
Dull and Obvious to a Dreamy Paradise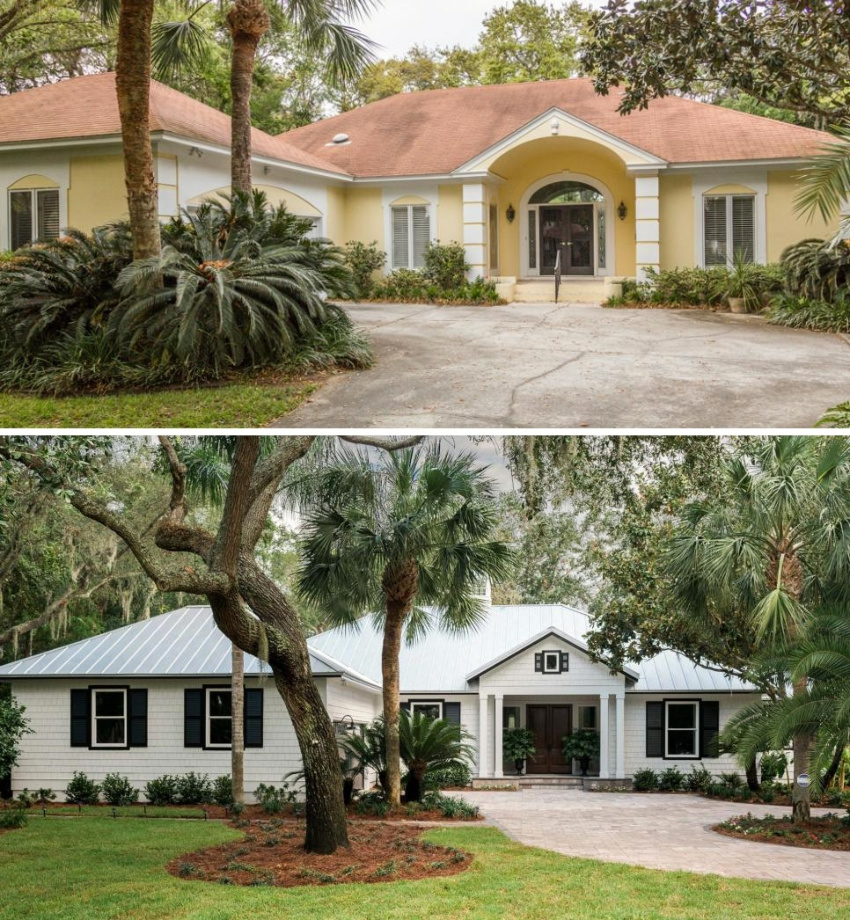 Creating that dreamy paradise is in most cases easier said than done and we get it. But sometimes simple touches and upgrades can really do a lot. 
Take this front yard curb appeal upgrade, for example. Even though the initial yard still looks good with its excellent balance of bright and neutral shades and open-air space, it still looked boring. 
The house got a new paint upgrade, with beautiful white and black accents, and a few other small upgrades were also made, such as:
Exterior shutter installation

New front door 

Landscaping 

Columns upgrade 
 The end result is a beautiful and dreamy front yard paradise that everyone would love to see! 
Dated Oceanside Facade Turns into an Epic Beach Home 
This dated ocean side property just looked like it had been forgotten for a while. The home was dated and old from years of neglect, but of course, there is nothing a good makeover can't fix. 
After a nice upgrade, the property got a bright white finish and excellent windows to bring it back to life. Notice how the roof perfectly blends with the white walls? The steps to the front door also were updated to create the ultimate beach home.
From an Old Town Diner to a Dreamy Tropical Villa 
It's easy to let your home go, especially if you don't get a lot of visitors, but you really don't have to. With a little imagination, you can transform your little hideaway into a majestic tropical luxury with just a few steps. 
Take this property above, for example. Before the complete curb appeal landscaping makeover, it looked like an abandoned old town diner that got two or three customers a day. 
The poorly kept landscape made it look dull and forgettable, so a few changes were done to revitalize the space:
Updated landscape

New painting job

New driveway 

Additional lighting
After the makeover, this humble home became a luxurious tropical palace, don't you think?
Beautiful Cottage Gets a Dedicated Housekeeper 
There are cases where a home is already well built and beautiful, but the poor upkeep ends up making it look bad. Getting the best small house curb appeal doesn't have to involve a lot of expensive upgrades, and this makeover really shows that. 
Sometimes a little dedication with upkeep can make all the difference and that's exactly what this amazing cottage got. The overgrown shrubs around the house were taken care of and the clutter removed. 
The walls were also cleaned and retouched and eventually this beautiful cottage reclaimed its original class. 
Getting curb appeal for your home can be hard sometimes, especially if you're not ready for big home improvement projects. But there are so many simple ideas out there that you can try out today, most of which can be implemented on short notice or with creativity. While you are free to try whatever you want, the ideas here should offer a great start.
Need help improving your curb appeal? Talk to a local painter in your area today and get free quotes!
---
MORE FROM HOMEYOU
10 Satisfying Before and After Pictures That Prove Anything Can Be Cleaned
8 Creative Ideas To Improve Backyard Privacy
7 Ways To Upgrade The Front Door and Improve Your First Impression