Open concept floor plans are outstanding options for homes of all sizes. They give you more space to move around and create a sense of flow throughout the residence that you cannot recreate easily. They make it possible for you to go from room to room in the residence with the greatest sense of freedom. The rooms are lighter, too, thanks to the absence of walls.
However, it's common for people to make a few mistakes. Today, I'll show you what the most popular are, and suggestions on ways to avoid them. That way, when you do explore open concept floor plans, you'll choose one that's right for your residence, creating a home that looks and feels spacious and luxurious.
"Dost thou love life? Then do not squander time, for that is the stuff life is made of." – Benjamin Franklin
#1: Unclear Zones
In an open concept house, there must be clearly defined areas of space. If there isn't, the flow of the rooms becomes restricted. 
When setting up zones in the house, remember that it's easy to do with floor rugs and furniture. You can easily separate the living room from the kitchen by ensuring that the transition from one space to the other is smooth. Using different materials and textures can do the trick.
#2: Too Many Different Styles in the Same Area
One of the biggest mistakes people make with open floor plan ideas is not reining in the number of different styles they present in the space. Sure, it's great to mix and match patterns, texture, and even eras of furniture and decor. If tastefully done, it works. 
However, 
If you don't edit your ideas somewhat, it starts to look like a thrift store with its odds and ends everywhere.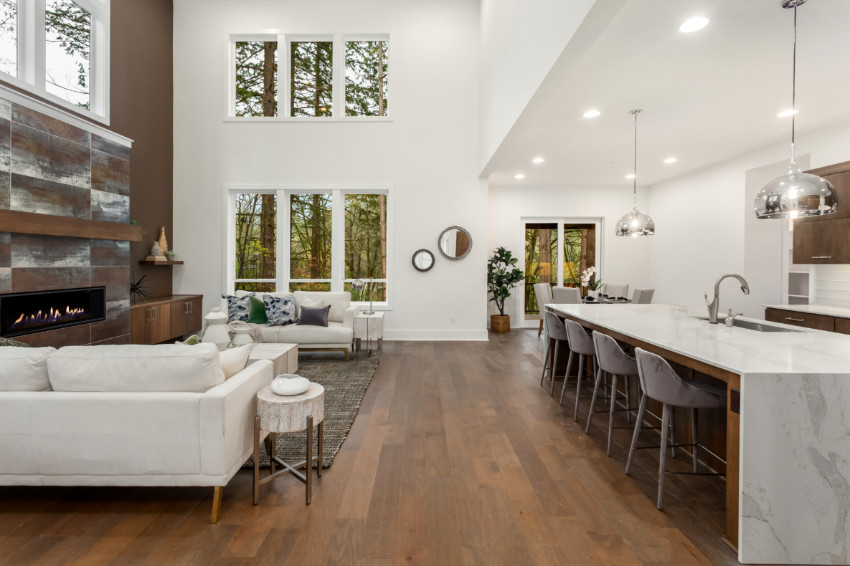 #3: Boring Lighting
The wrong lighting can cause confusion about what space does what for your family. Distinct differences in lighting heighten open concept floor plans. Not only are the fixtures important, but the type of lighting you have in each space matters, too. 
Invest in different types of light bulbs for best results and install dimmers in place that you can easily switch on and off.
#4: A Kitchen That Doesn't Fit the Space
The kitchen is either too large or too cluttered for an open home layout. You need to do something to fix the issue right away. Otherwise, you'll need walls to contain the room. It takes away from the openness of the home instead of adding to it. 
The kitchen is definitely a space you spend a lot of time in, so it should be just as important to an open floor plan as other rooms.
#5: Oversized Furniture
Balance is imperative when creating an open floor plan. Oversized furniture detracts from the mission that you're trying to achieve by keeping things open. 
Of course, you can have larger furniture placed with smaller furniture. If it's all oversized, though, it will dwarf the room and make it seem tiny and closed off.
#6: Old-Fashioned Thinking When It Comes to Styling a Space
It's your home, so essentially everything goes. That means you can throw away traditional design ideas in favor of more eclectic and unique decor ideas. Still, there needs to be cohesion in the space. 
If you're going to mix styles, make sure to do it in all open areas so that they translate well to the people seeing them.
#7: Poor Placement of Items
It's not just what you own, it's where you put it. Some items work well in closed-in areas, while others do better in open concept floor plans. 
Rethink some of your purchases and sell what doesn't work in the area. You can always replace the item with something that you like equally well. You don't feel restricted by owning a limited number of items.
#8: Too Many Different Materials
It's a problem that takes place in an open floor plan kitchen frequently. There is a presence of too many different materials. You see marble, granite, tile, wood, and metal all in one compact area. That, or you don't have enough of a variation of materials. 
Pick three at most and use various colors, sizes, and layouts to tell the story of your home.
Always Seek the Services of a Professional When Remodeling Your Home
When exploring open house design, it's best to have a professional weigh in on the subject. After all, they've been responsible for creating incredible open spaces for clients for years. You can rely on their knowledge and expertise to develop an open floor plan kitchen that looks and feels luxurious. 
Reaching out to a contractor with your request for a consultation is the best way to know what the service costs you.
Need some help decorating your open floor plan home? Contact a local designer and request a free quote!
---
MORE FROM HOMEYOU
Thinking About an Open Floor Plan? Here Are the Pros and Cons
5 Interior Design Tips Experts Don't Tell You
5 Design Trends That Make You Happy To Stay Home