Having a home with an open floor plan is a dream for many people. The lack of walls that block access and the easy flow between rooms are aspects that simply make you love this design. You can even express your creative side and have all the room that you need to entertain friends and have fun with your family. 
With these simple design tips and ideas below, you'll learn the best ways to make your open floor plan home work in a way that not only looks stunning, but is practical too! 
"The best preparation for tomorrow is doing your best today." – H. Jackson Brown, Jr.
Symmetrical Designs
With open floor plan homes, you have more space to arrange and rearrange your furniture, but sometimes that can be a bit overwhelming. To make it easier and have your home look more defined, focus on creating symmetrical designs with your furniture and have a little fun with it.
For example, instead of having only one couch and placing it against a wall, consider adding a matching one and create a focal point between them. Instead of placing the dinner table on a corner to take up less space, consider placing it exactly in the middle of the room, aligned with the kitchen island and under an interesting light fixture. 
An open layout allows you to have more freedom with how you place your furniture, so take advantage of that. Mimic the design with similar pieces that use the same colors or fabrics in other rooms.
Matching Pieces
One problem that some have with open floor plan homes is that they don't know how to make one room flow to the next. A great way to accomplish this is with matching pieces. 
Though you don't want every piece in every room to match, you can look for simple ways to make the rooms work together. Here are a few ideas: 
Match the colors found on your couch to your dining room chairs. 

Take some of the same decorations and use them in different rooms. 

You can easily hang black and white family photos in each room.
Add Definition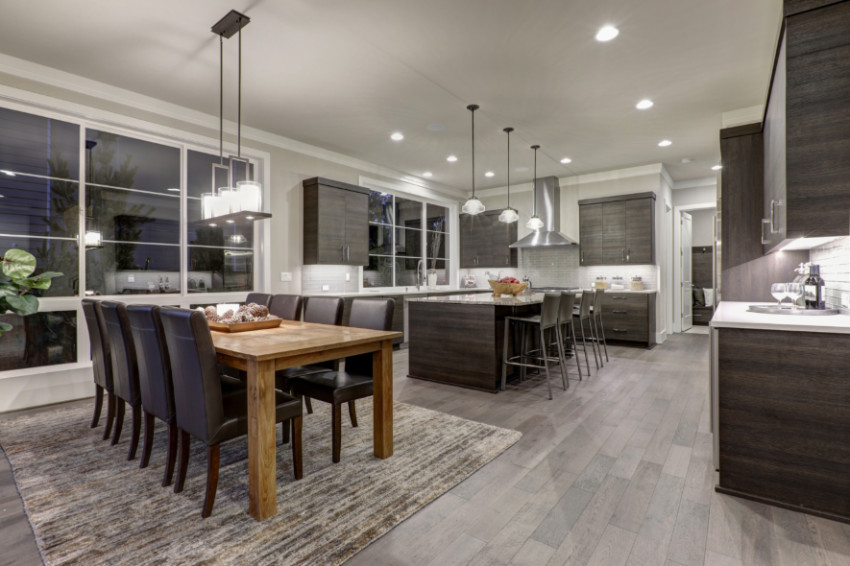 Another issue that some people have with an open concept house is that they forget to define each space. When you can walk from your living room to the dining room and kitchen, you may have a difficult time designating each space. 
A simple way to add the definition that you need is with an area rug. When you put a rug down in the living room and arrange your couch and other furniture around it, you define that this is where you watch television and hang out as a family. You can do similar things in all of your other rooms, such as with the dining room layout, for example.
Cohesive Color Scheme
When designing a home with an open floor plan, don't give in to the temptation of adding as many colors as possible. While you might want to use different colors in every room, using similar tones will create the cohesive look that it needs. 
Remember that neutral colors are generally better than bolder or brighter colors. You can easily use pale shades of yellow and blue on each wall to create a home that feels warm and welcoming. If you want to use different colors, choose accent pieces in those shades. 
Though you might choose light brown or dark brown furniture, you can add some throw pillows and blankets in a bright orange or other color to add a fun touch to the room.
Add Interest to the Ceiling
With all of the attention that you pay to the walls and floors in open concept floor plans, it's easy to forget about the ceiling. You don't need to spend a lot of money or time to add interest to yours. 
Pendant lamps are a great way to add more lighting, and they come in styles that fit with the look of your home. You can also add track or recessed lighting that matches the design of each room. Wood beams are often easy to install and will work in each room as transition pieces, too.
Choose Room Dividers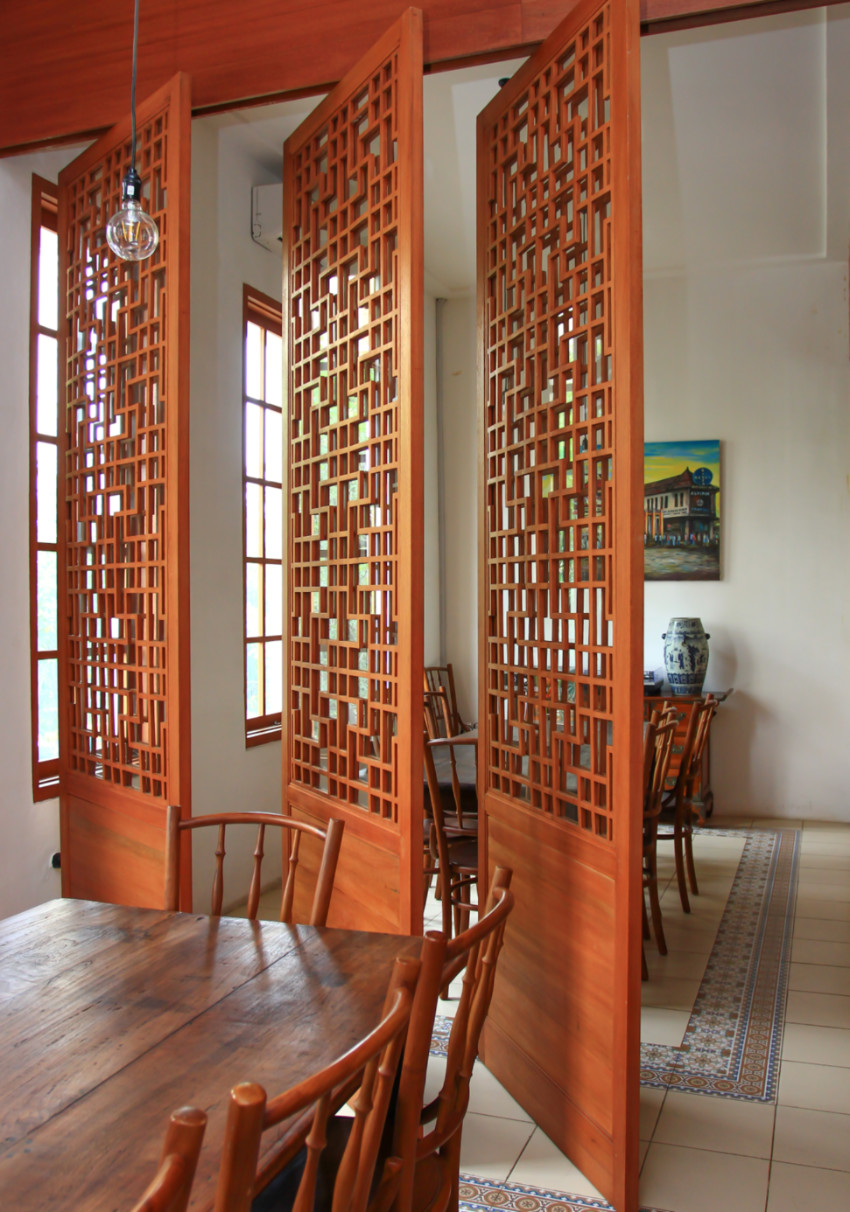 Do you worry that having an open concept will restrict your privacy? With room dividers, you can separate your spaces as needed. 
Available in both traditional and modern designs, the dividers are very easy to use. You can store them anywhere you want and pull one out when you want some quiet time. There's also some options that are a little more permanent, such as the one in the image above, which divides the room when needed but usually stays tucked in the corner. 
Room dividers can also block off the rooms that you don't want guests to use when you throw a party, which is great if you frequently have people over! 
Use Soft Pieces
Homes with an open floor concept can often appear too modern and masculine. They have sharp corners and designs that force people to move in a certain direction. 
An easy way to change that is with a few soft pieces. Look for furniture and decorations that tone down the masculine look and make your home feel more comfortable and inviting. You might choose a couch with rounded corners and large pillows along with cushions that you add to your dining room chairs.
Need some help decorating your open floor plan home? Contact a local designer and request a free quote! 
---
MORE FROM HOMEYOU
Thinking About an Open Floor Plan? Here Are the Pros and Cons
5 Interior Design Tips Experts Don't Tell You
5 Design Trends That Make You Happy To Stay Home