Want to know how to get a house ready to sell? It involves strategic thinking and an easy-to-execute plan. That way, you're able to appeal to as many buyers as possible and get the asking price you hoped for from one of the bidders. This guide helps you sell your home fast with simple solutions. It provides you with pointers that will make your job easier to do.
Ten projects are listed below if you plan to sell your home this year. Each offers flexible options that meet your immediate needs. It's up to you to decide which options are worth exploring further, since some may feel easier to implement than others based on your current circumstances.
"Time plays a role in almost every decision. And some decisions define your attitude about time."– John Cale
Improve the Curb Appeal
Among the easiest tips for getting a house ready to sell is to clean up the yard. Making the exterior of the home presentable for passersby is imperative. It helps draw attention to your house for all the right reasons.
Fix Windows
Not only is it a safety issue, but it looks unsightly to have broken windows or ones that get stuck often. Spend the money needed to replace them entirely. It's worth the cost because you'll get it back immediately when you sell the house.
Paint the Front Door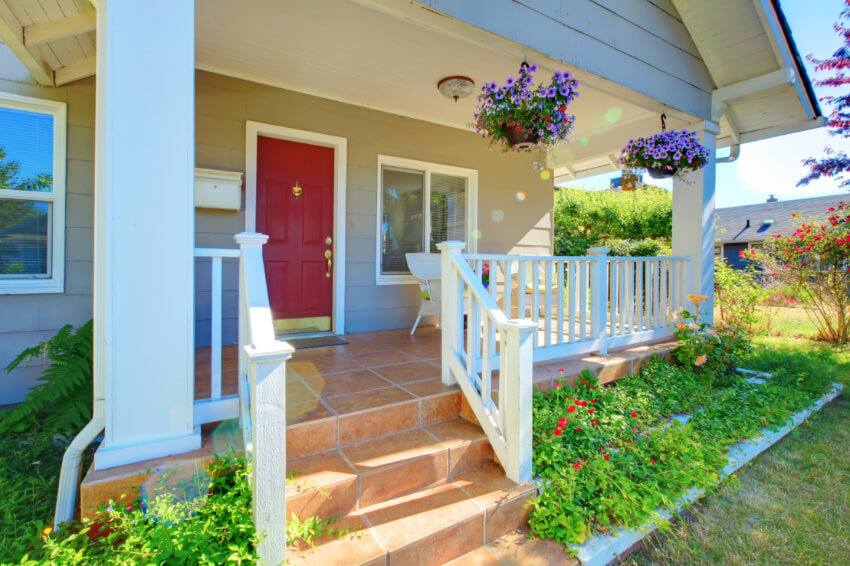 It's a low-cost enhancement that grabs people's attention. A painted door draws attention to the house and makes it more interesting. It becomes a unique part of its aesthetic which is something that people love.
Update Window Treatments
Opt for lightweight curtains that let the sunshine in freely. Since the windows in a home are often a selling point, you must enhance them, not hide them. People want to know that they have access to a lot of natural light.
Enhance the Look of Wood Flooring
Remove floor coverings such as carpets and rugs so people can see the floors in all their glory. Hire a professional to refinish wood flooring until it shines. When listing the home, make sure that hardwood floors make it into the description in the listing.
Cut the Clutter for Good
When you're getting a house ready to sell, you must remove all of your personal effects as much as possible. It's a great time to start going through what you have and getting rid of the things that no longer serve you. It's well worth the time spent sorting, tossing, and donating.
Paint Interior Walls
It doesn't matter what your preference is currently. White walls or neutral tones are aesthetically pleasing for most people. White also helps reflect the natural light coming into the room, which can draw in more buyers.
Invest in Closet Organizers
It makes closets look larger than they really are currently. It's an investment that creates the illusion of greater space. When people visualize putting their items into the closets, you'll have a much easier time selling the home.
Paint the Exterior of the Home
It's all about appearances. If you want to give the house an updated look, invest in good exterior paint. If the buyer approves of the color outside the home, they'll likely be happy with the white walls inside the residence, too.
Increase the Visibility of the Street Address with Big Numbers
Your address must be easily identifiable from the street. Installing new house numbers is an excellent way to prepare the property for sale. If people can't see where they're viewing a house, they'll be more apprehensive viewing yours.
There are many ways to improve the look and appeal of the home you plan to sell. It's up to you to decide which suggestions are the most beneficial for you and your bank account. After looking things over entirely, you can see which options are the best for you and your situation. You may find yourself benefitting from implementing all of the suggestions because they each have their place in your life.
Why You Should Hire a Professional to Prepare Your House for Sale
You should never attempt to repair and stage your home by yourself. It can be a mistake that costs you thousands of dollars in unrecovered selling fees. Instead, invest in the services of a skilled professional that's ready and able to help you with whatever problem that you have today. You'll have a beautiful home that appeals to the masses because of the changes you made to it.
Hiring a contractor to help you with preparing your home to sell is highly advisable. It's less work for you overall because a professional gets things done in half the time. You'll benefit from having the knowledge, skills, and expertise of a service to get a house ready to sell that knows more about improving a home and getting it ready to sell than you do.
You can start improving your home for sale with small repairs. Get free quotes from a local handyman today and get started!
---
MORE FROM HOMEYOU
How To Use Paint Colors To Sell Your Home Faster
The Benefits of Pressure Washing Your Home
How To Increase The Value of Your Home (With Small Repairs)