The more windows that you have in your home, the more natural light comes through. However, not everyone is lucky enough to have a home with large windows, and the lack of natural light makes a huge difference in a person's life and mood. 
One space that really suffers with lack of natural sunlight is hallways. Many houses have long hallways that connect rooms and run along interior walls that don't have space for windows. 
However, thanks to these great hallway lighting ideas, you can now add a touch of brightness to the space and make it shine! 
"Keep your face always toward the sunshine - and shadows will fall behind you." – Oliver Walt Whitman.
Chandelier
Though you might think that a chandelier only works in an entryway or dining room, it is a great addition to any hallway. You can opt for a classic design that uses elegant crystals or go more modern with one in stainless steel. 
In addition to hanging one chandelier in the center of the hallway, you can also add extra light sources such as table lamps or smaller pendant lights on each end.
Pendant Lights
If you have your heart set on hallway ceiling lights, then consider adding a couple of pendant lights. They come in a range of colors and styles to fit any hallway or home. You can hang a single light in the center of the hallway or hang multiple lights to illuminate the whole space.
Table Lamps
A cheap and easy way to add light to a hallway is with a table lamp. You can use extra lamps that you have tucked away in the basement or invest in some new modern options. One of the best reasons to use table lamps is that you can use them with end tables and shelves to add storage at the same time.
Recessed Lights
Recessed lighting is a good choice for those looking for minimal hallway ceiling light fixtures. These lights consist of pieces installed inside the ceiling, brightening the area without taking up any space. 
Spotlights
If you want to add lighting and also highlight an element in the hallway, go with a spotlight. Spotlights are perfect for drawing attention to a focal point such as a piece of artwork or a family heirloom. You can even use a spotlight to pull the eye to a wall of pictures that your kids drew or a selection of your favorite family photos.
Track Lighting
Hallway light fixtures such as track lighting can also help illuminate a dark space. Though you might think of these lights as accent pieces used in a kitchen, they also work great in a long and dark hallway. 
The track has individual lights that hang down from the piece illuminating the entire way, and you can even set them up with a dimmer so you don't get blinded when going to the bathroom at night.
Touch Lights
Touch lamps, such as the popular hexagonal led lights that we see everywhere now, come in some fun designs that include flowers and other decorations. You can use one or a few on each end of the hallway and turn them on or off with a quick touch of your hand. 
There are also smaller touch lights that you can hang on the wall. It takes only one tap to turn them on and another tap to turn them off, which makes them great for homes with kids. When your kids need to get up to use the bathroom in the middle of the night, they get the light that they need without waking everyone in your home.
Floor Lamps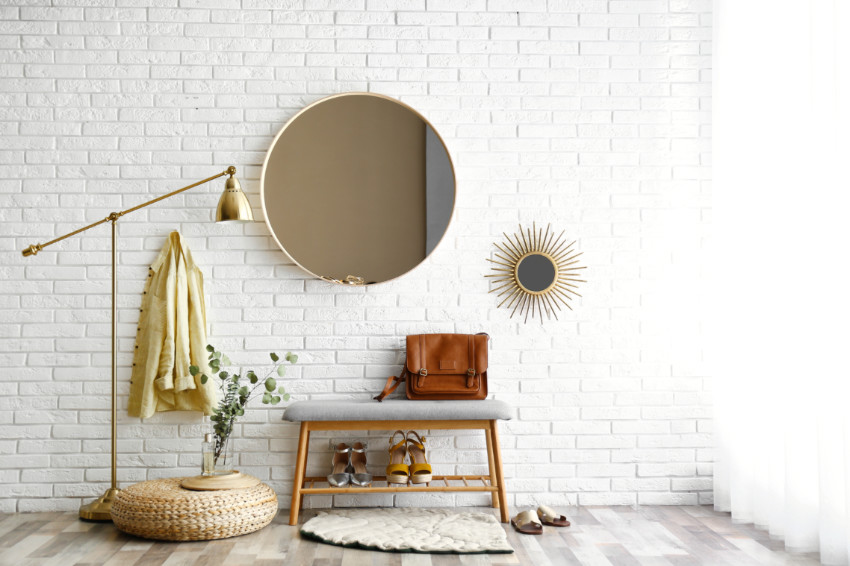 Modern hallway lighting can include the use of floor lamps. This is also a good option if you have outlets but don't want to hang overhead lights, or if you live in a rental place and can't install new lights. 
You might love long and slender lamps in a sleek stainless steel finish or a more traditional design that uses copper or brass. Floor lamps provide more than enough light for most hallways, but you can always add one on each end if the space is too big.
Led Strips
For a more subtle and modern touch, consider adding led strips along the hallway. You can add them on the ceiling or even on the floor, and they offer great lighting without overdoing it. 
Shelf Lamps
While there are lots of hallway wall lights that you can use, you might opt for shelf lamps instead. These pieces combine the best of both worlds because they serve as both shelving and a light source. You'll have all the space that you need to display decorative items along with a lamp for lighting. 
Some of these lamps can even offer enough space for fabric bins or baskets that help you organize your things. This option can also serve as a great weekend project: here's a DIY shelf floor lamp tutorial so you can make your own! 
Illuminate your long and dark hallway with any of these lighting ideas that can brighten up the space even if there are no windows! 
---
MORE FROM HOMEYOU
5 Easy Tips To Make a Small Bathroom Look Bigger
5 Tips For Hiring Pros During the Pandemic
5 Interior Design Tips Experts Don't Tell You