So you just woke up and look out the window. It's a wonderful Summer day and – WAIT, it's July already?!
Yeah, you weren't the only one shocked by the realization that the year is 50% done. But the most pressing matter: July 4th is only a couple of days away and you haven't prepared. Oof.
Don't worry though, there's still time. A 4th of July celebration party doesn't need anything too complicated, as you will see with these delicious recipes. All with ingredients that are easy to come by under short notice and pretty quick to make on the spot with nothing but a barbecue grill! 
"With the new day comes new strength and new thoughts." – Eleanor Roosevelt
Hamburger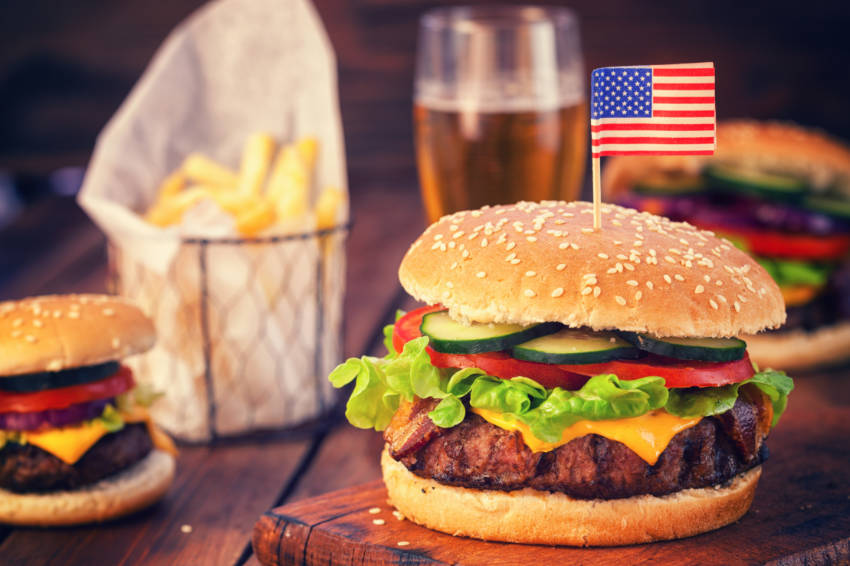 The cornerstone of American meals, you can never go wrong with a good burger. Better yet, they can be as simple or as gourmet as you want, giving you a lot of flexibility.
Since we're working on a timer here, you can opt for the simple route. Bread, meat, and cheese – with lettuce, a slice of tomato, and pickles on the side. You can assemble the burgers yourself or work on the meat patties while the guests assemble the burger they want.
In that case, you can leave a few other options on the table, such as condiments (mayo and ketchup), and whatever else goes well with a burger.
Chef's tip for perfect meat patties
To make perfect meat patties, start with ground beef and add one egg yolk to the mix. This gives a rich flavor and binds the meat together nicely for the grill.
Scramble it with your hands and take out a chunk. You want to roll it into a ball slightly smaller than a tennis ball and then gently push it into a pattie. 
If you can make your patties the day before, leave them in the fridge. This will make sure they're very firm and won't crumble on the grill.
As for seasoning, use only salt and pepper. You can season right before adding the egg yolk to the ground beef or leave it to season right before bringing the patties to the grill. If that's the case, be sure to season both sides and pat them a bit to make sure the condiments stick.
For an extra bit of flavor, use a brush to taint your burgers on both sides with a little butter when they're almost ready on the grill.
Oh yeah, and don't forget to toast your buns too!
Hot dogs
Hot dogs are even easier to make than burgers and once again, allow for a lot of customization on the fly.
You can always go for the classic hot dog: buns, mustard, the hot dogs themselves, and perhaps a sprinkle of cheese. Voila.
Once again, you can assemble them yourself or allow guests to add whichever condiments they want. Combine that with some french fries and you might as well make your own fast food joint!
Chef's tip for better hot dogs
Add bacon. Crispy bacon is a nice addition to spice up your hotdogs. You can fry them ahead of time and add them to each hot dog.
Cheddar cheese. Cheese is always an improvement, but a sprinkle of sliced cheddar cheese on top of your hot dogs? That's one to write home about.
Grilled hot dogs. Since we're talking 4th of July recipes, you'll probably have a grill out anyway. Put those hot dogs on the grill for a nice toast. You can also slice them in half.
Corn dogs
The great thing about corn dogs is that they're easy to combine with your favorite condiments. Mayo, ketchup, cheese, mustard – dip them in and enjoy. A simple corn dog recipe is really easy too, and everyone loves them!
Delicious special sauce that goes well with corn dogs (and just about anything)
How about a special sauce that will blow your mind? I got you.
In a bowl, drop a generous portion of mayo and equal part ketchup. Then sprinkle some garlic and onion powder, along with a small spoon of smoked paprika. Mix it together with a spoon and there you go – an incredible "secret sauce" that goes well with anything.
In fact, you can use this sauce on your burgers and hot dogs too!
Kebabs
The beauty of kebabs is that they're very versatile. Obviously, a few chunks of meat, sausage, and chicken all go well with slices of onion, cherry tomatoes, olives, and pickles. 
But you can take it one step further and include a vegetarian option, for example. Or a dessert option with chocolate-covered strawberries. Or a toasted veggies option.
Really, the sky is the limit here. This is perfect for a lighter meal that doesn't forget about people with food restrictions, such as gluten allergies or fellow vegetarians.
Cheese dips
Cheese dips are excellent for dipping nachos in while waiting for the main course, but there's nothing wrong with using them to dip french fries or even your corn dogs. It's a quick and easy addition to your 4th of July meal plan!
3-ingredient cheese dip recipe:
A lot of cheddar cheese

Cornstarch

Half and half
Now for the cooking. In a saucepan, whisk the half and half with the cornstarch first, then bring to a light boil over medium heat. Don't forget to keep whisking all the time! Once it reaches a boil, bring the heat down and let it simmer for about 30 seconds, then remove from the heat.
Throw in all the cheddar cheese and return to low heat while you stir to melt it. Once it's all melted, serve right away!
What else are you preparing for your 4th of July party? Let us know in the comments below! Don't forget to follow us on Facebook for more great tips and inspiration!
---
MORE FROM HOMEYOU
How To Throw an Unforgettable 4th of July Party At Home
10 Beautiful 4th of July Decoration Ideas For Your Home Party
How to Display The Flag on 4th of July