With Christmas wrapping up, we have another pressing matter to deal with — the New Year's Eve party! In fact, this should be the very last pressing matter of the year, which makes it even more exciting!
So let's start by deciding on your New Year's Eve decoration. There are many cool things you can do for this party, and fortunately most of it is pretty straightforward, even if you decided to go the DIY route.
In fact, if you prefer to go the DIY route this time, then this article is for you. Below, you will find plenty of creative ideas to decorate for your New Year's Eve party! 
"Time plays a role in almost every decision. And some decisions define your attitude about time." – John Cale
Gold dot confetti glasses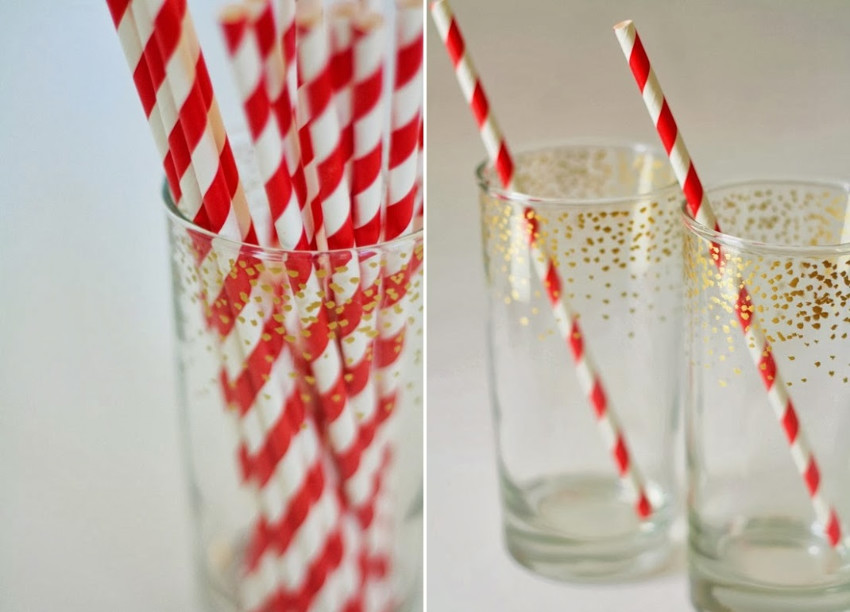 Any simple glass cup can acquire a glam status with a few golden touches. In this case, tiny and subtle dots that completely transform a basic cup into a party feature. 
You can probably use transparent plastic cups as well, and even better, let your invited guests take them home as gifts!
Gold fringe party hats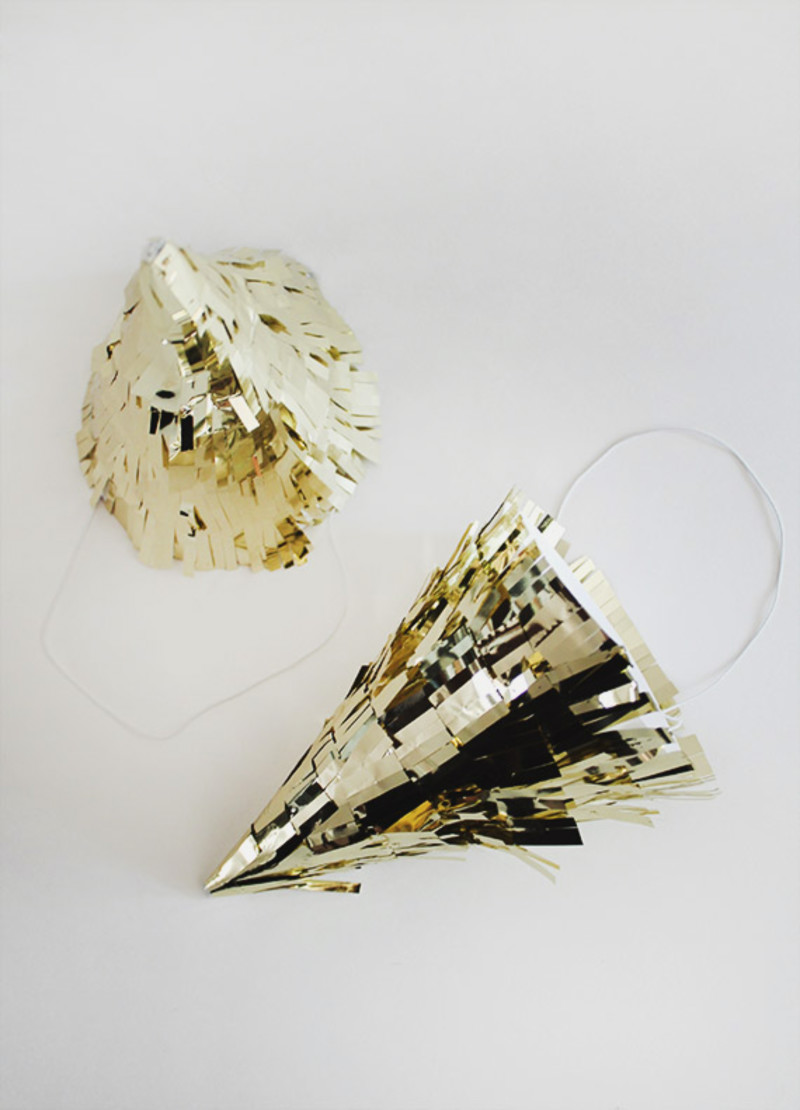 Party hats are fun to use even as adults, perhaps even more so as it makes us feel like kids again. These gold fringe ones are perfect for a New Year's party, since it fits the theme of celebration and that gold is just too sexy.
This one can easily be made DIY style, as it requires few materials and comes with a handy tutorial.
Golden tablescape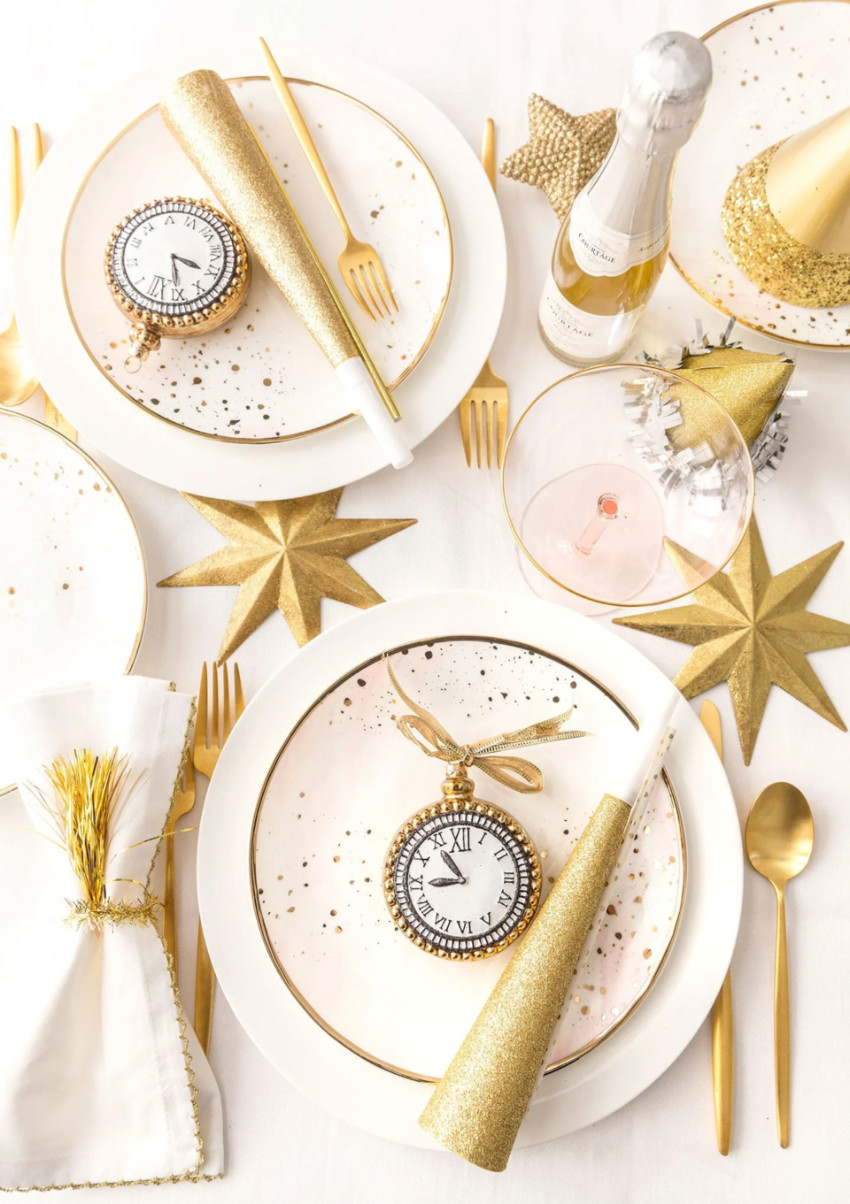 Golden is, as you will quickly realize, a pretty big theme when it comes to New Year's Eve. It's elegant and it also helps in setting it apart from the typical red and green from Christmas. 
The idea here is to bring out all your golden ornaments. Tableware, plates, napkin rings, candles, anything goes as long as it's golden!
Golden ornaments
While we're on the topic of golden decor, you can easily reuse your Christmas ornaments for New Year's. If they're golden, then you don't even have to do anything. 
However, 
If you don't mind using your Christmas ornaments for something new, you can spray paint them gold and immediately put them to good use this New Year's Eve!
Letter garland
Garlands are great pieces of decoration as they can be customized in thousands of different ways. Here, we're focusing on a letter garland to spell a word – could be any word, but the idea remains the same. 
Follow the tutorial to learn how to decorate it with sequin gold and put it on the wall! 
Wall confetti
This is by far one of the easiest and most effective ways to bring some color to your decoration. All you have to do here is separate a few paper circles of various colors and place them on the wall. You can use tape, as it's non-permanent and shouldn't hurt your walls in any way.
Party crackers
Party crackers have an obligatory participation as soon as the clock turns midnight on the 31st, so you want to get yourself a few ready to go when the time comes. You can learn how to make these party crackers easily, but they can be made even cooler!
You can add quiz questions inside, candy, and other surprises that might fancy you. The sky's the limit!
Countdown clocks
What's more appropriate for a New Year's Eve party than a countdown clock? Obviously you can have a real clock on the wall because that's pretty cool for everyone to see, but you can also create these fake clocks to decorate with. All you need is some paper and scissors, basically!
White balloons
We have already seen some colorful options, but you can create a really fancy look by using white balloons combined with golden details. It's incredibly easy to set up and makes your party look special without going too crazy. 
This is for those who like more subtle decorations that lean on elegance!
Helium balloons
Balloons will surely be present in your decoration, but you can make something special with helium balloons by attaching small ones to your napkins, as some sort of place card, as well as scatter them throughout the house with golden ornaments and ribbons! 
Need some help cleaning the house after the party? Contact local cleaning companies and already schedule the service!
---
MORE FROM HOMEYOU
How To Throw an Awesome New Year's Eve Party
How To Keep Your House Organized During Holiday Season
Your Essential Home Maintenance Guide For December